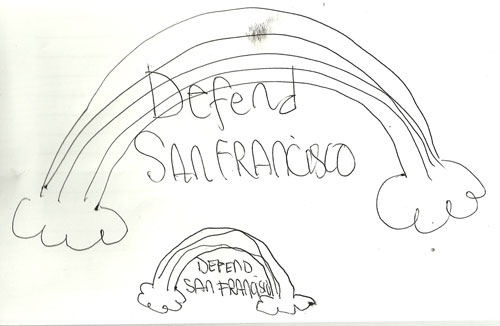 I was working the door at an LA club, on the dirty spanish end of Sunset and Dave Reeves was often behind the bar pouring shots and serving beers and punching out anybody he felt like. Dave had an anger management problem, a southerner's assumption people are making fun of him, and a little less than average height complex. Drugs, alcohol and the erratic schedule of a bartender combined into a volatile cocktail.
He mentioned in passing that he had designed the "Defend Brooklyn" logo and got a large check from royalties every once in a while. When I left LA and came back to SF I thought I'd take inspiration from him and design my own version of his idea.
Had I taken more time and broken out colored pencils you'd see how pretty the rainbow is. But you can fill in the blanks.
Dave writes for Arthur magazine and sends me a link when he publishes something new. Mr. Reeves writes like no other. Sometimes you'll find a photocopied handwritten rant taped to a telephone pole that explains how the government is sending voices into peoples heads. This reminds me of Dave's column, but the voices are real and it makes sense.
I hope to send him a t shirt with my design on it someday, and see if it sends him over the edge.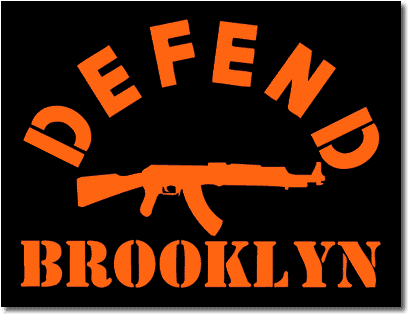 Comments Off on sloppy math