1995 – This is the first zine I did, inspired by Steve Ravioli and done with equal time and work from Sean MacDonald with any drawings not by Sean done by Jared DelDeo.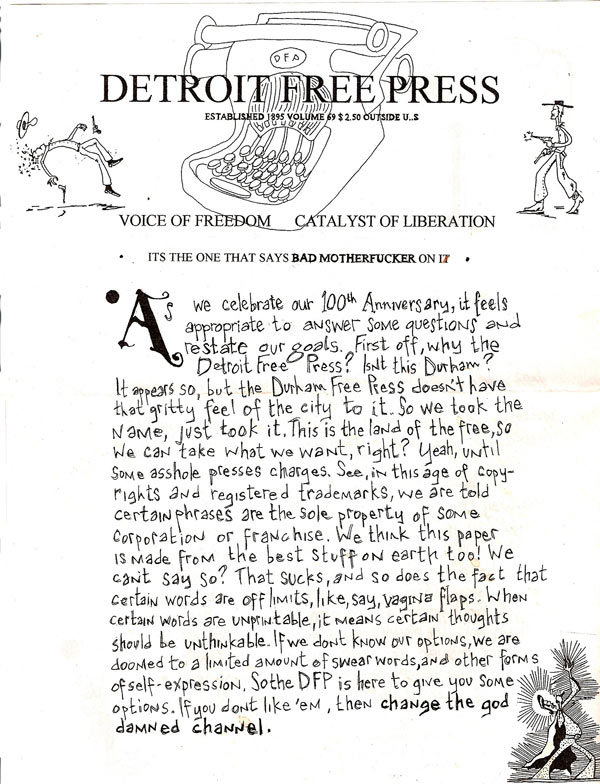 "Best stuff on earth" refers to Snapple's slogan. But you already knew that.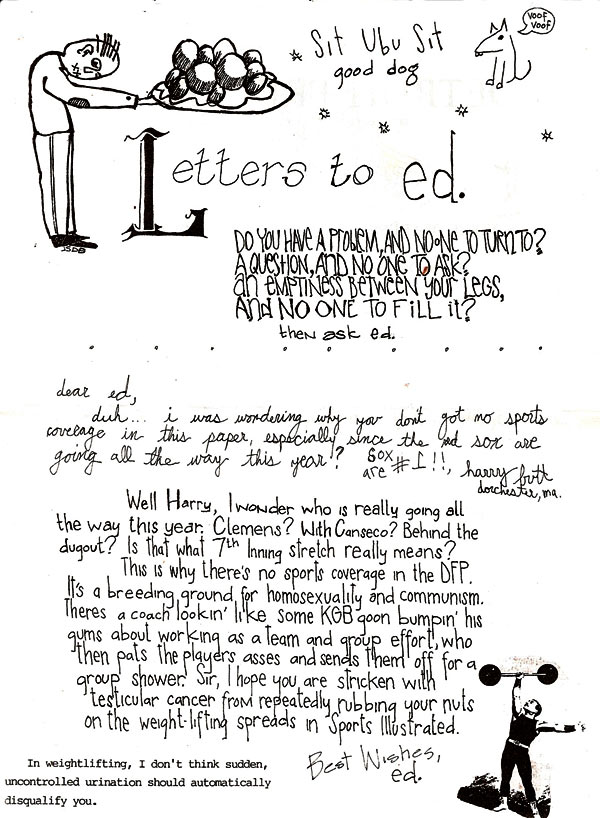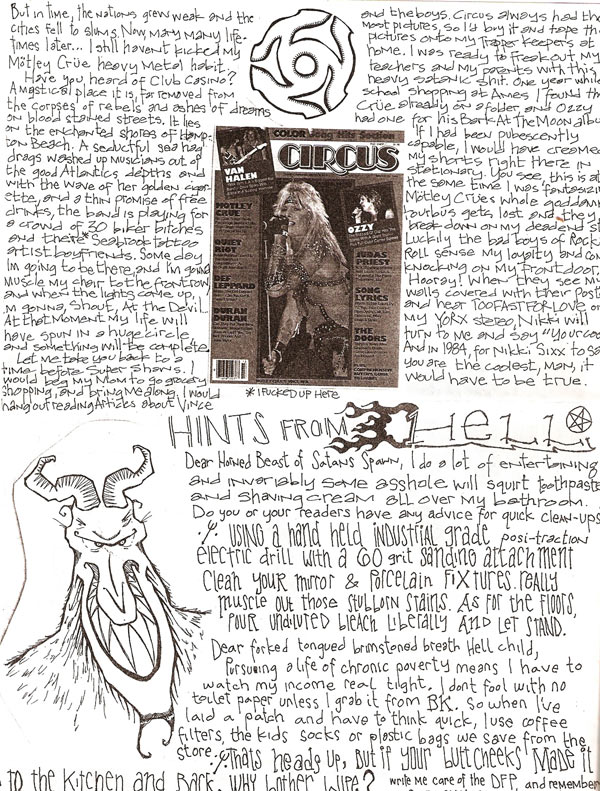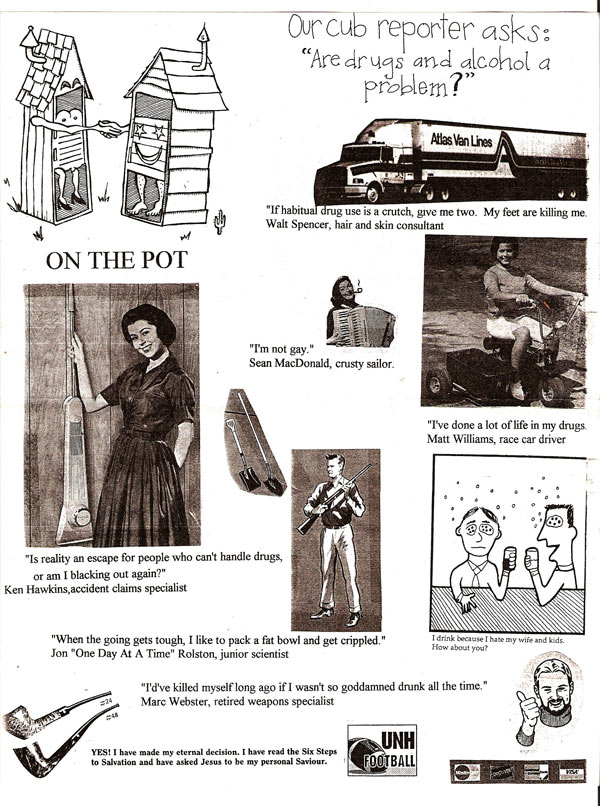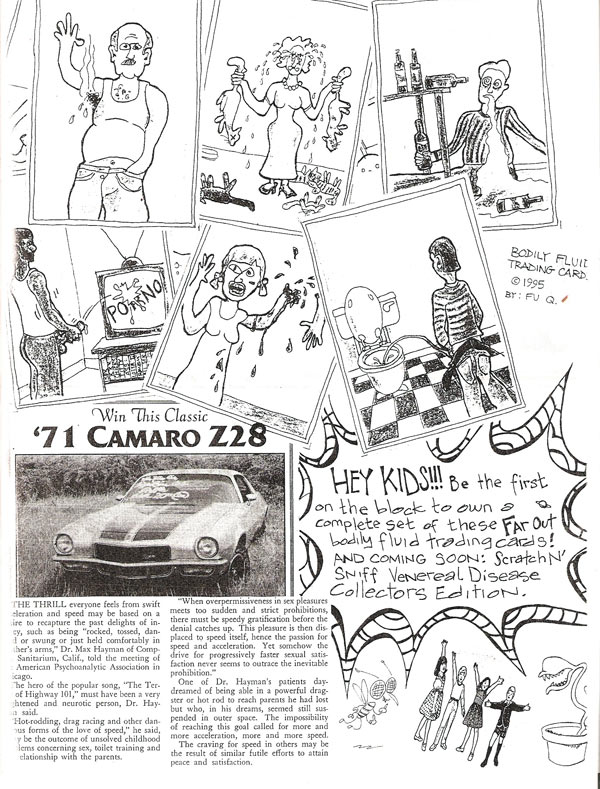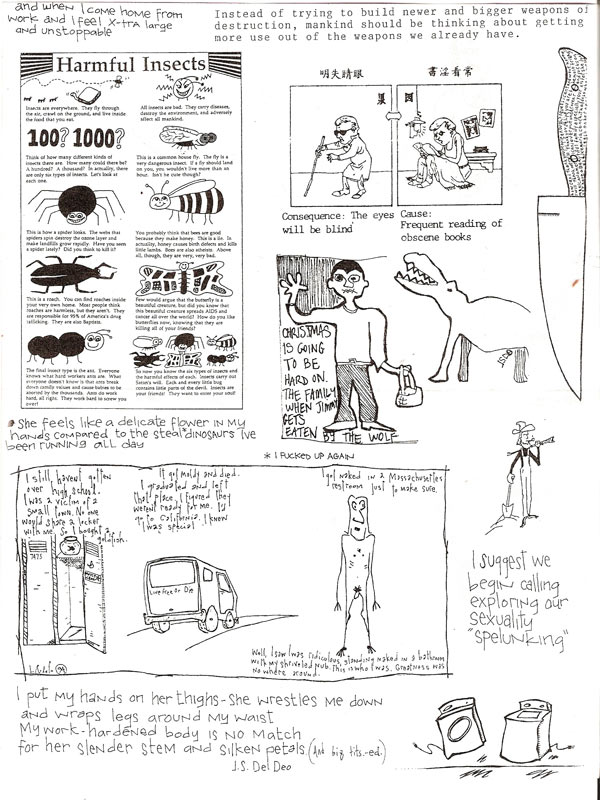 Harmful Insects came from a 'zine called Army Man, if I recall correctly.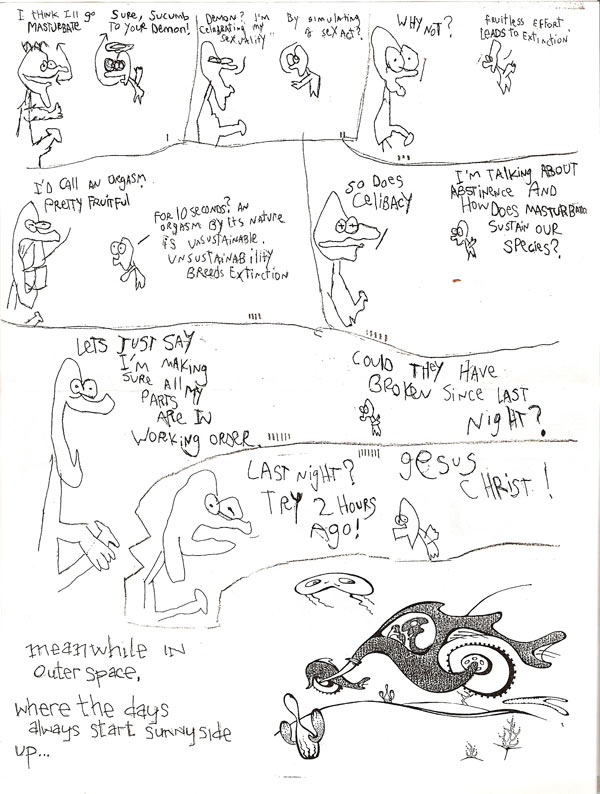 Mark Webster drew this psychedelic full pager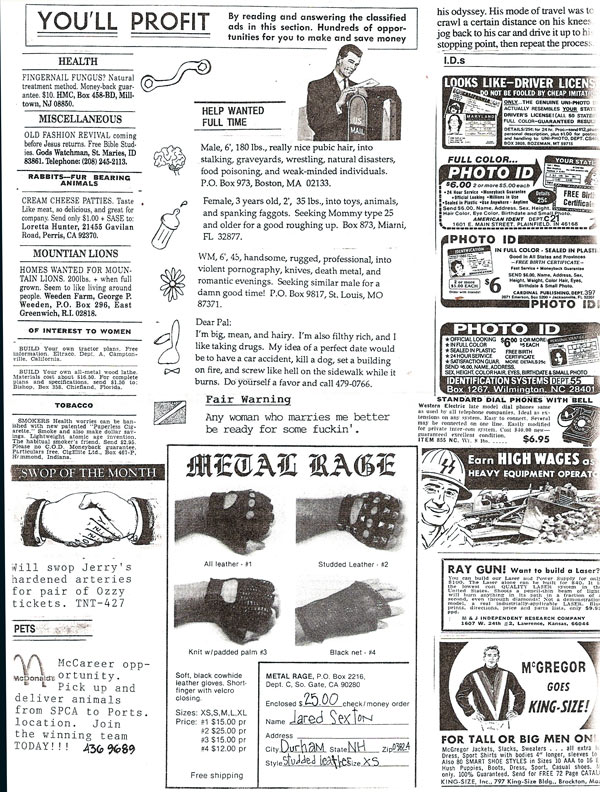 the little ads came from Yankee Magazine and Popular Mechanics. The personals came from Baby Sue, a very racist zine, in retrospect. But this was the time in my life when homosexuality was the funniest thing in the world. Implying someone was gay was a surefire way to get laughs. Yes, I've grown up.
This is an opaque projector presentation in a little bar in Portsmouth N.H.
1996. (Muddy River)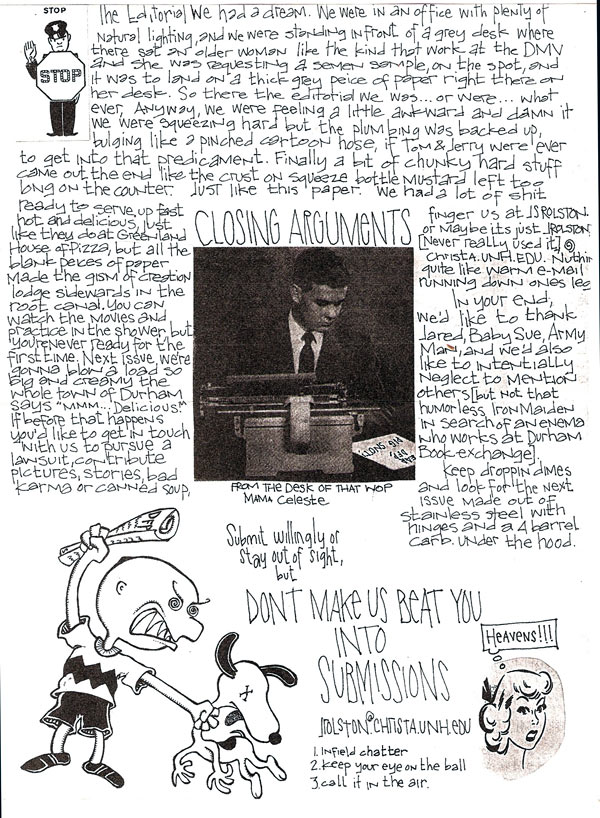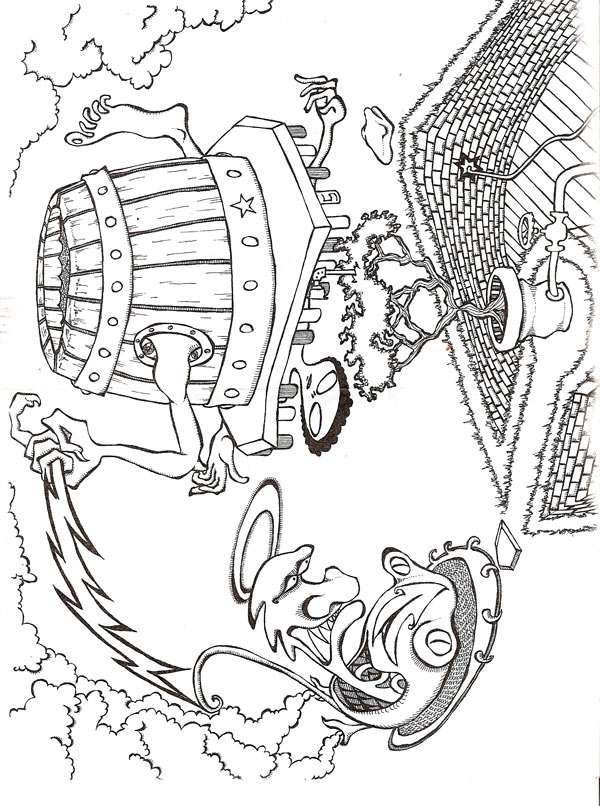 Sean goes surreal on the back cover
This is a little book I made circa 2002:


please DO NOT call that number. It is no longer mine, and the woman there now is old and can't handle wrong numbers.
Measured In Pennies an explanation of nails 2003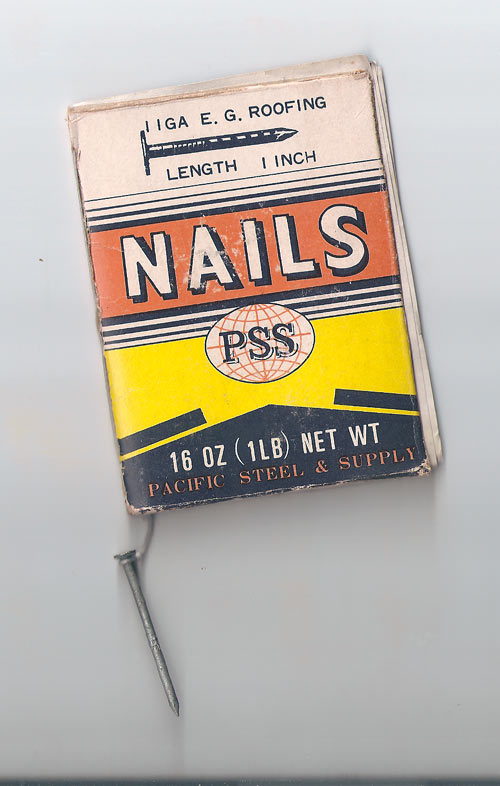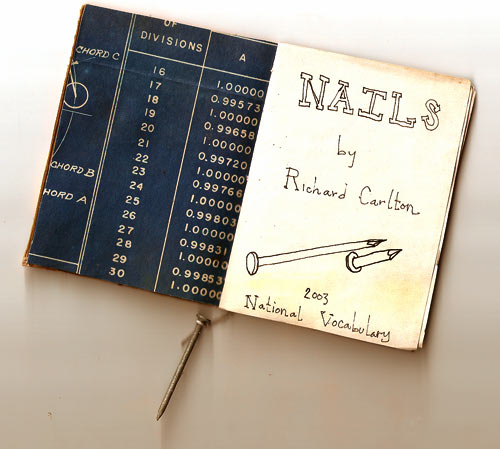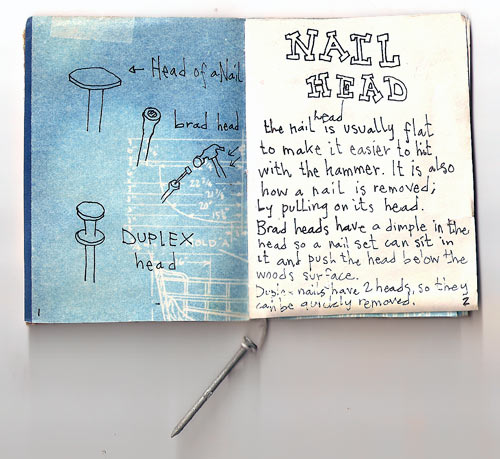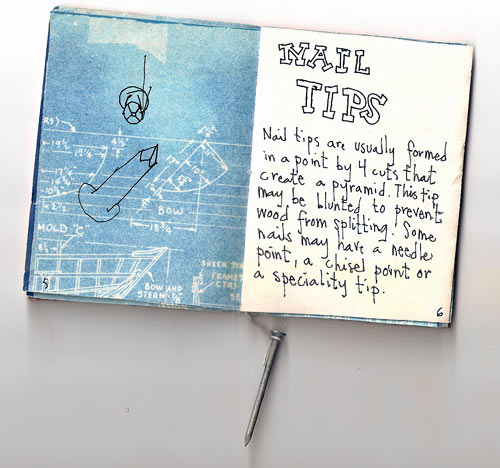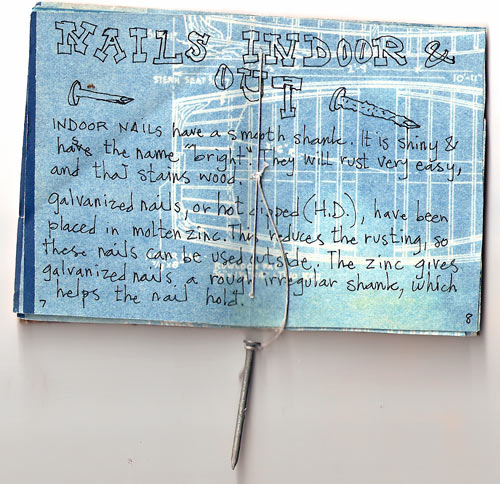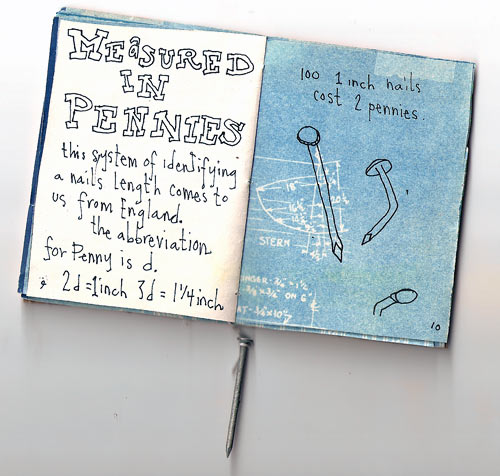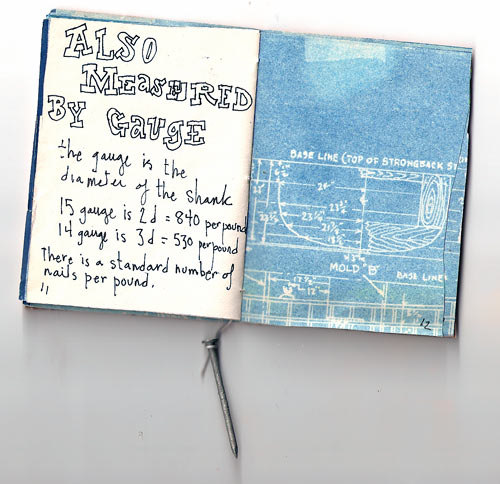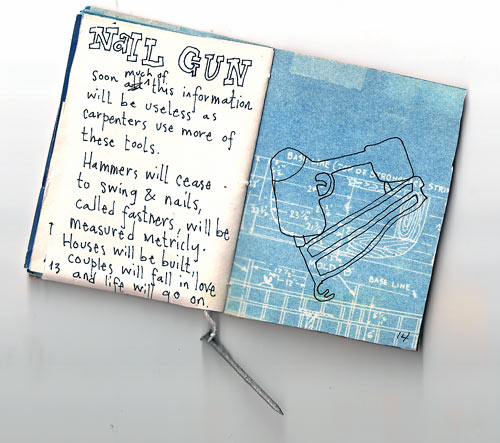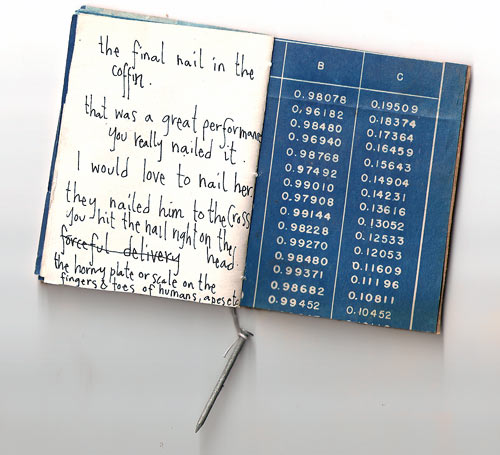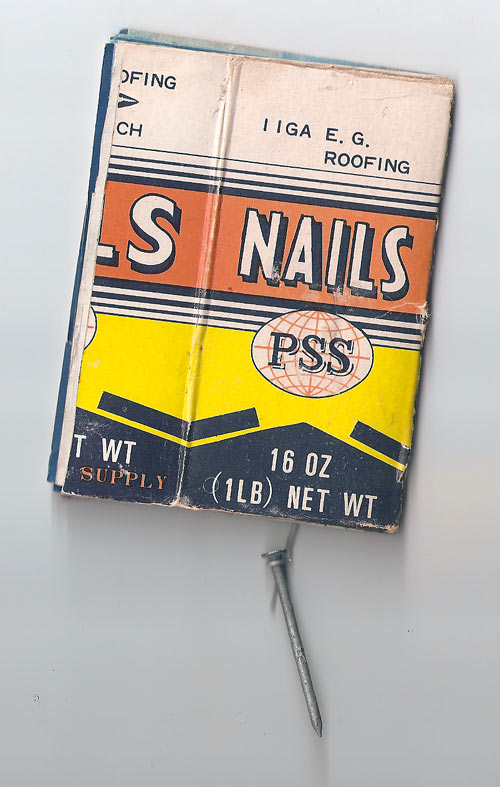 This Machine Is A Microphone 2002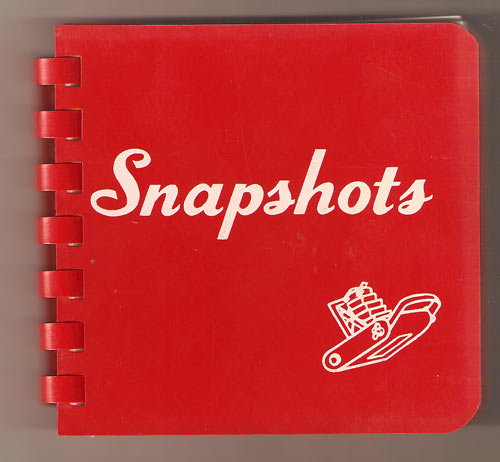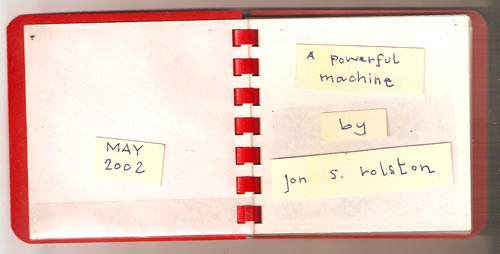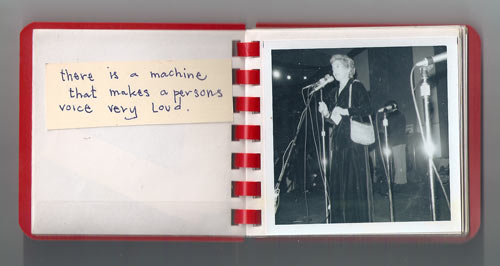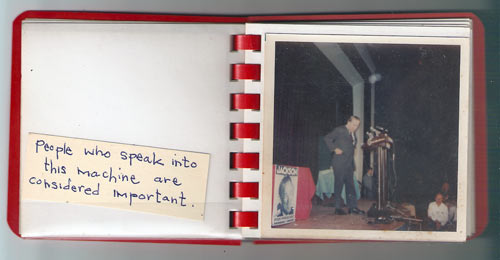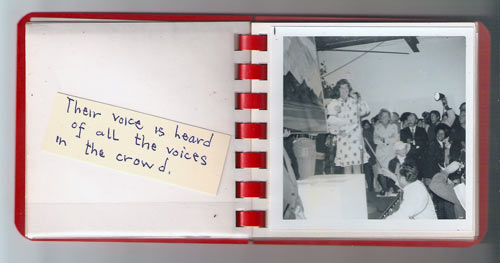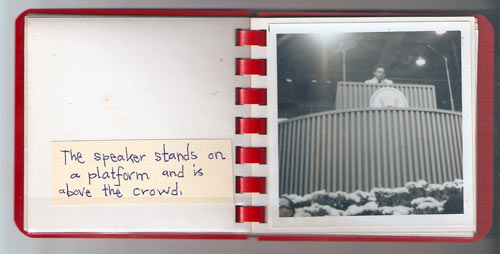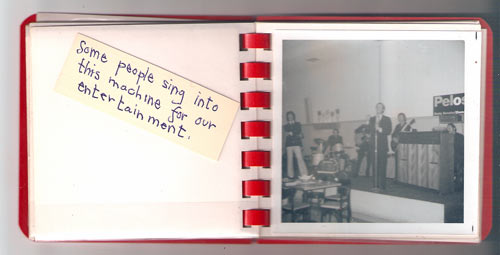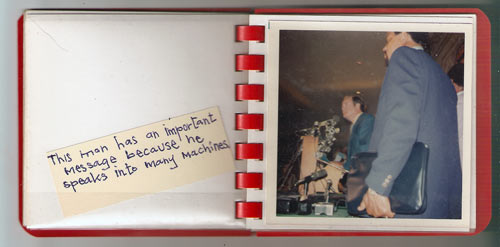 The following was part of an application to an art grant. I didn't get
the grant..
FLOZAC .10¢
The calm that comes from shopping
The only two people with a chance of leading the United States of America in
a new direction squared off in the presidential debates of 2004 and stated that
it was vitally important to increase consumer spending. This is the only method
our elected leaders espouse to make our country safe. Neither one spoke of saving
money, recycling last years fashions, doing without a computer upgrade, or driving
the same old car tomorrow too. The message is simple. We must consume to survive.
If I buy a car, steelworkers work, if I shop at Radio Shack, stockholders earn
money, and if I buy a shirt, cotton workers feed their families. It seems like
a simple concept. In America, we have consumer choice, and the way to make money
is to advertise. Companies lead consumers to their door through advertising
and in return reap the rewards of a giant consumer class's patronage.
If one wants to be involved in commentary on the creep of advertising in our
daily lives, we must first understand what drives advertising: consumer dollars.
Why does advertising work so well? Partly because we are trained as a nation
to take part in it. Not just subsistence shopping, but lifestyle shopping. Identity
through branding, individuality through choice of supplier. If advertising seems
to be invading every square inch of open space, it is because advertising makes
a lot more money than it costs to buy. It is effective and generates capital
to perpetuate itself. If we want to switch off the ads, we must switch off the
lure of patriotism associated with reckless capitalism.
Flozac is a pharmaceutical product that has been developed after ten years
of in depth research into what makes us want to shop. It has been long talked
about that shopping organizes us into easily categorized social groups, Gap
or Brooks Brothers, Fashion Bug or Marc Jacobs. But what drives people to shop
continuously? Our studies reveal women, on average, buy two items a week they
will later return. Why are they buying things they don't even want? And
how many times have you yourself bought something that you never used, not even
bothering to return it? In an effort to change the American landscape of behavior
through the miracles of modern science, our researchers have isolated key parts
of the brain that are stimulated by the shopping experience. It has been revealed
that shopping creates a high in a consumer, and in a certain group, estimated
to be 30% of women, 22% of men, (further breakdowns by race and economic levels
are available) this high is equal to that of a crack cocaine high. People report
a focus and calm amid the frenzy of a crowded mall, others claim to enjoy the
sense of finding a purpose, "knowing what they are supposed to do"
when they shop. (This is not essentials shopping, but recreational shopping,
as defined by standards such as gasoline, basic food shopping, versus shopping
done online, through catalogues, and at boutique grocery and retail shops.)
Our research into methods of curbing consumption have pushed us to study the
brain chemistry of chronic shoppers, those of us who shop 29 out of 30 days
a week for non essential items, spending 65% of our monthly budget on these
expeditions. We are interested in stopping this behavior because it is our belief
that consumerism at this level is unsustainable for the planet, and dangerous
for our country's economy, and by extrapolation, our country's security.
With our research validated by the Food and Drug Administration and numerous
independent researchers, and articles in the New England Journal of Medicine
corroborating our findings, we are ready to go to market with Flozac, a daily
tablet form of defense against shopping urges. It creates the rush and focus
of shopping, resulting in the calm sense of purpose one has when searching racks
and aisles for bargains, the best fit, or the new cut. It creates a sense of
euphoria one has when finding "just the right thing" at a store.
If habitual shoppers are able to receive this through medication, actual non
essential shopping will be reduced, and the lure of advertising will be weakened.
When consumers are not caught in a frenzy to be a part of a brand name phenomenon,
advertising will no longer be effective. The cost a corporation encumbers when
purchasing the multi million dollar naming rights for a sports stadium will
no longer be financially sound. The lack of return on investment is the only
way to drive down the ad creep in our culture, short of progressive legislation.
Considering the amount of corporate funding in politics today, that option is
less than guaranteed. We are putting a lot of hope in American's urge
to quit, and putting a lot of science behind our product.
Which brings us to our proposal for the Anti-Advertising Agency. As it stands
now, before the widespread use of Flozac, we realize the need for persuasive
and blanketing advertising across America. We need to use the tools of the system
to bring the system back into balance. It only makes sense we come to The Anti-Advertising
Agency for help in broadcasting our message to the public.
Flozac needs to have an aggressive marketing force behind it – on air,
land and sea – but one that also understands it is cutting its own throat. Should
the mission be successful, neither of us shall be necessary any longer. Their
will be no aggressive advertising left, just exchange of ideas and information.
No false consumer identity to peddle, no lifestyle fantasy to create through
photography and makeup.
Radical conceptual politics driven by scientific research into brain processes
are not new. Propaganda is a very early and effective acknowledgment of the
powers of persuasion that advertising has tapped into. Now, we at Flozac have
taken the persuasion to a chemical level, and hope it is enough to trump the
competition, and usher in a new world where Americans save money, and in time
become producers rather than consumers, creating an economy not propped up by
heavy foreign investment and personal debt. Flozac is a giant step in the ushering
in of American independence championed since our country's foundation.
Sincerely,
Jon Rolston, CEO Flozac Inc.
Outline:
The current level of consumption is putting a burden on the planet through energy
and raw material consumption and the resulting pollution, creating a slave wage
class around the globe, and jamming our open space with advertising. Flozac
is a prescription for all ethnicities, genders, economic classes in America.
What we want at Flozac is to have street teams go out with boxes of Flozac
to give to potential customers. A.A.A. would be helping to design the package
and the message it will contain, and help with person power to get the product
in the hands of passerby's. Together we could investigate creating information
booths to set up on campus's, in the shopping districts, or in front of
grocery stores.
As people are confronted with the message, they question the product's
authenticity. Of course Flozac isn't a real drug, but it claims to treat
a real phenomenon. A pamphlet with facts about advertising creep could be handed
out with the complimentary box of Flozac, so that people would have a reason
to consider how advertising and shopping is affecting them.
Artist Statement:
I am interested in a total shift in America's priorities, away from Imperialism,
towards socialism and intelligent consumerism, where the real cost of a product
is reflected in its price. Costs like destruction to the environment, the cost
of disposal, and the cost of military strength to protect the resources it requires
in its production are not currently added to the price we pay at the checkout
counter. Having worked at the San Francisco dump, I have seen the tons of waste
we produce as a city on a daily basis. It is frustrating, and this is an attempt
to non-violently change our behavior.