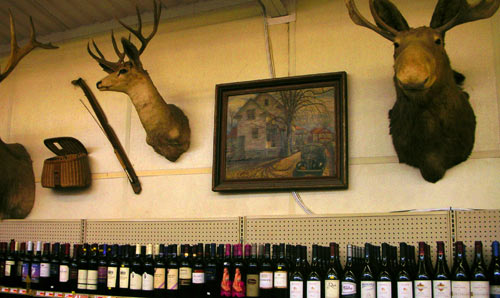 It's a tiny northern California town, close to the cliffs that drop into the Pacific. There's no straight road there – you put in time handling the vehicle, snaking across the faces of hills that create one side of Sonoma Valley, through cow pastures and scrub pines, live oaks clustered in the crotches of gulches, past a splayed deer carcass with the limpness of death in it returning to earth in the short grass on the high side of the road. Dirty brown little mule deer knocked fucking dead with a car like you're driving as you worry about sliding over the low side and rolling, rolling, steel crushing. Then the road starts to straighten and a market with two gas pumps is up ahead and now it's a straight shot called Main Street for three blocks with a neon Lagunitas Beer sign in the window of the Old Western Saloon and a lawnmower with a paper price card dangling from it outside the door of the Hardware Store. The bloom is gone from the trees, everything is its own breed of green for a few more months. It's a tiny northern California town called Point Reyes.
My friends played a show in the Saloon and we drank some beers there, played a few games of pool against the locals. Cowboy hats and mustaches leaning against the wall taking us in, us with long hair and tight fitting dinner jackets, but the music was good, our boys played their best and those cowboy hats decided we were all right. So we all drank some more beers.
After the show we caravaned four cars through the madness of twisting back roads to an empty house waiting for us. The place looked like a box car, low and long with board and batten facade sitting under trees. The front door opened up to the outside…it was an illusion…the house was split in two. Kitchen and living room on the left, bedrooms on the right. We were standing in an outdoor patio with a sturdy ping pong table in front of us. This was California. Northern California, with Douglas Fir and Redwood, lots of windows to let in the light; just by looking at the house you knew Ohio was a million miles away, and beyond that was a fable they called New England.
Someone had brought a bag of mushrooms and we drank Modelo and Tecate until the sun came up and so we went inside to put our bare feet by the fire and dry the dew off of them and off the cuffs of our pants too. We slept on the floor with a fire crackling and the mushrooms winding down. It's been a long time since I've been with a group of people that made me feel like part of the gang. Maybe this California thing is working.