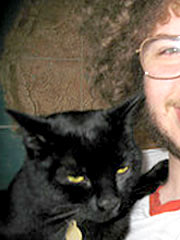 Meet bird. And I think that's Doug in the glasses.
May I introduce The Flagpoles latest hit
birdsong?
From the album CEntEr of tHe SoNG available sooon at Home Depot registers.

An Interview with the Banjo Player Doug Freedman:
mrip: So Doug, what's this song about?
Doug: The producer having no emotions… the guy who produced this record when he heard how much my cats surgery was gonna be he was like, "WHAT?? YOU'RE GONNA KEEP IT???"
mrip: Tell me about your cat Bird
Doug: He skateboards, he snuggles. He's got a sickness, he eats string. The doctor says it'll keep happening, it'll never stop. The first surgery was $1400 then we got insurance. It was $2400 the next time. A THOUSAND MORE…which doesn't make any sense. We only had to pay 20% that time.
mrip: When can we expect the album to bomb?
Doug: You mean drop? We still need an album cover.