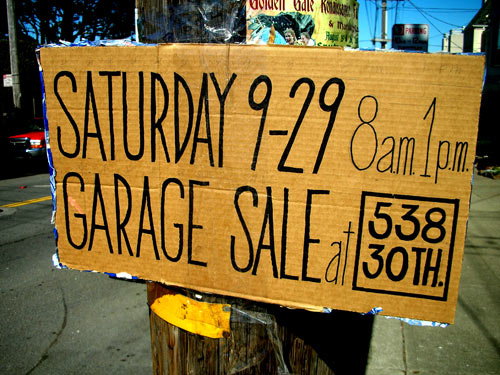 This guy had penciled his sign out first to assure himself of the proper layout, then went back and inked it over, but all freehand. Turns out it was done by a retired graphic designer in his seventies for his daughters yard sale.
Key features:
1. Date is prominent.
This man knows his stuff. The date is the most important information on a yard sale sign. Our graphic designer puts it as the lead. Perfect. I need to know if the sale is a week old or not. No one takes their damn sign down. They're too exhausted dealing with the ebay hustlers and skinflint retirees to go around collecting their signs at 2 in the afternoon.
If you forget your address, I'll drive up and down ten blocks till I see a bunch of double parked cars and find you, but not if I'm not sure the sale is still on.
2. address is set apart.
This helps. I don't really need to know if it's a stoop sale, a garage sale, a yard sale, an estate sale or a fire sale, tell me when and tell me where. I'm gonna come look.
3. No bubble letters.
Look how thin the man's lines are. Too many folks think we're gonna need sloppy fat bubble letters to read your sign. Clearly this sign illustrates that fallacy. Any yard saler worth his front pocket full of quarters knows a piece of cardboard nailed to the phone pole is gonna be a yard sale. You could write it in french, we'll slow down and look for THE DATE and THE ADDRESS and check you out.
Of course, this sale featured a lot of baby stuff, which really proves to me this man knew the ins and outs of advertising. Some people are just so excited to advertise their baby stuff. Nothing turns off a saler – hobbyist to pro – more than baby stuff. By adeptly leaving this snack out, he turns no one away before they even get there. We will see for ourselves your mound of blankets and onesies, a car seat with elmo buckled in by your offspring who has unfortunately outgrown the strapping down stage. But since we're already there, we will take a minute and look for one of the last bits of your prior life – the fun one, where you spent discretionary income on amplifiers and comic books – and hope to find that last symbol of freedom you'll have to sell to make room for building blocks and doll houses. It was this last subtle manipulation, sir, that made me declare this The Perfect Yard Sale Sign Ever. (which isn't really english but sounds cool)