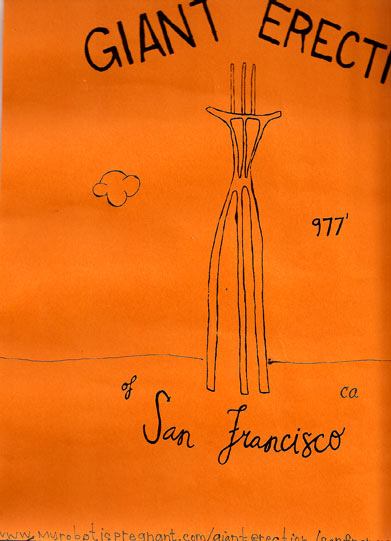 Rachel has gotten rid of her ephemera, and to show my appreciation, I am sending her some of my own.  This handsome 14″  by 11″ silkscreened poster is suitable for framing or folding up and shoving in a drawer.  You may even find yourself throwing it away!  All you need to do to get one yourself is send me an envelope full of old paper.  It could be scrap paper, scratch paper, Scrabble paper, it doesn't matter to me.
It is a gorgeous artist's rendition of the famed Sutro Tower, a landmark radio tower visible throughout the entire city. (Fog not withstanding)  Sean MacDonald helped me silkscreen these, and then I drew in the clouds by hand, and the fake URL at the bottom.  You can't see the whole thing because this sure-to-be collected print is too large for a common scanner bed.
Be sure to secure your giant steel erection by sending in your letters today!
Comments Off on prizes awarded nightly