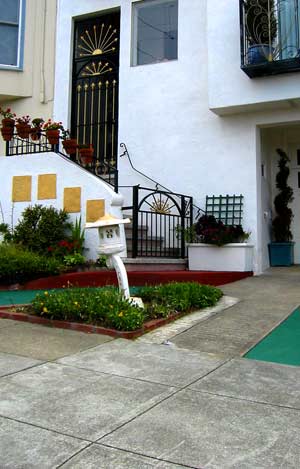 A lot of people think "anal sex" when they think "San Francisco". That or the Golden Gate Bridge. I have lived in San Francisco for more than six years, almost entirely "in the avenues", as it is called. That's the two neighborhoods that abut the Pacific Ocean – either The Sunset or The Richmond. Combined, "the avenues" are thought of as a suburb of stucco homes with no distinction other than being close to a cold ocean hidden by constant fog.
The real action in San Francisco happens along The Bay. The Financial District (rich & white), The Mission (poor and Latino), The Castro (rich & white & gay), The Tenderloin (poor & Black), Chinatown (poor & Chinese). Sidewalks with trash, hawkers, hustlers and noise. Where the beat goes on. Where stereotypes linger. Where they're livin' for the city.
I used to be bummed out about my digs. The Richmond. People weren't poor. There were no hipsters out here. No hot girls in boots with pointy toes and pointy heals, wrinkles of leather cascading around their ankles, skin tight jeans, tight blue-zebra-print boat-neck three-quarter-sleeve shirts revealing their leather belts…no record store, no thrift store, no bums on the street. I wasn't surrounded by young people reviving the 1980's. Was i even in a city? At 28 years old and coming from New Hampshire, I wanted more.
I'm writing today to tell you that I've made peace with The Richmond. It's mostly families out here, middle-aged Russian men hop the fence to get into the high school fields and play soccer, Asian women walk backwards up the hills with two small sacks of vegetables, a few black high school kids wait for the bus to take them home, and white guys like me sit by the living room window watching it all as we use our computers. None of the hustle that comes at the feet of skyscrapers. But I'm in The City. I'm in San Francisco.
That means people might not be particularly ghetto or hip, weird or flashy in my neighborhood, but they won't call you a fag if you are. Folks are excited that things change, that new ideas come along. That is the real thrill of San Francisco, no matter what neighborhood you're in. You can do your thing. This city let's you be yourself. Even in the avenues.
In New Hampshire, you'd be called a fag for any behavior that wasn't totally normal. Being called fag was a bad thing. Even if you were. Even if you weren't. After six years in San Francisco, call me a fag. I don't care. Even if I am. Even if I'm not. Right on, bud. I'll be down at the beach metal detecting.
Actually I won't. Not after yesterday. What a disaster. Baker Beach, the clothes optional cove a few blocks away seemed like a potential gold mine. With people stripping down, lots of change, watches and jewelry was sure to get lost in the sand. I kept my pants on and fired up the Ace 150 and was instantly bombarded by sounds similar to the floor at Harrah's Reno. DING!!! DING!!! DING!!! DING!!!
I swung the plate back and forth to pinpoint the vein but the entire beach was reading like two inches below the sand a base of loose change had washed ashore. My little Ace has three metal settings – All Metals – Jewelry – Coins.
I switched through the options and it looked like I was standing on all three. I kicked back some sand with my foot expecting to find a wrecked antique steal hull steam ship that had been carrying coins from the San Francisco mint and containers of gold nuggets from Sutter's Mill.
Each metal setting will give a different tone in the headphones, so I had a triad chord hammering away in my ears until I finally lifted my machine high enough off the ground to silence it. My father had told me that charcoal can give false readings, and there were remains of beach fires as fresh as last night scattered in the sand. I hadn't realized how bad it would mess with the search for treasure, but as far as I'm concerned, I'm not going back to the beach to hunt treasure.
I'm going to a ghost town. In the meantime, I'm going to spend a little more time exploring my neighborhood. Stop wishing I was living somewhere else. Because The Richmond kills it.
Maybe I'm boring. They say Metal Detecting is the worlds most boring sport. Really? I suppose those same people think bigfoot hunting is boring too. Sure, there're long stretches of waiting, but when you spot a Yeti, when the Yeti attacks your camp one night, when you fight for your life with an abomidable snow-creature standing 8 foot 9, ask yourself: "Am I bored?"
It's the same with metal detecting. Maybe I find bottle caps and rusty pipes most days, but someday, someday, I'm gonna unearth a chunk of gold the size of a Yugo. And I won't be bored while I wait.