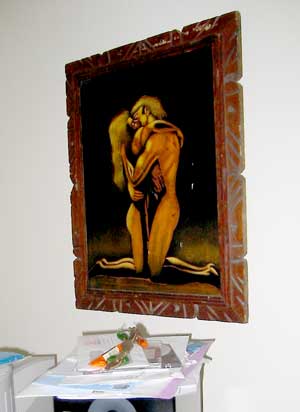 If'n you click on yonder pitcher you'll get an earful of hollerin' and fiddles and such. Sound like Sam got kicked by a mule 'bout half way through'n.
psyche dude, it's just me and my producer D. Licious from THE DMV puttin' down some sick electronic music in both MP3 format and WAV file. Unreal stupid shit baby baby.
I'm hoping this will be the theme song to "The Sad Cafe Cooking Hour" pilot my friend Alina shot and edited down in that big tinsel town L.A. Granted, it doesn't sound like a cooking show theme, but then again, when you see the show, it isn't much like a cooking show. Alina, what do you think?
Too '80's?


p.s. the photo is in D. Licious' studio. It hangs above the mixer. He says all music is founded in love.