I was doing some weeding this morning and pulled back some branches to reveal this major clump of shrooms. The gross thing about this job was crouching down trying to get at the roots and squishing a moldy damp poop from the owners dog. Multiple times.
Yesterday Sophia and I took my motorcycle up to Sacramento to look at a truck. It's an International Loadstar, 1973. Had an aluminum box 14 feet long and lift gate to boot. The picture is just to give you a likeness as my search couldn't turn up the original photo.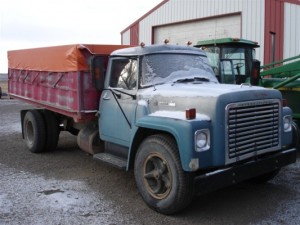 No snow in Sacramento. More like a hundred degrees frying my brain in my helmet.
Just didn't have confidence the old thing would make it out alive from the two plus hour trip back home. At one point Sophia said she fell asleep on the back of the bike and it must have been then that I dreamed she was a balloon and had floated off the back. It was like I felt her let go, although she keeps her hands in my jacket pockets on the ride.
A passenger is a mighty responsibility on a motorcycle. As the miles went underneath our feet at 90 I pictured all kinds of accidents. The oddest one was turning to look over my shoulder and finding Sophia still holding on, but headless. As though somehow a branch or low wire or drunken duck had decapitated her and I hadn't known. It was inspired by war stories from the Pacific, seeing a buddy floating in the water only to find his lower half missing from shark bite.
But she held on enough to make it home alive and now it's time to go bed tonight. Good night. More landscaping tomorrow. Possibly a run to the scrap metal yard. I'll hardly be able to sleep due to excitement.