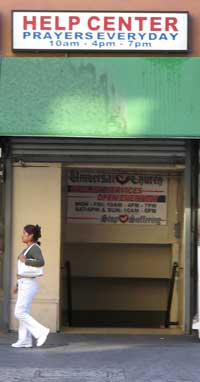 Man's craving has always been to see God, to think he is near Him, as far as possible to get in touch with Him; and therefore the aim of religion is to know God, to get upon intimate terms with Him, to live for Him, and a burning demon of lust for God, to see Christ nude on the cross suffering.
One of these interviews was with a young man who was a graduate of one of the largest full gospel Bible schools in the nation. He told me an astounding thing.
"I am a married man with a nine year old daughter. I don't know what has taken hold of me. There are times when I have a desire for my own daughter. Something has gripped me until I am afraid to be left alone with her. It overwhelms me. I must leave my family or I may commit an immoral act."
Friends, that was a demon spirit troubling this man. These things are real. Though this man was a Bible school graduate and doing some preaching, he was demon possessed.
Lucifer, son of the morning, then became the devil, and the third part of the angels who followed him in his rebellion against God became the demons.
This man eventually found his way onto the streets, drinking alcohol and using drugs in a useless Godless attempt to relieve his sadness. The Burning Demon Of Lust destroys. Had he prayed with me, this demon would be gone, and he would still be with his wife and daughter; a happy family.
The only absolute protection against demon powers is to stay covered by the blood of Jesus. A small shack in the hills used to rape girls. Ropes and devices were discovered.
(this was taken from my imagination fueled by reading the religious tracts The Burning Demon of Lust by A.A.Allen and Confidence in God by Rev. Daniel Considine S.J.)