May 28th, 2006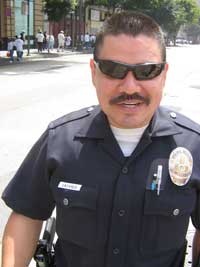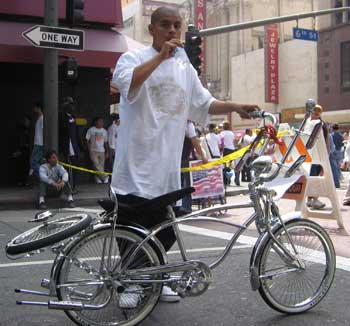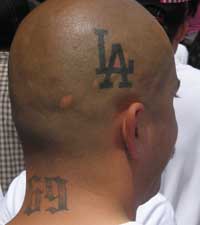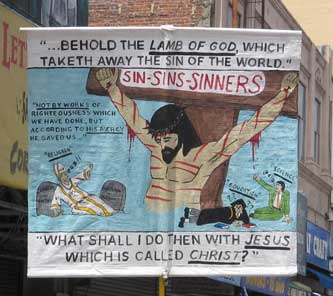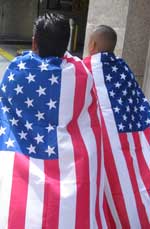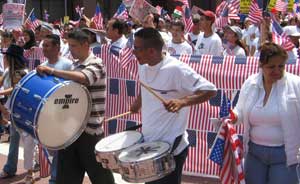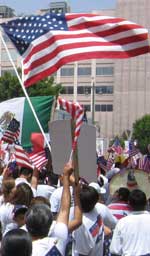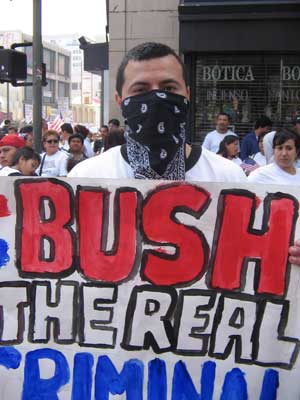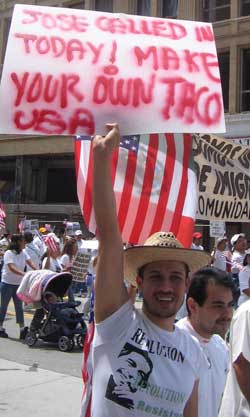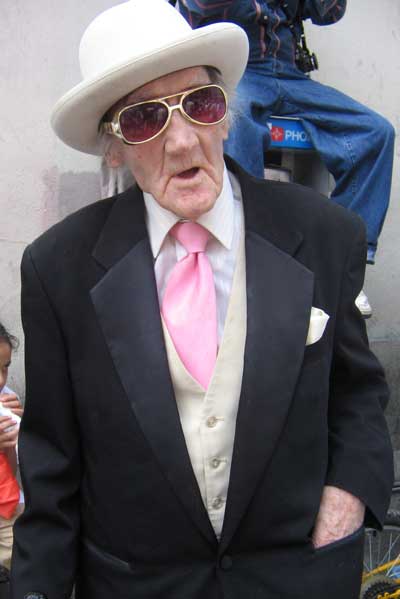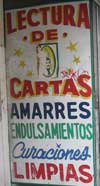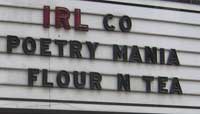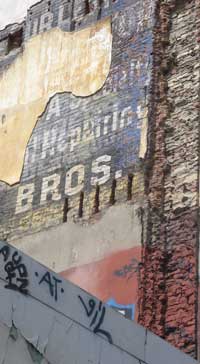 May 27th, 2006
It is time to start learning Spanish. Your first lesson:
Que quiere cecir?
(kay key-air-ay say-seer?)
It means, "What does this mean?"
There are things that you can define but not understand. They are called idioms.
"I'm just plugging along," is an example in English. What is great is when you hear an
idiom from your grandmother's day. "Well don't that just beat all," for example.
That ends your first Spanish lesson.
---
The famous sidewalk of stars in Hollywood California.
---
Julie and I have been working on some great projects.
This Wednesday we will be selling grilled cheese sandwiches
and a dill pickle on a plate for three dollars. Julie is bringing
her iron to grill the sandwiches with. I'll be reaching into the
pickle jar with my bare hands to fetch out the pickle.

Every Wednesday night we go to the bar with a great idea
such as this and make a little spending money. Next week
we hope to have finished our peep show. It will feature
a hand turned spool of paper with fetching ladies and handsome
men for your viewing pleasure. A turn to the left, watch the
women. Turn to the right for the gentlemen. Somewhere in the
middle they mingle.

We headed to the flea market to find some naked people
pictures, but struck out. Julie took some photos and told me
how to be a better photographer. This her photo, as is the
one above with the older women waiting for the bus.



---
She had the largest collection of owl figurines I had ever seen. She was dead and they were all for sale.
---
May 22nd, 2006
The dirty pueblo of Los Angeles

Men are seen walking down the paved streets with water jugs to the local wells. They are advertised
by signs in Spanish: Aqui Agua .25¢ gal. Los Angeles has no water of its own. It comes in on trucks
and trains. Rail cars from Vancouver trundle down the lines with clear spring water bottled at the source
sloshing around inside stainless steel tanks. Water always moves.
There are people who settle down, and there are people who come and go. Sometimes they end up in places
they don't belong. They try to settle anew. What do they want to find? There are lonely houses across America that take
them in and treat them badly. There is a system that claims to comfort them, but it is like drinking dirty water
when you're dying of thirst. The truck drivers pull into the big parking lot and kill the diesel motor, climb down
to the ground with buzzing in their poorly circulating legs and hobble into the lobby. At this point, any number
of things can go wrong.
---
May 21st 2006
This place where I work, I just don't know.
He's a dentist. He gave me his card.
---
May 20th, 2006

George Washington is pictured here in a scandal
that cost him re-election. Unfortunately a woodcut
artist from the Whig party was hiding in the
wardrobe while G-dub was explaining his position
on women's rights.
---
May 19th, 2006
Dear My Robot Is Pregnant,
What is going on with those nasty photos of feet? At least find a woman who doesn't have cross-eyed toes. Scrape those hooves, girls, before you leave the barn and head to town.
Sincerely,
A Concerned Reader
---

Southern Gangster
May 18th, 2006

I have given up trying to write tv shows. At one point someone asked me to think up a show that revolves around Gilette razors. This is the new way of advertising, in a time of TIVO and channel surfing. No one watches commercials, so the product has to become a cast member.
I had my first audition for a reality tv show yesterday. Since I screwed up the one line I had, I'm not expecting a call back. But when I am no longer under written contract, I will take a minute and talk about it. (I agreed to pay them 5 million dollars if I spill the beans)
In the meantime, I baked a pumpkin pie, oatmeal cookies, brownies, and brought some pickles down to the bar and set up a bake sale. "The Rootin' Tootin' Snackaroo Shop" was the sign I painted. I made about $14 bucks and the old Tamale Guy came through and asked me why I was selling food in his bar.

Dear New Hampshire,
Have you ever had a tamale? It is pronounced tah-mah-lay. It is a corn meal mush thing with spices and gosh I don't even know what's inside them. Sometimes chicken, sometimes pork, all kinds of things. They are super neato because they come wrapped in corn husks. There is an old man that comes to all the bars with a cooler full of these tamales at night and sells them to people who are drunk. They only cost two bucks!

In San Francisco there is a Tamale Lady who did the same thing. I can't remember something similar in Portsmouth. (There was a guy who sold weed, but that happens at every bar in the country.) I used to go to the bars and try to sell bicycles and vintage clocks to my friends. I suppose that's the same.
Talk to you soon!
Love,
Jon
---
May 14th, 2006
The following is the transcript of an oral account recorded in 1916. Rusty Sunshine was an early pioneer, leaving the wilderness of Maine for a life of adventure in the frontier land of California in 1867. He was born in 1857 in Scowhegan, served in the Civil War as a shoeshine boy to General Grant's boots, farmed, panned for gold, married a French woman and settled down in Lodi CA, where this interview was given. Rusty died shortly after, leaving his widow Evette, 200 hundred head of Angus beef cattle, and 24 children behind.
Interviewer's note: Rusty couldn't read or write, so he drew up pictures of what he bought on credit or loaned out. One evening while doing paperwork he came upon a picture like this:
"'Is that a horseshoe or a pair of pants?' I asked myself. I couldn't figure it out. Seemed like I had on a fairly new pair of pants just that moment, but then again, it weren't so long ago I'd shoed a horse. After a few mix ups of this type I tried out an account man in town. When the horseshoe picture came out of the pile I told him what I thought it was. This fellah was merticulous [sic] when it came to details. He asked me,
' Now Rusty, is that a right horseshoe or left horseshoe?'"

Rusty Got His Start Haying
"I started off tying the knots on the bales, two years later I was 8 and old enough to swamp the mules. That meant I walked alongside them for encouragement and if they got tangled up I'd straighten'em up. Had to watch out for stuff. Gopher holes were always a problem or a rock for that matter. If the mules didn't bust a leg on it, it would throw the load when the hay cart ran it over."
Redskin's Foreskin Was More Skin Than He'd Like To See
"I always loved the country, taking expeditions through the wilderness by myself.
One time I came across a couple of Indian bucks fucking each other in a pine thicket. I don't suppose I wanted to see it, but there it was. Two handsome redskins doing something nature didn't intend. They saw me and came after me, ready to kill me.
"I had a bit of a head start but they were skinned down and fast. I thought for sure I was a'gonna get scalped. I came down the trail to find a big old tree trunk fallen across my path. With a prayer I hurled myself over it and landed on the back of a sleeping moose. He was so startled he jumped up and ran towards the river with me ahangin' on to them big antlers. He hit the water and didn't stop.
"Those braves didn't get to the river's edge till I was halfway across, ridin' high an' dry on the withers. They shouted something or other but didn't give chase, and I turned to look back at them, said thank you to the moose and jumped off close to the far shore."
Rusty Reflects On The Meaning Of Life
"All my years of living, I came to find that life was about sweepin' the floors, cookin' a meal, and if you're lucky, someone was around to warsh dishes with you."

---
May 13th, 2006
Here is some Korean Style Tough Guy Poetry by Ch'oe Kinam
(written in the seventeenth century)
I have never had my fill even of poor food.
So how could I hope for dishes and cups on my death?
I have never had more than a mugful of drink,
So how should I expect to taste a morsel of meat?
I go out the gate of the capital city
To lie beneath the west hill in the field.
The wind in the forest sobs in sorrowful sounds;
The moon over the hills beams its sad light.
The world is a place for a short stay:
My real home is in the underworld.
Who knows if the joy of a skeleton
Will go on and on, like heaven and earth?
I sat at the Brite Spot and drank coffee reading this. I liked the line,
"The world is a place for a short stay"
Some lines from other poems jumped out at me and I wrote them down.
"No trees in Seoul, they made bridges with hair pins."
I wonder when I take the most powerful line from a poem
and set it by itself, how much it is weakened?
"She makes the innocent eat shit through slander."
That one would seem to stand alone quite strongly.
Here is the argument:
"You don't weaken it, you free it. The line is better off released from a prison of bad poetry. The other lines are a clutch of ugly sticks, you give us a flowering branch."

It sounds true, but is it really? The great line is an arrival not earned through a journey. It is just a postcard wishing you were here. It is a hair pin in your bathroom you pretend is a bridge in Seoul.
Here is a beautiful poem that doesn't have one single great line that could stand alone. This poem must be read in its entirety to have the impact.
Waiting For My Love
He said he would come at moonrise;
The moon is out, but he has not come.
Perhaps he lives among high hills
Where the moon comes up late.
Sucker!
These two poems are from The Columbia Anthology of Traditional Korean Poetry. It is a good book. I enjoy reading these ancient poems containing old dangers - farmers fearful of tigers who lurk in their fields for instance. That is life! I look out my windows at buses and apartment buildings, fruit stands and soda machines…

"Where are my tigers?"

Then I remember the guns shots last night, the dark alleys and the smoke from factories that sneaks through the air to enter my lungs. Oh, yes. Killers will always be waiting.
---
May 12th, 2006
"You white boys want to survive in prison? Here's the game: first day you're in, punch the biggest black dude you see. That's what I did. Punched him hard as I could in face, he wasn't even thinkin' about it'.* Then I pulled a joint I'd rolled with toilet paper out of my ass crack, ripped the back off the rec room tv and lit that fucker with the electrical fire. Take a puff, then pass that shit to the next biggest nigger you see. You'll be all right."
*(Make it a K O for the rest of this to work.)
It's for this type of wisdom bars are important cultural institutions.
---
May 12th, 2006
Coke weed speed and booze

I Talk To God. (The conclusion of yesterday's story)
I don't know about you but I need to go through a ritual before I pray. Nothing worse than not being totally in the mood - talking to God and you start thinking about a great pair of tits. It's embarrassing. I engage in religious foreplay. My Bible is on a shelf in my bedroom. I take it down from the shelf and place it on my bed. In my desk I keep a small silver crucifix. It is stamped .910 on the back. Almost pure. I set this next to the Bible. I look at Jesus dead on the cross. Then I kneel down, fold my hands and pray.
Tonight I begin: Dear God,
Why have you sent me an angel who is addicted to drugs and sex? He steals from me too. What am I supposed to do? WWJD, GOD? HUH? WHAT THE FUCK WOULD JESUS DO?"
"COOL OUT YOUNG BROTHER", came God's deep soulful voice. "You be steady trippin' on some nonsense. Dontchewyou know angels and devils come from the same place? I MADE THEM ALL."
"So what are you telling me, this angel's a devil?"
"Maybe he acting fast with your girl. Maybe he smoke a little weed. Let me tell you a secret. Heaven be for quitters. This angel down here on earth, baby, not in heaven. He ain't ready to quit the vice. You got a few marks on your heart yourself so deal with it. It's life. Handle your business cuz I got to go. Holla at me later."
With that the prayer was over. The weight of the Bible had pulled wrinkles into the bedspread as it sunk into the mattress. My heart was heavy too. This was my fate: to be guided by a derelict angel with too many addictions.
* * * * * *
Author's note:This story doesn't work for me. It has problems, and those include: I'm not trying to be good, so why am I complaining about bad influences of angels? And heaven is for quitters? That isn't a good explanation for why god sent me this bad angel.

But that's how it came out. I can only say I'll do it different next time.
---
May 11th, 2006
Notice found taped to electric junction box on street:
Jesus is coming to Echo Park Lake on 7-7-2007 at 8pm red
bridge like blood of Jesus with a rainbow and 1,000 doves at
8 pm.
I Talk To God
My guardian angel stopped by last weekend. He's been off the scene for a while.
"Sorry 'bout that," he stumbled, "God had me out of the country checkin' up on some virgin births."
He stood in my doorway, his face smiling but the mesh of the screen in the screen door made him appear sinister.
"You were down in TJ* again, weren't you?" I said to him.
He grabbed the base of his left wing with his left hand and fiddled with it like it was a booger rolling between his fingers. The otherwise white feathers were dingy black towards the bottom, some had scuffed completely off. It looked like a plucked chicken where the wing was exposed. He gave off the impression he had been sleeping in a dried out riverbed down in the Mexican desert.
"I go where God sends me. Ask Him youself." My angel replied. I had my hand on the door latch but hadn't let him in yet.
"Maybe I will ask him." I said. He was bluffing, I knew it.
"The Lord commands that we not worry over the splinter in our neighbors eye, my friend. I am an angel and have been sent to help you with the plank in yours. Specifically, I hear you have a girlfriend." He had a truly angelic look on his face as he dropped the wing from his hand and spread his arms wide like Billy Graham. "Tell me about Stephanie."
I stood staring for a moment, then pushed open the door. The angel came in, I thought I smelled strong unsmoked weed. A hydroponic skunky smell. Did God hate me, that he sent me this addict to watch over me? Or was it a test? Everything is a test with God. Why can't we ever have recess, or lunch, or nap time? Test test test…
"So you heard about Stephanie?" I asked him. I didn't offer him a drink, not even water. Last visit, when I refused him my whiskey and offered him water, he cracked, "Only if it's holy."
"I've heard about her. Seen her. I've even been over to her place, going through her things"
"WHAT??!!" My hands drew into quick fists and my neck leaned forward.
"Of course I did. I have to make sure she is good for you. Not into drugs, sex, all that stuff. Did you know she uses the pulse setting on her shower nozzle to-"

I planted the knuckles of my right hand's fist into the bridge of his nose. I had been standing a little too far back to really drive through him and send him flying, but he was off balance and stepped back, tripping on his feet. When he slammed to the ground his wing made a gross cracking sound and he cupped his face with his hands. Blood was already running.
The thought of him watching Stephanie in the shower was too much. I ran two steps towards him and kicked at his side. He balled up his legs to protect his chest and with whatever magic a guardian angel has, he disappeared. I was in the midst of my second kick. My leg hyper-extended in the absence of a target and I fell down too.
I lay on the floor. Bad carpeting that smelled like a previous tenant's dog. By my head I saw a cheap plastic baggie. Inside were bright green buds covered in white crystals with red strands weaving throughout it. Must have fallen out of the angel's robe. It was time to talk to God.
Be sure to come back next week, when I Talk To God.

*Tijuana
---
May 10th, 2006
Midnight In The City Of Los Angeles.

The big empty buildings of downtown are lit up and hollow, I ride my bicycle beneath them, past front doors behind gates, like a city of seperate castles guarded with sidewalk moats, men asleep against the walls with grocery carts at their sides. The peasants and their donkeys, hushed by the darkness at street level, while when we stand back and look into the sky, the city still seems alive.
Sixth Street is bad, the worst I've seen. Skid Row. Even in the dead streets of midnight Los Angeles the air is moving and it was a shock to my nostrils to find it basted in their smell, the urine on the sidewalks risen up like Christ and I could smell them in their tents as I whipped through red lights, up one way streets against the arrows, like a young panther in a herd of elk to old and sick to even hunt. A stand of diseased meat. Midnight in dowtown LA, the leper colony.
Tent after tent after tent, one right next to the other for blocks. Women sitting Indian style with their long hair touching their knees, head bent over, men standing two or three under a street corner lamp, but not talking as I rode past, their eyes moving, maybe a chin following one tick in the direction I move. They seem to be wrapping themselves in body bags at night, blue plastic tarps they pull over their whole body, so not even the face shows.
That a city street could smell so strongly of dirty humans gave me a terrible sense of desperation, that I was riding through a refugee camp in Bosnia, Afghanistan, some place where a horrible war was raging.
A lot of blacks. Not all blacks, but a lot of them. Slavery ended in the 1860's with the Northern victory in the Civil War. Segregation was outlawed in the 1950's with acts of Congress. It feels to me that one culture was successful in destroying another culture, and these people are on the streets because they are born into a new culture that is not functional. Whatever African rituals, names, ceremonies and beliefs their ancestors knew are totally erased. A lot of people, white people, (not all white but a lot of them) think enough time has passed. That blacks always were and never will stop being poor and uneducatable.
Me, I just look at Native Americans drunk in the streets of Arizona, Seattle, Juneau, and look at the blacks drunk in the streets of Boston, Charleston, Los Angeles, and think to myself, "Culture is a powerful force, and when it is destroyed, it destroys for generations."
---
Todays lesson: One man's trash is a
scavenging hobo's dinner.

May 9th,
It is my father's birthday today, and I want you all to stop on by his coin shop, of those who can make it to Portsmouth, and wish him well.
I can't make it, since I'm in LA and out of work. Being out of work and needing a pot to boil pasta within, I headed to the Goodwill. I know thrift stores too well. The racks of dresses are always up front. And good shoes they keep behind the counter. Sometimes the pair, sometimes just the left one. When the little cart of priced new arrivals rolls from the swinging doors of the sorting room folks are on that shit like a hobo on a ham sandwich. This is what gets the shoppers blood hot; virgin merch.
While I found loads of frying pans, there was not a pot in sight. I did notice quite a pile of albums. Should I stop and look? That main stack, I can see from a distance it is a bunch of tattered old Henry Mancini and Classical albums. But hey there, what's this shiny one off to the side…Joy Division? JOY DIVISION?? I never see Joy Division records at the thrift store…this means something….it means it's worth money.
I decided jump in. I pulled up a chair from the furniture department and went through every album, reading dates, line ups, labels, sliding the record out of the sleeve with the collector's touch, checking for scratches, confirming the record is the right one, inspecting the inner sleeve, hoping to find original posters or other ephemera that came inside. I know the moves of an expert record collector.
In truth I'm an ametuer. I'm here taking guesses. But let's call me a journeyman, because I do know a thing or two. I recognize an interesting New Wave collection when I see one. Even if I can't name a Joy Division song or tell you what New Order sounds like, I know the names. And I know they are desired by a fanatical type of person. The clean and moneyed. Eurocentric completists. The kind that drives the price of this stuff up a bit higher than the Flock of Seagulls records I am passing by. Same era. Probably the same collection, but these are the gems.
Ah! What's this? France Gall, my sweet French chanteuse, how dare they take you to this derelict record corner to wait out your days! I will send you to Sea Level records on Sunset where a lover of French Pop will cradle you into his arms and bring you back to his place, with shag rugs and furnishings from Design Within Reach. Egads! There's a boat load of Frenchies in here!!! Sylvie Vartan, Sheila, the infamous Je Suis Comme Toi album (judging from the leg show on the cover)!! I keep digging. Surely there are more of the petit cheri's…Isabelle Adjani!? I"VE NEVER HEARD OF HER!!! SO WHAT!! SHE'S FRENCH!!!
Some cool cat had his collection dumped by a heartless landlord, or had his parents finally made good on the threat to clean out the garage? Or…how sad…yes, he must have died, and none of his friends understood the intricacies of French Pop, the joy and happiness these women weave with their throats, their mouths, their French tongues, and the little thing that hangs down in the back of the throat that makes you gag if you touch it.

I'm no expert record collector, but I see an opportunity to turn these .99 cent Goodwill records into a steak dinner and a handjob. Now I have my pile, and people are starting to hover around, they sense something in the air, they know the look of a gambler about to hit, an addict about to score, they want in on the action. Here comes an older guy, he leans close to my stack, pretending to look at picture frames. I have him in the corner of my eye. I want to say it now, but I hold off…don't want to tip my hand, cause a frenzy…lose everything I've worked for.
He makes a slow grab.... "THAT's my pile!" Damnit, I snapped.

"Oh, no problem, I'm looking for the Readers Digest collections, you know, in the box set. They're always in marvelous condition."

Give me a break. Of course they are, because no one listens to them, they…never mind…he's moving on.
17 pygmies, Strawberry Switchblade on lp and 45? What a day! Bands I've never heard of, in mint condition!! I'll be RICH!!!
I round up 16 albums and put 16 bucks on the card. No problem, I'll turn that into forty, for sure.
I love the Goodwill, I love the rush, the shopping high when God deals you a handful of aces.
(Sea Level didn't want the French Pop, but I got thirty bucks for the New Wave. Later that night I took the French gals over to Ameoba in Hollywood and made 13 more honest American dollars. I had a carne asada taco and gave myself the handjob, just to stretch the cash a little longer.)
---
May 8th, 2006
---
May 7th, 2006

I know a guy who quotes Joseph Beuys: "Everyone is an artist." He goes on to say, "Like that Subway commercial, where the guy behind the counter is a sandwich artist. We all make art."
I can't blame my friend, he only had one year of art school. The rest of his time he spent getting a Business Degree, so he probably didn't take a lot of philosophy courses. It is sad though, that the professor wasn't more explicit. If the person you are paying to teach you about art tells you you are the same as a sandwich maker, I don't know who's dumber – the teacher or the student. If it was believed by both parties, the student could be making $6.50 an hour at Subway studying art and the teacher would be out of a job.
If it was true. But it isn't true. The sense of "artistry" Beuys refers to and the "art" one studies and practices are two different concepts. The sandwich artist is not making art, he is making money. Were he to put creative touches on his sandwich, it isn't in the sense of artistry, it is in the sense of humanity that we all possess. We are all artists in the sense being human calls for us to process our existence and build a sandwich with a unique signature.
Of course a lot of artists who train to be a part of the art world are like a sandwich maker, who aims to make money not art. They see painting or sculpture the same way the Subway guy sees ham and cheese. They are materials to be put together in such a way that the consuming public will pay money for them, so that money can be used to support a lifestyle.
Can an artist quit art like a sandwich maker can quit Subway? I say not. Everyone is an artist because they are affecting the world with their decisions, decisions that are based on a concept of what works best to create flow and form that brings meaning. We are not all intrinsically artists that can paint, photoshop, write, sculpt, compose, etc.
So let's not call a sandwich maker an artist, or an artist a sandwich maker. It makes me sad. Mostly because we don't all make art. Too many of us are just making sandwiches.

I made it and I ate it. And judging from the size of the photo, I am an egotistical artist.
******************************************************************************
A very good friend I will call DSM asks me, "What if instead of money, the artist makes art because he is seeking fame. Is that the same thing? Looking for a payoff rather than a piece of art?

Interesting question DSM. Is fame any better or worse than fortune, when it motivates your art? Consider this:
If the sandwich maker thought to himself as he diced lettuce and restocked the pickle tub, "I want to make the best sandwich, so that everyone knows my name", would that be the same kind of sell-out as the sandwich guy who says, "I want to make the best sandwich that will make me lots of money."?
The way to make money in a capitalist system is to give people less than what they pay for, so that there is a profit left over for you. If you are to have fame, you must give people more than they bargained for. Fame is giving to others, fortune is taking from others. Sean, my answer to your question, finally, is: the search for fame is less nefariousness than the search for fortune. Art for art's sake may not exist. Everything has motivation!
Thanks to this question, I recognize how my search for art fame rather than art for art's sake is delaying my ability to reach what I truly want, which is to write something that strikes people's hearts dead. Neither fame nor fortune, I want Power!

---
May 6th, 2006
This happened in San Francisco. I walked out to the cement back yard and saw a huge dragonfly laying on the ground. I touched it's wing and it's tail curled up, its last breath. It's eyes were still green though, as I held it I was afraid it would attack me. Spring back to life. Man the thing was big.
Like a terradactyl. It's wings like black lace were four inches long. The abdomen was still half curled
and those glowing eyes creeped me out. I brought it up to my room and left it on a shelf. In a weeks time the eyes had dried to black, and shortly after I discovered we had mice, and they had eaten the body. The wings and some crumbs were all they left.
---
May 5th, 2006


There is a part of LA/Hollywood that doesn't want to advertise. It must be a rebellion against all
the pounds of hype this town produces for shopping trips of pregnant stars and other non news items.

Take for example the sign for the bar where I work. The name has been obliterated by a rock or beer bottle thrown through its plastic backing God knows how many years ago. The idea is, those who really need the place, will find it. The plastic people will not. Perhaps they will be terrified with
the treatment the plastic sign recieved, and feel their breasts or capped teeth will be treated
in the same manner. So what is left is the unlucky. I am one, and the people I work with are as well.
We are the bottom of the barrel. The bar smells bad, and the rule is, you can't come in if you are
dirtier than this place. Which only bars the truly chronic homeless who slip in sometimes, and are
only revealed by their ability to penetrate the dank squallid odor of ancient beer and unemployed B.O. with the truly horrific and dangerous stench of the men who walk about with unwashed assholes and shit in their pants for days.
On the surface the bedhead of hipsters and the dirty jean jackets they wear are indistinguishable from the homeless. The unshaven faces, the slumped defeated posture, it is one and the same. The bumming of cigarettes and the drinking of unattended beers, the ethos no different. It is only the
terrifying smell of a man who sleeps in an underpass on an abandoned carboard box with a blanket he has found on the roadside, one crusted with vomit, semen, blood, soup, sewer run-off; any liquid
you would not want to run over your bedding because you have yet to truly hit bottom. This smell is the alarm the bar has been invaded by a lower caste.

Then we act no different than the plastic people.

"I was there once, and someone had puked on the floor. The bartender just moved the jukebox over the vomit and went back to pouring drinks."
---
May 4th, 2006
Here you are underneath Heaven. It isn't Hell, it's just poverty on Earth. You have to worry about taking too large a shit since you can't afford a plunger if things back up. Flushing at least twice is your only insurance. Thank god the landlord pays the water bill.
Who'd guess you would shit that much, since you're eating so little. But the beer. There's always beer in this kind of poverty. It's like yeast in your belly, and the peanut butter sandwich you ate blows up into an off colored steaming mud turtle too big for the pipe ride back to the ocean.
You aren't the chronic un-educated poor, so it is a funny sadness when you look around your place and realize you have only two forks, and they are mismatched. It is a funny sadness, like laughing at the cigarette you're smoking because you know it's killing you.
You've been up before, and you'll get there again. So you invite a friend over and eat peanut butter sandwiches with your forks, so you feel rich once more.

---
May 3rd, 2006
I like my women like I like my scotch: 12 years old and mixed up with coke.
How can you tell an Asian's been to your house? Your homework is done and your pet is missing.
What's the first thing a woman does when she returns from a battered women's shelter?
The dishes, if she's smart.
Just a couple of fun things I've heard recently, hanging around a bar.

---
May 2nd, 2006
This is my first attempt at horror poetry. Scary movie poetry.
They were in the kitchen
working on the soup.
You were upstairs in the shower
planning your day.

I was creeping behind the house
with cold small eyes and some rope.
---
May 1st, 2006
photos coming of the immigration march in downtown LA are coming.