January 31st, 2006

The following story appears on the pages of www.ineedtostopsoon.com. It was written as a request
during an interview I gave with Marc, the webmaster of the site.
Loretta came to me in April. She wanted a consultation for aggressive cosmetic surgery, so I met with her on a Tuesday
afternoon. Loretta was a stripper, and didn't work Monday nights. She was my two o'clock.
When she came into my office I fumbled with my pen. Sure, I've seen a lot of people naked, I'm in the flesh business myself.
But with Loretta, it wasn't just the skin, or the fatty tissue beneath it that gave it such beautiful roundness, or the white angora
sweater she wore that exposed her golden tan (and very taught) belly, it was her eyes. She had such captivating eyes I
unconsciously flicked my pen across my desk and slammed my left hand down on it before it skittered onto the floor.
"Come in," I said, trying to frown and shuffle papers. The eye is my favorite muscle in the human body, and I married my
wife because of hers. I thought about my wife's eyes for a moment, set the papers back down, and offered Loretta a seat.
We exchanged pleasantries, then dove right in. I had reviewed Loretta's intake form that morning. Loretta wanted to be given
the face of a Triceratops. This is the dinosaur that looks like a scaly rhinoceros with three horns protruding from its head. I'd
googled it to be sure. The late Cretaceous Period, approximately 65 million years ago, skulls and partial skeletons found in
Canada and Western United States. Here we were in Sacramento. 65 million years later.
"Doctor, I've brought some photos. A friend at the club did them on his computer." She passes a floppy plastic folder across
the desk to me. Inside were photos, digitally altered, of Loretta doing what I believe is called "pole work", with those long
strong legs wrapped around a brass pole, supporting her as she hung upside down, bringing her breasts up high on her chest,
her thin neck tapering into the bony protective plates of a female Triceratops.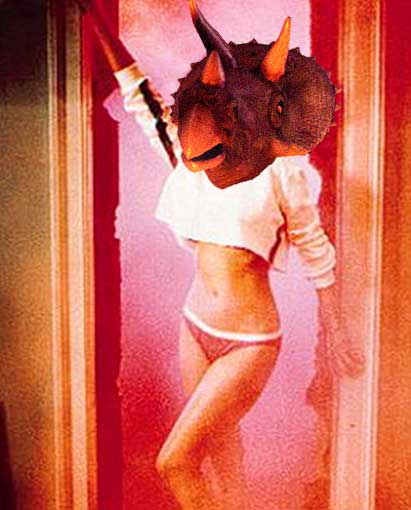 "This just might work," I thought to myself. God. It was madness. Of course it couldn't work. The weight of three horns,
cartilaginous scales, the bone necessary to sculpt a protruding jaw-line, it would weigh sixty pounds, at least. She'd never
work the pole again. Not without bulking up those hamstrings.
"Loretta, nothing like this has ever been done. I'm not saying it's impossible, but I need to know why you want to do it
before we talk any more about it." I had shut the folder, but my hand rested on top of it. I wasn't ready to give it back.
"It's a feminist thing. You wouldn't understand," she said.
"I took Intro to Women's Studies. Try me."
"In my line of work, I'm just a body. Sure, some guys appreciate the athleticism of my finer pole work, and some guys kind
of get that it isn't easy to do a cartwheel in six inch heels, but in the end, I'm a stripper. They want to see me naked. That's
enough for them."
"And turning into a triceratops…?"
"It will force people to think about who I am, not just look at my tits." She said.
I absentmindedly opened the folder back up and looked at her tits. Real money makers. Good thing god doesn't make
patents. I could use these to go on. "Knock it off, Rolston," I said to myself. "This woman is serious. Do you help her or not?"

"So you plan to continue stripping?" I asked her.
"I don't know. Sometimes I think yes, it would be great to walk onstage in a cute outfit, like a Game Warden or something,
and Bobby, the DJ, he's the one who scanned those images of me and "Cera", ( that's what I call triceratops) and he could
play some T. Rex or something, and I'd do my thing and watch the men at the tables face's…they'd freak out! It would be so
great! But sometimes I think it would be a nice way to get me to change my lifestyle. There's a lot of drugs and alcohol abuse
in this business, not to mention problems with sex. I think this procedure would be what I need to break a cycle. If people aren't
responding to my pretty face, it will force me to not rely on my looks anymore either. I'm really into breaking down all this body
image dependency."
A question popped into my head.
"Why a triceratops?" I asked. Loretta had been waving her hands all around and now they had fallen silent, one on each arm of
the chair she sat in. She gripped the armrests and smiled.
"The horns. They're horny." She was still smiling. "They have three of them. Three is a very powerful number. It represents
wholeness. I don't know." Her smile faded and she tilted her head and her eyes became vacant. She was picturing something in
her head.
"Loretta, I know this will sound weird, but I want you to meet my wife. She is a paleontologist. A specialist in the Mesozoic
period. The Age of Reptiles. I think you can help each other. What do you say?"
End of Chapter One.

---
January 30th, 2006

San Francisco is a city of a million people. It divides itself east to west. In the east the city grows tall and
cramped. In the west, there are low houses and backyards. Rajeev lives in the east, I live in the west.
I call him Raja, which means "prince" in Hindi, a language spoken predominantly in India, a country full of religion.
Sometimes a man as irreligious as me still must seek spiritual guidance, so I come to Raja's little alley and push my
finger through the steel grate to ring #167's buzzer.
A couch or perhaps a box with shoes and jeans in it are on the curb out front. Transients use this alley to get high,
hipsters walk down here to piss behind a parked car instead of waiting in lines at the bars out on the main drag.
Graffiti written with a caulk gun is on the sidewalk itself, stickers and tags obscure the parking rules posted on a sign.
Hearing the bell, Raja comes down the cracked marble steps with pockets worn into them like shallow pools from
repeated feet. He smiles through stubble and pushes open the door.
"Ahh, Professor Turnbuckle," he says. He believes I am born to be a professor, and a wrestler. I am pursuing
neither, and this frustrates him. "How is the writing?"
I come into the staircase, junk mail and phone books are in a pile on the floor. A door to the cellar has an inch high
gap at the base, letting in a dank smell. We circle up one flight of stairs to his apartment.
"I have not written a decent poem in months. Not since I wrote about the laundro-mat." I tell him. The machine that
vends single use cardboard boxes of Tide, All, and Cheer flashes in my mind. I see orange and dark blue.
"Perhaps you are no longer a tough guy, and it is time to change your poetics." Raja says to me. Raja is a slack Hindu.
He wears a deep rust leather jacket, but refuses to eat hamburger, since the cow is sacred to him. That is slack Hindu.
We are inside his apartment now, the long narrow hallway stretching its skinny oak planks from one end of the building
to the other, nails and staples still in the hardwood from a carpet removed with brute force.
"I have callouses on my hands from the work I do, and callouses on my heart from the love I give. My poetry must
reflect this." I try to sound wise when I talk with Rajeev.
A slack Hinu can cut through bullshit. "You haven't worked for three weeks now, and you haven't been laid in four
months," he counters.
"I'm slow to heal. Let's have some wine."
"Yes. We'll drink, and tomorrow you will feel better."
This is the kind of guidance I came looking for. It's what makes him a prince.
---
January 29th, 2006

Looking around for a roommate. A sublet would be great. Craigslist had this to offer:
Female only. (Christian preferred) must love cats.
So I scrolled down to this:
Free Rent! Females only! Must be willing to give massage to generous elderly gentleman.
So I'll keep looking.
---
January 28 2006
Sometimes I wish I was an airplane, but I'd want the jet engines on my arms to be detachable.

---
January 27th, 2006
Robots had taken his job at the junk mail factory. I was sitting in an easy chair, watching television while Tom
was lost in the help menu at Unemployment.
"You can't get a human on the phone. You have to talk to machines and computers."
We missed Tom down to the junk mail factory. He was the guy who stocked the snack machine, and if you
wanted something, just ask Tom and he'd order it. I got on a nostalgia kick for Whatchamacallit's, and sure
enough, A7 had them waiting for me the next week. They dangled from the chrome coil like an apple on a
branch, just waiting to be picked. That was Tom. Good guy.
It was ironic, he had to talk to computers. Total f'in' irony.
"Robots replace me, and I have to complain to computers about it."

Tom briefly thought about farming in his back yard, but it was covered in cement.
"I always hated that snack machine anyway. It was that kind of stuff that put my grandfather's candy shop out
of business. But you got to change with the times," he said. Then he pointed at the t.v. "You have to get up to
change the channels. I lost the remote."
I'd come by to tell Tom how things were going. I said, "I sure miss those Whatchamacallit's. Remember when
you ordered them for me? Those damn robots won't do it. We miss you, man. We all miss you."
"Fuckin' robots." He said.
"Fuckin' robots." I said.
I wasn't interested in the show, but I didn't feel like getting up, so we sat and watched some more of it.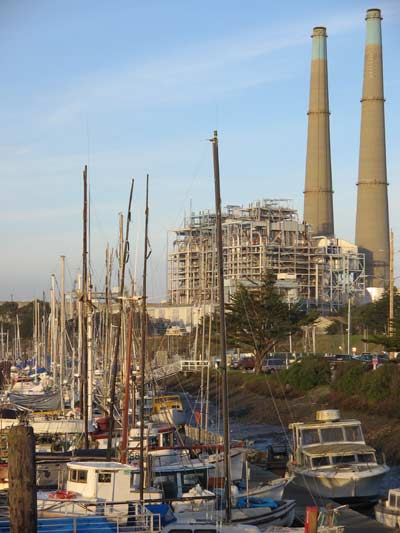 At lunch we stop by the mackeral boats for a bite. You can see
the junk mail factory in the distance. The fishermen miss Tom too.
---
January 26th, 2006
Things that fall into place often split into a million places shortly thereafter. I checked my balance at the ATM.

$666.00

My new roommate in Los Angeles called to say her husband, who is divorcing her, and no longer lives with her,
doesn't want her to live with another man. That, and a woman with a cat has offered her more money to have
my space. "Thanks" I told her, and hung up. I head to L.A. in five days. Does anyone have a couch six and a
half feet long I can crash on?
---
January 25th, 2006
Learning to Speak Los Angeles.
Vocabulary
Interstitial: This is the little bit of entertainment placed between regularly scheduled programming and commercial
breaks.
What Do You Do?
There is a large glass table with chrome and leather directors chairs ringing it. Seating for twelve. A huge table,
glass clear as window. The t.v. executives sit around it, with pens and folders with papers inside. They take notes
and check their cells, set to vibrate. Sometimes they step out of the room. Sometimes they look at it and set it back
down. You will be sweating, because they are talking about the television show you need them to produce for you.
They have the dough. You put your hands on the clear glass table. They all notice. You remove your hands, and you
have left sweat prints on their formerly perfectly clear glass table top. Is this enough to break the deal? You won't find
out for a few more weeks.

Vocabulary
Chiron: brand name of machine used to superimpose text on screen.
---
January 24th, 2006
Life here at the junk mail factory seems like it's been going on since before sliced bread. I came across a box of papers
advertising in black and white for donkeys bred for gentleness. I was sweeping up around the emergency generator and
there it was. In an antique cardboard box; foxed paper eaten up by silver fish calling out for masters of equine husbandry
to produce a kinder donkey. People have been buying and selling for a long time. It's like sitting on a rock at night and
looking up at stars, when I try to figure out when people learned how to shop. I just can't see that far backward or forward.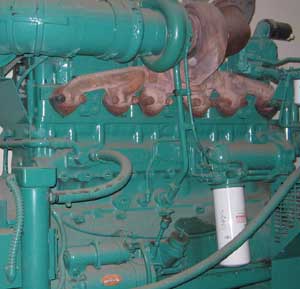 Here's that darn emergency generator
The truth is, the junk mail is going to be made without me. I'm parking my pallet jack this Friday and passing my apron
down to Tim. It's a manly apron, if you're wondering. With a little pouch for nails and screws. Sometimes I put a tin of Altoids
in there. I hope Tim's pants and shirt fronts remain as protected from snags and spills as mine have.
I think I'll have an Altoid now. Sure I'm home alone, but I eat them for pleasure as much as for ensuring I have cinnamon
tinted breath. Tuesday morning I'm southbound in my brown pick up. It's gonna be a lonesome cowboy kind of thing, with
a few boxes in the back, my futon, some Altoids, and my little wooden guitar. We'll drive down The Five together. The boxes,
the breath mints and my guitar. That's why I call it a lonesome cowboy thing.
That lady friend of mine loves The Five. "In August you can see cotton on the side of the road. I've always wanted to stop and
gather some up and knit it into a scarf." The Five cuts through the farmland that feeds millions around the country. Semis with flat
beds built up into cages haul the seasons produce. I followed carrots rumbling through the grates, a trail of unwashed rods
alongside the road. "If there is ever an accident, people will stop and load up the spill. Maybe it will be cantaloupes, maybe
artichokes."
---
January 23rd, 2006
Of course I don't condone the beating or killing of homeless humans. A pair of clean socks is the only thing you should
ever throw at them. I feel very sad inside thinking about the guy beaten to death for sleeping on a parking bench. If I catch
the old homeless robot draining the oil outta my truck again, I won't keep my hands to myself.
---
January 22nd, 2006
I get credit card offers for My Robot Is Pregnant.
Dear My Robot is Pregnant,
Is your business ready to meet the needs technology demands?
Sir, my fucking robot is pregnant. Is anyone ever ready for that?
---
January 21st, 2006
My long-time lady friend gave me some travelin' advice this mornin'. She says, "Don't buy anything at a pawn shop.
You're buying into someone's broken dream that way. And I better not see you on the back of a free weekly in
American Apparel underwear. Don't let L.A. do that to you."
---
January 20th, 2006
Back in the old days they used to call robots "Automatons". I remember when I first come to California, I fell for a lovely
one that wore a dress and played songs on a piano at the Mechanical Museum and Saloon. This was back in 1859. A nice
little place with swinging doors that were hung funny and knocked into each other. Nickel pitchers and a whiskey still out back,
forged together from coffee can tins. Gave the Manhattan's a taste of South America, they used to say. Drinking that whiskey
was the most traveling any of us could do. But that little lady in a calico dress played hits from Back East, Broadway tunes, and
a few Irish dancin' jigs.
I kept my feelings quiet at first, but the night I saw Pinky LaFingers lay that old horse-cock of his on the ivories, waiting for Geneva
(the automatons name) to hit that arpeggio in the bridge of "I'm Heading West on That Big Iron Horse", so he could get a free
squeeze out of her, I about went crazy as a Chinaman whose gone and lost his opium pipe. If you know what I'm saying. It's the
1800's remember. I could have said nigger-dick, instead of horse-cock. That's how we White Men talk back here. Far from
family and the guiding light of the Protestant church. Just gold miners and fur trappers. 1882.
So anyway, I hit Pinky as hard as could. Considering I was running at the time I punched him. It could be that my momentum
made my punch harder, but I honestly believe that had I been given the opportunity to plant my feet and swing with more of my
hip - and put a little knee-bend into it as well - I would have hit Pinky even harder. We'll never know. Nonetheless, it was hard
enough to send his head into the ornamental oak paneling on the upright piano. My knuckle to this day is swimming low down in
the back of my hand. Doctor says I snapped a tendon. Sure looks funny, missing a knuckle.
---
January 19th,
Prayers to Heaven, prayers to God. Emails to preachers. Burning incense and the heart of a stray cat. What will it take to make
it in Los Angeles? Things don't look good. A friend of a friend has a place in Japantown I can move into. The first three numbers
of her telephone exchange are 666. Was the cat heart set on fire out at Ocean Beach too much?
---
January 18th, 2006
"Television" is a system of communication in which transient visual images of moving or fixed objects are transmitted for
reception by visual observers and in which no record is to be made. In television there are thus employed what are in effect
an electric moving-picture camera (the Iconoscope and its lens) and an electric moving-picture reproducer (Kinescope) or
projector. The reproducer yields a picture in motion, and accordingly the picture is inherently transient in its nature. -1938 Radio Facsimile
"Television" can be recorded, but not by television itself. A computer is not television because there is a record of itself inherent
in the system. If you come home after work and turn on the television, there are thus employed what are in effect spam email
offers being sent into your brain from the screen, or reproducer. To filter signal to noise there is beer in the fridge.
---
January 17th, 2006
"The trouble with L.A. is 'Art as commodity'. It sounds great because you think you can make money selling art,
but it is you being bought and sold. They call that slavery in the South."

Thus spake my guardian angel, the one who looks like a hobo. He lost his teeth to heroin and lives in the bushes
in front of St. Mathew's Church. God still loves him, but He can't completely trust him. These angels sent to earth are
fucking up more often than you think.

Imagine being sent from heaven to earth to make sure some dumb dumb doesn't get run over by a train. One minute
you are comfortable on your own little cumulus, the next minute you are in San Francisco sleeping on a park bench. God's
orders? You are supposed to take care of a grown man; stop his sperm from reaching the secretaries ovum,
convince officers not to search the trunk. Etc. etc. To make matters worse, the guys an atheist. "Why bother?", you'd ask yourself.

My guardian angel? He slipped up a little. We've all forgiven him. Still, I only run into him once in a while. He tells me its
because God is starting to trust me more. Maybe because I've been doing a lot of praying lately. The first thing I needed
was some help quitting smoking. These are things God is happy to help with. Sometimes I ask for help shoplifting. He
doesn't like that.
"Dear God, my throat hurts and I feel like I'm dying. Please help me quit smoking." No sooner did I say that, than I saw in my
mind cigarettes being ejected from my body. They were shooting out like I was made out of sprinkler head material. It
was awesome. Every butt I'd ever puffed was gone from me, and with them, the urge was gone too. I was a Marlboro virgin
again. Rebirth. That's what salvation is.

Secondly, I've been praying Marc's pilot gets picked up. If there is one city more sinful in America than San Francisco, then it is
Los Angeles. Will God send me there? Does he really trust me? The answer comes later this week.

---
January 16th, 2006
Caulk is good for so many jokes-
"Why you walkin' round with your caulk in your hand?"
& I'm glad we work with it every day.
Construction makes me think about sex
I'm not ashamed,
cuz God was a builder
and Jesus was hung like this.
---
January 15th, 2006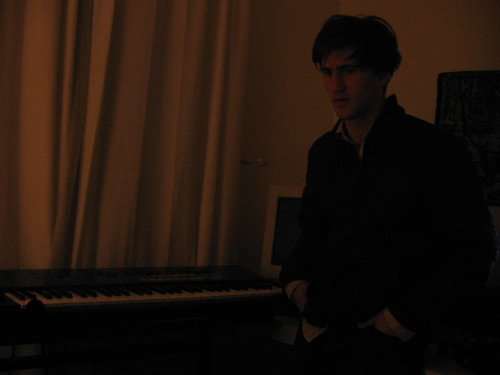 Like in a better quality museum, Dave doesn't allow flash photography in his home.
Dave Luzius
Tough guy poet? No. I was going to his house to make a hip hop track. Dave is an electronic musician.

He lives in a two bedroom apartment with his brother, who was out of town. All the blinds were pulled down.

"I don't allow any light in the house, as you can see. I have a skin condition."

- Really?
"Naw, I just like it that way."
The hallway went the length of the house, and it was a tight fit for me to get through to the kitchen, skinny as

I am. Boxes, an amplifier, books and papers were stacked up waist high along one wall.
He poured himself some Coke over ice in a rocks glass. "I feel like an alcoholic when I hear the
ice tinkle," he told me. Then we stepped out on his back porch while he smoked a Camel Light.
I asked him, - What were you expecting when I told you I had a hip hop song to work on?
"I was just so excited to work with a real human being, I didn't care what it was gonna sound like. I don't

get a lot of people through here."
- How did you prepare for it?
"I spread out unnecessary sound equipment to impress you. This mixer isn't even mine."
- City of Stars, the track we worked on, wasn't your regular thing. How do you describe your style?
"It's electronic. Somewhat electro beats, but I try to breathe some life into it. I sample real drums. I don't

know, my sound changes every five tracks so I can't say I have a style. Synth and drum machine beats, I guess."
Dave took my weak vocals and chumped out lyrics and in four hours - with a pizza break - he built my song

up into a KMEL JAM! Take a listen, friends. It'll rock your stockings. CLICK HERE.

---
January 14th, 2006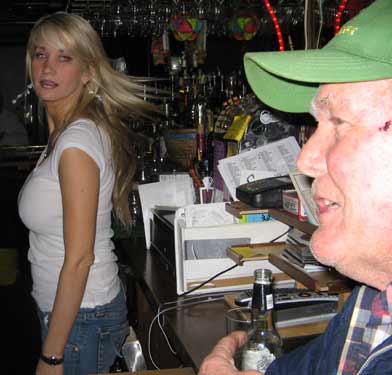 Lot's of people have been asking to see a photo of Rusty Sunshine,
the country singing legend. So here he is, at the Pioneer Saloon.
Even with a bloody scab from skin cancer on his face, the woman
can't help themselves. That's star power.
---
Janaury 13th, 2006

Let's take a look at this Mission neighborhood I'm leaving. The sandwish shop.
The little eyeball-taco stand. Lot's of fine meals I've had. I will miss it.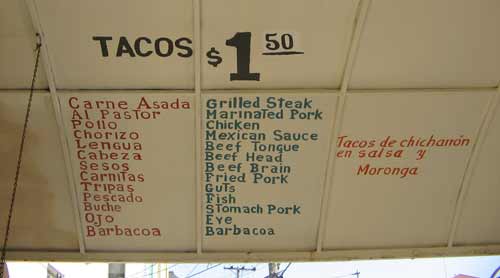 ---
January 12th, 2006
The good Deacon Rolston had a troubled heart. Not related to cholesterol - it was a spiritual matter. How can
one leave the congregation he has led for four years? They had forgiven him many transgressions: too drunk to
preach the Christmas eve sermon, (so the faithful watched "A Christmas Story" in the vestibule while he lay in a
stupor under the pulpit), the time he made a pass at beautiful Mrs. Peek while visiting her in the hospital, going
so far as to "lay hands" up her hospital gown. He had even been forgiven when the police entered the vicarage
to arrest the street hustler the Deacon had taken in. Deacon Rolston earned townspeople's respect when he
confessed to authorities the meth lab was his own, and spared the youth hard time in a state sponsored men's
colony. But could they forgive him the sin of vanity? Who among the faithful would forgive him his lust for
Hollywood and fame?
---
January 11th, 2006
It was settled. January 31st the gold hungry greenhorn would head to the Hollywood Hills. A fortune in gold
was said to be in that town, and Deacon Rolston was turning his back on the holy land of San Francisco,
turning his holy robes in for a tin pan and pick axe, leaving the devout and pure behind in the Mission.

Would a search for riches in this lifetime be worth the loss of eternal salvation? For who could resist the
temptations of the City Of Angels?
---
---
January 10th, 2006
Imagine smashing a gumball machine, one whose funds supports
polio vaccine research. Once the glass hits the ground and the
gumballs are rolling, a genie is released. But this genie
does not grant wishes, he takes them away.

---
January 9th, 2006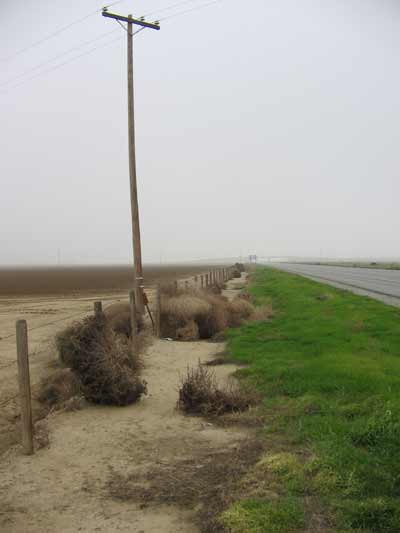 A souvenier from Highway 5, Kettleman City, California. Tumbleweeds.
They are prickly, which I hadn't expected. I brought two home.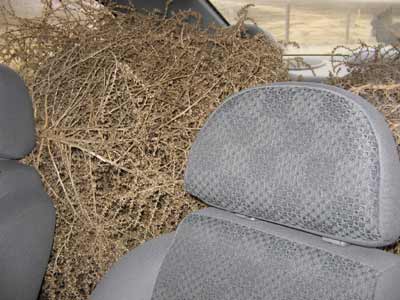 ---
January 8th, 2006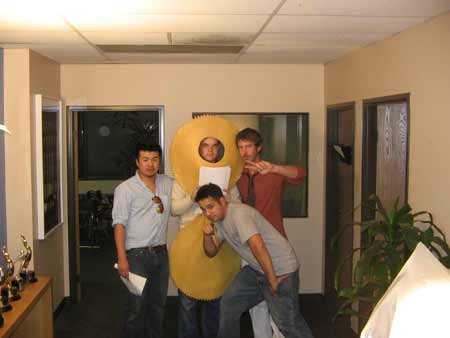 Here's the team. I want to thank these guys for letting me play dress up.
(left to right)Hak, Ryan, Marc, Cisco (in front) Kelly is missing.
And all the people at 44 Blue!
---
January 7th, 2006
One day left of shooting. It should be a short day tomorrow, since we are filming the opening. It will be no more
than twenty seconds of footage used, but will take hours of filming.
Tonight Marc drove Kelly, Ryan, and I home. We hit rush hour traffice at seven p.m., but it is Saturday. Where
is everyone rushing to? We drove on the dark freeway of 101, each in our own world within the car. No talking.
Exhaustion. It has been a lot of long days, and with this thing almost finished, we have to consider what will
happen if it gets picked up by a television channel.
I was looking out the window at the tall cement noise breaks flanking the freeway. When I was young and
growing up in New Hampshire, Hollywood seemed exciting, and fame seemed wonderful. But it was all so
far away. What would happen if suddenly I was on television? That's what I was thinking as we drove along.
Marc was playing a Janis Joplin tape, and I was really feeling her voice for the first time.
Janis came to California and made it big, and it tore her up. As you get older, you start to see fame as danger,
as a destroyer. Yet it is still so tempting. What a wonderful game to play: a daydream of fame. It's like believing
alcohol will make you famous. Every once in a while it does that for someone, but for most of us, we end up broke,
and later, dead.
I'm a simple tough guy poet from San Francisco. Still, I've heard Hollywood called a dick-tease. You sit down in
an agent's office and there is something hooked up to your chair that starts pumping sunshine up your ass. Everyone
tells you you won't be able to walk down the street without causing a scene by this time next year. Then the deal falls
through. Sorry. I hear Starbucks pays benefits to part-time employees. Nice working with you.
---
January 6th, 2006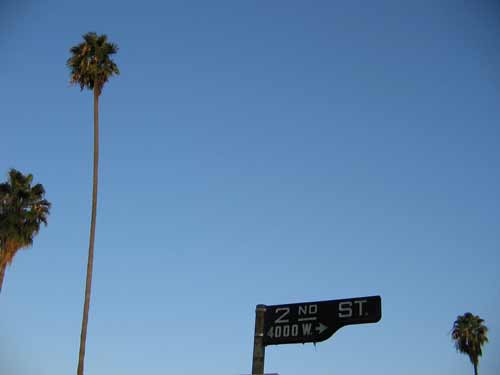 Los Angeles.
---
January 5th, 2006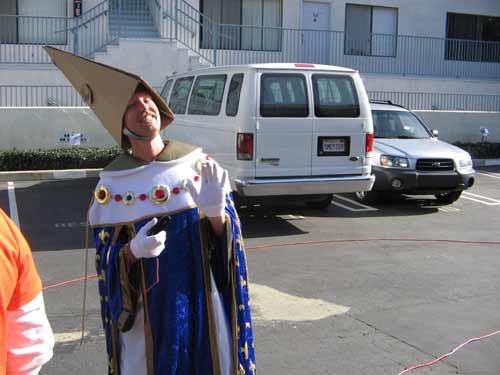 Here is the wizard behind the curtain that we hope will soon rise.
---
January 4th, 2006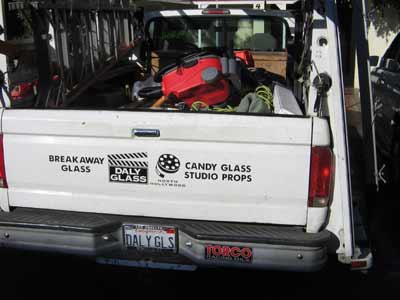 Another sign you are in Hollywood: the candy glass truck.
---
January 3rd, 2006
The rain has stopped. All the scum must be washed off the street. We woke up and came to the office in
Studio City, where real people are coming in and pouring coffee and getting things from the printer and the
secretary is cute. Marc, Hak, Ryan, Cisco, and I sit in a large office in the back, finding cameras and boom
poles to rent, costumes to wear, we need gaffers tape, cardboard, all the stuff it takes to make a t.v. show.
We start shooting tomorrow. Marc and Ryan have the script 90% written, but we are adding a few things to
it still.
This t.v. business is new to me. Remember, my father worked his whole life in the lower echelons of the sex
industry; "It should be called the masturbation industry" he always said.

My father loved to talk. "I got my start as stock boy in a lube shop in Roxbury Mass." He always used to say
that when he got too far into a case of Natural Light. He went on to be a doorman at a strip club in Virginia and
spent his last ten years as the jizz mopper at San Francisco's "Lusty Lady", a 25 cent peep show famous for its
unionized dancers.
"I always wanted to be a DJ and introduce the girls, but I didn't have the voice for it." He'd say, before
stubbing out the last cigarette, burned to the filter, and shutting his eyes as he lay back on the porch swing.
So I feel like I am making my Dad proud, by coming down here to Hollywood and giving it a shot on television.
I'm not a strip club DJ, but I'm chasing a dream of my own. He would respect that.
---

January 2nd, 2006
The poverty of opportunity the hipsters try to replicate, with tattoos and used clothes, pales in comparison to
those Americans with black skin and a strong Black accent experience.

---
January 1st, 2006
Well Happy New Year to you too. I met a woman with a third nipple last night at a house party. It was very
small, (the nipple) and this being Los Angels, she showed it to me and asked if she should have it enlarged. A
breast built up around it, so it would be sexier.

I told her, "Yes, of course."

"You're funny." She said. Then she told me, "I've been in L.A. for five years, and had to dumb myself down
a lot. But there's no way in hell I'm getting an implant for my third nipple."

After that we got along fine. She let me kiss her nose when the ball dropped.
---