December 31st
The cigarettes are gone. We still live in a divided country, where the grocery stores are aimed at race.
"The macaroni and cheese aisle is a mile long in my neighbor hood." That's for the Blacks.
"I can't find coffee beans in my neighborhood. It's all instant coffee. And that yellow can of grounds.
Café Bustelo, I think." That's a Mexican neighborhood.
I just want to lay down and rest, the rain is raining, it's dark outside and the 7-11 sign has a halo glow through
my bedroom window. The palm trees are crooked, wind whipped affairs twice as tall as the power lines. It's not
a bad city, with the long driveways and back yards that most of us can't find or afford in San Francisco.
Los Angeles feels bigger, and that makes the bars feel special. Perhaps you are the first one to discover a little
hole in the wall. In San Francisco nothing is new, we've squirmed like worms over every bar stool in the city, after
five years back alleys aren't curiosities. We've spray painted our name on every underpass. All the restaurants at
the tops of the towers don't offer a new view. San Francisco ain't no LA.
So, all that sprawl out there left to explore. Silver Lake with its concrete containment, canyons and flatland, and I've
never seen the ocean in LA. But it is near here. A port of call for the merchant mariners and their container ships of
Chinese consumer products. Since it's raining, I'm staying in. My friends are downstairs, empty pizza boxes on the
coffee table and a movie going, they're on the couch and the dog is on the floor, flopped out, head on the ground.
They have a script down there, and a production schedule. It is sheet of paper with a box for each of the next seven
days. Each day has notes of the props needed, the camera and sound equipment, and who the actors will be in each
scene.
For example, tomorrow looks like
Scene one:
Marc, actor,
Hak, producer/director
Ryan, actor
Cisco, camera one
Kelly, camera two.
Jon, actor
Location: car wash
Props: mechanics suit, red rags, duct tape, air freshener

That way nothing gets left behind and everyone knows what they need to do. Simple stuff. Who knows how it will
pan out? (Which, coincidentally, is a film term. It means to widen the shot. Oddly enough, it has nothing to do with
gold panning, which is what we reference when we say it in that situation. But filming and gold panning are a
California specialty.)
---
December 30th,
The call came in yesterday. "Jon, we're down here in Hollywood. Well…Korea-town. Almost Silverlake. We're
writing a script for a pilot and we need you in it." I get these calls all the time. Not only am I the tough guy poet of
San Francisco, I'm also the go-to guy when you need sketch-comedy filler.
I had my rental car packed up with hats; sea captain hats, poetic French berets, tough guy fedoras, shalom shalom
yarmulkes, and one particularly versatile hat that can be a Spanish flameco dancer's and an Amish dairy farmer's,
depending on the shirt one wears with it. Sketch comedy requires this kind of preparation.
While Marin to the north was sliding into the San Francisco Bay due to heavy rains, the 5 was dry and straight the
whole way down. Pulled into In-N-Out burger in Kettleman City to see what kind of people are making the trip
with me. The road is full of fairly normal looking people. Which is a surprise, since this is the road that links San
Francisco and Los Angeles, two of the world's strangest places.
There is a certain buzz one gets when he heads to L.A. You begin to think you are about to be discovered. It is
truly the land of dreams, and thus, heartache. And suicide. And drug use. And low self esteem.
I didn't know, until I moved to this most fantastic of all fifty states, but San Franciscans aren't supposed to like L.A.
Why? It is a fake place, with teeth whitening, anal bleaching, breast augmenting, on and on. In return, Los Angelinos
think San Francisco is a pretty little town. Stuck in the seventies.
Me? I love L.A. The street signs, the bars, the freeways. The juice, the electricity in the air, even in a little Halal
Paki/Indian/Bangladeshi market, or with the Ritmo Latino playing on the radio behind the Carneceria. It's all a
jumble, the wide streets, the liquor stores and a Christmas tree on the Capitol Records building. Capitol Records,
the giant soup can of rock and roll with the devil inside, lurking in contract details.
Marc is the lead of this vehicle that is orbiting the outskirts of stardom. He is tanning, so he doesn't look pasty on
tape. "My producer told me to. I look terrible on-camera." These are the things that make L.A. such a strange town.
This morning Marc came into the kitchen wearing pajamas.

"Look at the burn line on my ass. I tanned in my tighty whities." He pulled down his flannel pajamas, and yes, it was a
midwinter technological disaster. Too much gamma ray.

"I was only in there for 13 minutes!"

---
December 29th, 1805
News came back that evening that Digger Dick had indeed found an old cannon. They almost had
it freed up when it rolled over one of the horses' feet, crushing it. They shot the horse and rode two
men on the good one back down the hill.
I was in my shop in Redwood City, working on my steam powered robot when Dick knocked.
"We need your Robot", Dick said to me. "We'll never get that cannon down without her."
I hid my bottle of whiskey in the open steam valve and came around to talk to Digger Dick.
"Dick, I'd like to help, I know she could do it, but…"
"What is it?"
"My Robot is Pregnant."
---
December 28th, 1805
Digger Dick came down from Skyline ridge. "I found a cannon up there! It must have been
Cortez's!" he told us. We were sitting at the bar drinking whiskey.
"#@$% Dick, what are you talking about?" I asked him. Digger Dick was supposed to be
up in the woods measuring board feet of timber for the Sierra Point Lumber Company. Instead, he
spent most of his day digging in the rivers for gold.
"I swear, I need two horses or a mule to pull it out of a ravine. Who's in?"
"Try down to the Saddle Room" I said. We had just got a buggy full of new Irish whiskey in and no
one wanted to move. Digger Dick went out by the trail and waited for the Mail pony to pass through
to catch a ride. There were four bars between here and the settlement in Redwood City, each one
with at least one man missing a finger from a wood chopping accident. We were wild men. Someone
would lend him some horses, but we hadn't had whiskey this far up the trail for two weeks.

---
December 27th, 2005
Rusty was on his knees in the dirt, taking the grinder to his old Ford tractor. "THIS KNUCKLE'S TOO FUCKIN'
BIG FER THE MOWER TO SET ON," he shouted over the sound and sparks of metal being sheared down by 1500
rpms. Rusty used the grinder for many automotive solutions as well. He removed a considerable portion of the grill from
his 1986 Ford Thunderbird so he could fit in the big battery from his GMC flatbed (which threw a rod and didn't have no
use for it). The dash lights glowed with incredible ferocity for a week before they all blew.
---
December 26th, 2005

Dear New Hampshire,

Of course I thought about you yesterday. A foot of snow on the ground and egg nog all fired up with Brandy and nutmeg.
I have started a tradition in your absence. I know you are too old to get up and come visit me now, you've been New Hampshire
four hundred years. What would Maine think if you came out West? Suddenly Vermont would have ocean front property.
Imagine how liberal that would make them! So I honestly understand why you aren't able to come visit me this holiday season.

Since we don't have cranberry bogs out here, I have found a good substitute. The Torta. This is a Mexican style sandwich.
I don't like to have sour cream on mine, but you would probably love it. Avocado, something you've only heard about, is
a feature of these French roll delights. What else? How about thick slices of tomatoes and shredded lettuce on top of "pollo"?
( It is pronounced "poy-yo"in Spanish, and it means chicken.) You could also have pork or beef on your torta, if you'd like.

So for Thanksgiving and Christmas, I skip the egg nog and cranberry sauce, and order up a pollo torta and a large horchata.
If the Mexican hot sauce doesn't run off with the horse-radish, I'll tell you about horchata next time!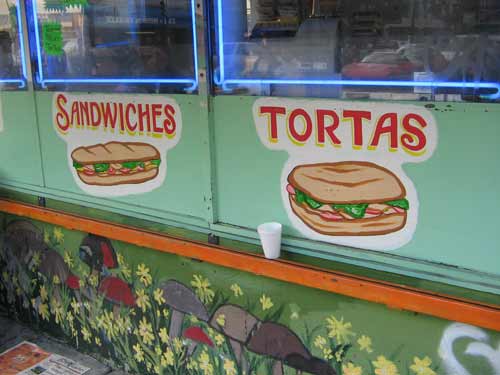 ---
December 25th, 2005

Let's take a moment and think about the life cycle of your Christmas tree this morning.
---
December 24th, 2005
Christmas in the Mission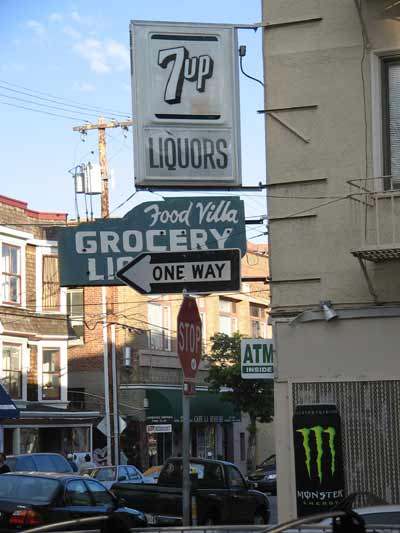 ---
December 23rd, 2005
In December the winter rains of Northern California drive the ants into homes in search of sugar. These once giant
dinosaurs got into my bowl of honey this morning. The liquid gold from my sweet bees is so thick, the ants were able
to walk across the surface of it. It was like an ice rink to them. I don't understand why they didn't stick.
---
December 22nd, 2005
You aren't supposed to punch people. I don't know the rule on robots. I do know you can't punch
elderly homeless women. Even if they insult you. As much as you want to. Even if they call your lady friend,
"a fuck puppet". But I did it anyway. Just on her upper shoulder, not her mouth. It was a low moment. My
hand struck metal. Shit! An elderly homeless robot!

These are the streets of the Mission. Men with trash bags on their backs are like honeybees searching for the
aluminum pollen of the flowering garbage cans. Junk bunnies wearing short skirts and purple bruises from bad fucking
lean on buildings tagged up with hazardous chemicals. The young beautiful ones with money glowing all over them
weave among the long nailed dirty beggars who want to hug you, shake your hand, take your change. If they can hug
me, uninvited, unwashed, I will keep punching them. And if they turn out to be human, so be it.
---
December 21st, 2005
Donut shops are where the uneducated & poor come to sit and dream when it rains. The uneducated
aren't aware of the dangers of hydrogenated oils. The poor can't afford to sit in out of the rain in a healthier place.
The donut shops of San Francisco are ubiquitous and ignored, but full of the lowdown life future children will
want to understand.

---
December 20th, 2005
My robot goes to the zoo. There is an ape there. They are lovers.
The ape has chemical pneumonia from the smoking robot. Who smokes one of the

robot brands of cigarettes.
---
December 19th, 2005
The junkmail factory's floor is shaking, we're processing so much of the stuff for the Holiday rush. A lot
of people want options when it comes to fake trees and holiday tablecloths. I got my pallet jack stuck in
a pile of loose sales circulars over by the soda machine. I had stopped for a Moxie, but apparently Jim still
hasn't ordered them because all's I could find was a Dr. Pepper. Anyway, Wade came and hitched his pallet
jack to mine with the yellow stuff from the banding machine and pulled me out to dry ground.
---
December 18th, 2005
My grandmother called me. Why are you giving the children medication?
We have to stabilize them so they can interact with the robots.
---
December 17th, 2005
People talk about poetry in motion. Take a look at tough guy poetry in motion: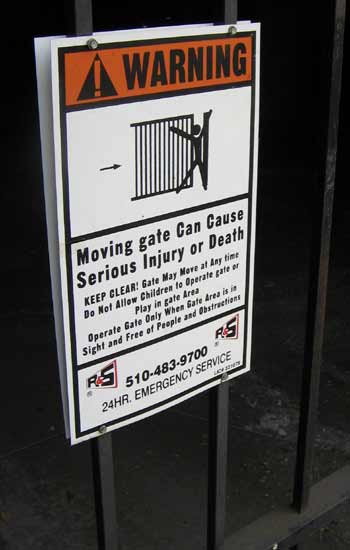 ---
December 16th, 2005
My robot asked me to explain abortion. This is an awkward time in programming, and I hope the story
I told my robot will help you when you find yourself in a similar position.
"My darling, as you know from previous conversations, babies grow on trees on a little island in the ocean,
and there is nothing for them to eat. In order for them to live, the storks must pick them off the trees and
bring them to us so we can feed them and raise them. What I didn't tell you at the time, because honestly,
it is sad, is that such a bird exists that will eat the babies if they can get them from the stork. This bird is
called a stork-hawk. When a stork-hawk kills and eats a baby person, it is called an abortion. Now go to
your room."
Robotics is a tough science, and I'm learning more every day.
---
December 15th, 2005
Rusty came down off his tractor and walked the footprint of the tire across the tilled earth. I was sitting in the
truck, ready to drive him down to Redwood Lumber. He looks down at the ground and steps high, his Sears
& Roebuck cowboy boots nearly hidden by his long jeans. He is too short to find a proper inseam. Slightly
bowlegged he walks. The live oaks at the edge of the field are casting shadows, but it is hot under the sun.
He gets to the pick up and climbs in. "Hey there" he says to me. "Hey Rus" I answer. We drive back to the
main road, bouncing inside the cab over rocks and gopher holes.
"How's plowin'?" I ask.
"Goin' real good. I've been doin' this piece of proppitty for years now, so it's pretty easy to work."
We drive more, quietly. The radio isn't on, because Rus doesn't like music anymore. Calls it a distraction. Then I ask
him about the old days. The country singing days, when he was performing on the haybale circuit.
"We went to some real oakie places. People were dumb back in those days. You're only smart as the people
you talk to, and they were all too dumb to get off the farm. They had nothin', no idea about anything. One little
town we played at, they were so dumb they had a mechanical heifer instead of a bull. Who wants to pay a nickel
to ride an old milk cow?"
---
December 14th, 2005
At some intersections here in the city, the number of beggars is confusing. There is too much signage to read
before you can decide which cause you want to support. Will it be the Vet or the woman with the dog? Do you
only give to those who write "God bless you" at the bottom of their message? There are so many different things
to consider at a stop light already, like, "which way am I going?", that reading signs only frustrates you.
Giving to road-side beggars shouldn't take up too much of your time. You are operating a two thousand pound
motorized vehicle. Pay attention to the road! And you will be able to with a series of new signs I am giving to
local street beggars. They are designed like standard government road signs we are all familiar with, but made
of recyclable cardboard, so the homeless don't have to hold a heavy steel sign. Each sign will describe a genre
of desperation with an easy to grasp icon.
Taking the war veteran as an example, he or she would hold a sign that showed an M-16 rifle, barrel down, with
a flak helmet resting on the butt. This would instantly let drivers know "Hey, this one is a vet". There will be no
more honking horns as a light turns green and you are still parked and reading a long winded plea written in
Sharpie.
For those missing a limb, the sign features a large question mark and a silhouette of the limb that is lost. Beggars
with a personal relationship with Jesus that they want to share with potential donors are seen sporting a sign
featuring a golden offering plate. Churchgoers place their tithe money into these plates every Sunday, so it will be
familiar to them, and help make the connection that it is their Biblical responsibility to help those less fortunate.
Just imagine the impact these signs will make at congested intersections. The great thing about this project is that
it benefits both beggars and car owners. Hand-out rates have been shown to rise off the charts and safety is
increased as drivers are staying focused on the road. The full line will be on the streets tomorrow, just in time
for the busy panhandling season. Happy Holidays!
---
December 13th, 2005
Colonial Donuts
Over in Oakland's
Open 24 hours.
They got chess games
Goin', and homeless
Keeping warm,
And the powdered old fashion
Stained my pants.
---
December 12th, 2005
I fell down and it knocked me out. When I came to, I'd lost my memory. I didn't know who loved me.
I didn't know why someone would. For a while I sat there. How many people love me? Who do I love?
Will they love me now that I don't remember them? I went to the jukebox to play music, but none of it had
memories for me. But I liked being in the bar, and thought to myself, "This song will always remind me of tonight."
---
December 11th, 2005

Dear New Hampshire,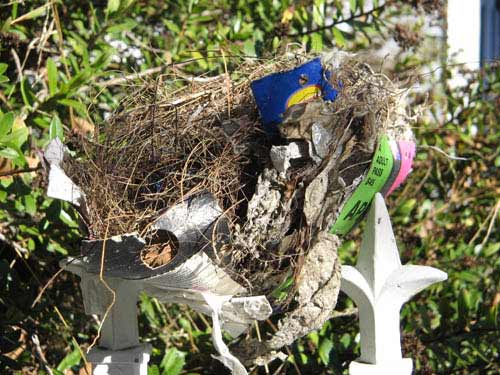 Here's a nice little photograph of a city bird's nest. This thing had fallen out of a tree at my bus stop so I brought
it home. The little bugger lined the base with a $45 bus pass, a few scratch tickets, and some other paper items,
then built up the nest part with more traditional items, such as twigs and sticks. You don't see a nest like this, you
silly Granite State, because you don't have a bus system yet! Do you think Boston birds do the same, old friend?
Speaking of the city, things are different in other ways too. It is Christmas time here in San Francisco, and they
don't seem to have the same traditions as back home. I remember Parker's tree farm, with an old fashioned sleigh
out by the road, and a cute hand painted sign, "Dry Seasoned Cord Wood 4 Sale". We used to go there every
Christmas and walk through his woods and pick out a tree. A slightly drunk local youth would be with us,
brandishing an axe, ready to fell our tree and haul it through the snow to our car. He did it for tip money and the
dirty movies his boss showed in the hay barn after hours.
But it doesn't snow here in The City, and there aren't any forests to wander through. The Trees are hauled in
by the hundreds in the backs of tractor trailers and abandoned lots are converted to "Holiday Shops", where
folks can drive down and buy a tree and a wreath in 60 degree weather.
"The ones leanin' against the chain link are twenny percent off."
It was at one of these city lots where I saw a man jump down from the chain link fence and put his stolen
Christmas tree on his bicycle and wheel it away. Another sign it is Christmas time in the city came to me yesterday.
A homeless man with a Santa hat on was urinating in the street. I believe he was homeless, but he may just be a bad
elf. A dirty, drunk, bad elf.

Merry Christmas New Hampshire!
---

December 9th, 2005
The ones who ride on order pickers look down at the pallet jack operators at the factory. I guess it's
because they're motorized. The order pickers have horns on their vehicles, little happy beep beeps, and
order pickers have to be strapped into a bright yellow harness that criss-crosses their chests, so if they fall
reaching for a box high up in the aisles the safety harness will catch them. Safety is job one at the junk mail
factory. Still, there are fistfights in the break room between certain cocky order picker operators and the pallet
jack operators who have chocked their wheels without them knowing.

I am lucky enough to work with the West Coast Pallet Jacking School's 1978 Class Valedictorian. Shortly
after a brief scuffle on coffee break, us pallet jackers were sitting around the table telling stories at the order
pickers expense.
"I didn't expect him to shit himself." Wade said. Wade is the Valedictorian. If we were a circus, I'd call him
our ringleader. He's the oldest and toughest we got.
"I 'member from karate class, when you jab the kidney like that, it's an uncontrollable reflex." Timmy said. He
wears his hair in two braids most days. Some days just one. He is Navajo. Anyway, Wade started in reminiscing
about Pallet Jack school.
"Hey Mike," Wade says. Mike is the new guy. "They still teach you about inclines at school?"
"Huh?"
"RAMPS! HILLTOPS! CRESTS!"
Mike's head is looking all kinds of ways, trying to find the answer in our eyes.
"You mean how to balance a load so you don't get hung up?"
"Thass righ rookie." Wade says. He's got him right where he wants him.
Just then our work collars send out the electric pulse that let's us know we need to get to work. We jump to our
feet and head back to the floor, laughing.
---

December 8th, 2005
It'swinterandit'sdarkandI'mcold.
It's dark and it's winter and I should be in a box underground.
A box with headlights, so the burrowing animals don't get too close.
I've got a lot of thinking to do..

---
December 7th, 2005
They got me back on the pallet jack this week, but they stuck me with Mike, who's just out of Pallet Jack School.
No one had to tell me, I knew it the minute I saw him trying to hoist up an oak pallet of Christmas 2005 junk mail
catalogues. Feet planted straight under him, blank stare, doing the jack motion all in his arms. What a rube! He
looked like he was jacking off a tree trunk. If there's one thing they can't teach you in school, it's how to look cool
jacking up a pallet. You just got to get out there and try different ways. One thing's for sure, you don't want to look
like you are practicing a two handed masturbation maneuver. So I spread my feet apart, one way behind with my leg
straight, one out front, knee bent. This brings me low and into a position of power and authority. My load will not be
giving me any attitude. I look like I might be trying to push the pallet up a hill. Of course the warehouse floor is smooth
as an ice rink, and it takes no strength to get the thing rolling, but it looks like I'm an old time State Fair spectacle, the
man who pushes a steam locomotive down a track with the strength in his back. Then I start my jacking. Now I give the
impression I am a human oil derrick, pounding the heck out of the laws of gravity, raising this impossible load higher into
the air with every downward thrust. This isn't jacking off, it is jacking up, which is what a pro lives to do.
---
December 6, 2005
"So long as I'm able to pull my pecker out of my own pants to piss and it doesn't run down my leg and fill up my boot,
I'll be happy. But if they ever tell me I got cancer, I don't want that treatment stuff, none of that bullshit. Let me die." Rusty
tells me.
You've heard me talk about Rusty Sunshine before. He's the one that was a singer of Country Western music back in the
sixties. Rusty Sunshine and the Sunset Scavengers. Never more 'n a bar band. Rusty's old now. Hasn't sang in forty years.
Gave up on it. Just wanted to work. Wanted to wake up early in the morning and get on a tractor and turn the earth. And
that's how he's done it since 1968.
---
December 5, 2005
I got invited to a pretty wild party by a pretty wild gay man I work with at the junk mail factory. He is in marketing. I thought
I would go check it out. My guardian angels decided they needed to come along to watch out for me. Turns out the one with
the pretty brown eyes got slipped a roofie. I came into the bedroom to get my coat and found a guy holding the angels ankles
over the angels head, his halo pushed off, his long hair tangled and his eyes closed, while another man was plugging his angelic
asshole. I called the brutes off, but we all knew I couldn't call the police. Angels don't exist.
I went to find the hobo angel, to help me get the pretty one out of there, and he was smoking heroin with a man tied to the toilet.
This city is too fast for God.
---
December 4th, 2005

It is almost Christmas, and Christians are hoping to get their message out this month like no other time of the year. A local
preacher gave his reason for showing a bible based movie at an elementary school:
"I decided we had to do this film after hearing about a 5 – year old boy who saw the Christmas story last year and asked
afterward why Mary named her baby after a swear word."
---
December 3rd
Have you been watching the newspapers for mention of poetry? Probably not. You like the color comics on Sunday, and the
celebrity gossip. The only celebrity I've ever known was the 1986 Chevy Celebrity my mother drove to work every morning.
You people don't understand that the world at large is important. The news is not who's fucking who, and who's getting fat.
The news is, who's writing poetry? And what does it say?

Here's a report from the San Francisco Chronicle about Saddam Hussein's courtroom activity as he awaits war-crime judgement.

"…the former dictator seemed acquiescent,…even writing a poem that he voiced aloud during one of the recesses, apparently
unaware that microphone near him was still live. The poem, later seized by guards after Hussein had passed it to one of his
defense lawyers, reflected Hussein's insistence that he is innocent of all wrongdoing during his 24 years in power, [such as] the
killing of 2 million people as the prosecution has charged. Roughly translated…the poem contended that 'truth is our characteristic'
and that 'lying is theirs.'"
Would anyone have believed it if Bill Clinton read a poem during his perjury trial? Or if Bush defended his war motives through
poetry? What is wrong with my country? What do we have against poetry? A man is charged with killing 2 million people, and
he can write a poem. Guilty or innocent, he sounds like a tough guy poet.
---
December 2nd, 2005
Rusty Sunshine got bees in his wall. His brother'n – law had'em once so bad they'd fillt up between the studs of a whole
side'a the building. What a mess. So Rusty asked me to come take care of 'em before they started comin' in the house.
I've known Rusty a'quite a'while and was glad to help'im out. Got my smoker and my veil, my hive tool and my green
jumpsuit with the Velcro snaps on the cuffs. Had to borry a pair of gloves when I got there cuz I don't normally use'em myself.
Now I'm gonna tell you what you do to get bees out of a wall in your house, being that someday it may fall on you to have to do it.
First, smoke'em. It makes them high. They go'n start eating honey. Calms 'em right down, instead of trying to sting you. For my
smoker, I used a bit of hay grass and some sticks. Rusty suggested throwin' some diesel on it all, but remember - you want a
smoker, not a flameflower.
Second, make a hole big enough to stick your hand through. Rusty had an impact hammer and we blew quite a hole through the
outside stucco. Bring tin snips to cut the chicken wire, or better yet, grab your Sawz-All cuz there's gonna be plywood backing
board more'n likely. In your eagerness, try not to smash right through into the kitchen, like I done.
Thirdly, stick your hand in the hole and pull down the comb. Make sure your gloves don't leave your wrists exposed. Those
ladies will be crawling all over you, looking to get up your sleeve. I got stung in my right armpit, and couldn't lower my arm due
to swelling for the rest of the day. Use some rubber bands if you have to. As far as finding the hive behind the wall, bees climb up,so reach above their entrance hole, not below. Could be you got yourself a pack of bees that do it different though, so use your common sense.
Finally, patch that sucker up good. If you're an outdoors type, you might try 'n eat the honey. I do recommend it. The white stuff isn't maggots, it's baby bees. You can eat them too. Hey dude, CONGRATULATIONS! You're a bee rancher now!
---
December 1st, 2005
Borderland Books on Valencia Street in San Francisco sells strictly sci-fi, horror, and fantasy books. I went on in. They have a
cat that hangs around. Most bookshops do. But this one is hairless. The woman behind the counter had on black jeans and a
black t-shirt with the solar system on it. A mail order catalogue was open on the counter to a page of swords.
"Can you tell me where the poetry section is?" I asked her.
"We only sell sci-fi, horror, and fantasy." She said, worried that someone from outside the scene had stumbled in.
"I know, but I was wondering if you have any sci-fi poetry?" I asked.
"There are poetry guys and there are science fiction guys. They aren't the same guys." She said.
"You don't have poetry in outer space?" I asked.
"Not until you actually get there." She said. So I left.