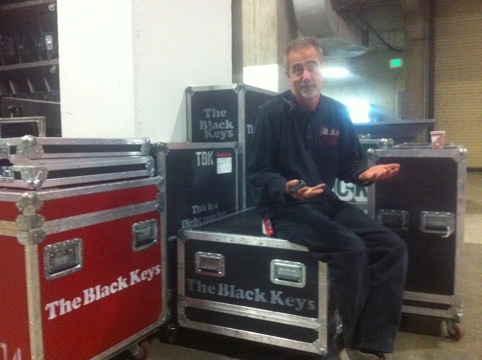 This is George. We met online. Two older men in relationships looking for a walk on the wild side.
That sounds weird. George found my website through the beekeeper video on current.com
He called me up last month and told me to get back to writing. We'd never met but he is an old junk man/wandering seeker and he gave me a few words of encouragement.
Between opening the shop and running Hauler! and going to City Hall for permits and all that I was sinking into the boring world of conformity and paper chasing.
It was nice to hear from a total stranger that my writing was interesting and I shouldn't give up on it.
Thing is, writing doesn't pay any bills and I'm getting old. I need to create a money machine because I like to drink and buy at the flea market. There has to be something for me to manage when my knees stop letting me jump off the back of a truck with boxes in my hand.
Writing is sinking towards the bottom of the list.
George gave another call last week, said he was coming through the Bay Area working with the Black Keys and would I like a pair of tickets and to grab a drink…I said yes. Finally the website is paying back!
I didn't sell the trucks or anything, but again, George was awful encouraging and my girl and I loved the show, went backstage, saw the tour bus and got free tshirts. Thanks to George.
So now we need to encourage George, who is a little older than me, a roadie for a huge band, and thinking about how bad his knees hurt too.
In a dream true to a junkman, George lives near a beach in Florida and he combs the beach for driftwood. He dreams of making furniture and home decor from his found objects. Why not? Can we get an amen from you people that George needs to jump in and start bringing his ideas to market? It's a long slow road for a good idea, and I think it is a good idea, so get started!