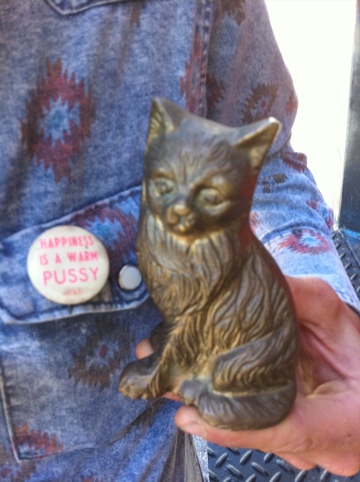 Thrift stores are a bust, over-priced and full of rejects. The yard sale is, to quote Pat (the one who bought coke from nuns) "the last bastion of ignorance" the last place you can get a deal, to score, to come up big. 25 cents makes you $50 – that doesn't happen at thrift stores. Church ladies are hip, bringing Internet marketing gurus build on online presence for the Sacred Heart of orphan children.
So today Jimbo and I rolled through the neighborhood. It's better to have a partner. One guy acts interested, the other tries to talk you out of it. The seller gets nervous and lowers the price. Perfect.
Jimbo is a fiscal partner. We must remind folks of that. Two men collecting antiques sends a strong queer vibe. The term partner implies all sorts of domestic activity including animal husbandry, if you believe Rick Santorum's statement that homosexuality leads to fucking dogs.