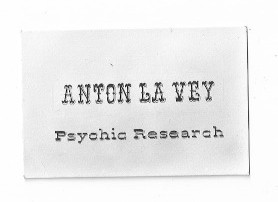 Found the infamous Anton LeVey's business card at the flea. He started the Church of Satan at the site where my local postal branch is today.
Looked out my window after a weekend of rain and someone tagged the truck. Why take a picture and show you? Why even mention it? Just a routine thing now. It doesn't even make me mad. Just another line on the to-do list.
As far as the shop goes, by the time you figure 9% sales tax, 3% for the credit card company, 2 grand a month for rent and bills, the money spent on inventory, and the time spent watching the shop, I earn about 80 cents an hour. Then the IRS wants 30% of that.
None of this makes me mad anymore. I've learned to love my destroyer.