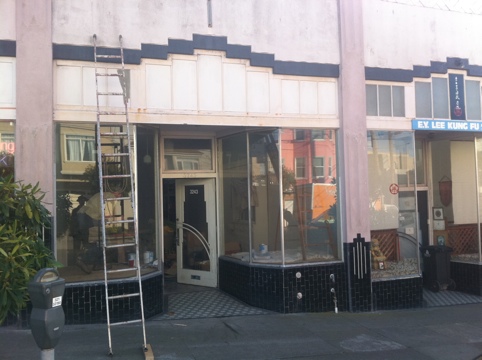 Take a look at why this blog has not been performing up to speed. This is the new shop. We moved here from the old one two days after the grand opening party. It was too small.
Having to patch/sand/prime/paint walls and otherwise transform a neglected space all over again is overwhelming.
Luckily Jimbo is excited and his energy is carrying me through. The shop is 1000 square feet with two giant skylights set in a row of 1930's art deco storefronts. Really beautiful. Wish they were on the sunny side of the street where it was 10 degrees warmer but it would be too expensive to move the building.
Signed a three year lease. The Kung Fu shop to the left, dog grooming to the right. A famous Chinese dumpling restaurant and a place that teaches the lost art of fencing join us as we squat in fog at the edge of San Francisco in the neighborhood no one knows: The Richmond.