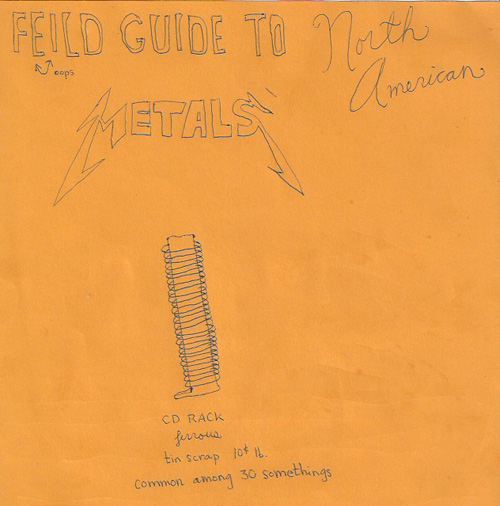 There's a small fraction of gold in a computer. 600 million people live in America, and perhaps 40,000 of them buy a new computer every year. If you could mine the gold in those shit-canned CPU's, it'd be a lot cheaper than digging a hole in the side of a mountain.
That's what this book is about. All you disenchanted coffee shop latte pullers and out of work designers should get out there and start cruising the streets for scrap metal. I've seen guys pull up to the scale in a '98 Cutlass. Don't matter. You got $300 bucks worth of copper pipe don't matter how it drives up. Just get your cash.
There's a stigma on working class. Too often they've been taken advantage of. Funny thing is, sucka, the IT guy working 50 hours a week in a polo shirt with the crew logo on the breast is the working class. Driving the avenues smoking a ridiculous blunt with Jay Z bumping and you stop at any street corner with a pile of shit on it, that's some kind of reverse freedom no one understands. You'll look broke and desperate to a guy who finally dared to call in sick and looks out his window at what happens in a neighborhood in the daytime, but who'll have more fun with this argument:
What's more important?
A. The Beatles
B. Monty Python's Quest for the Holy Grail
The obvious subversive answer is, B. Have you seen the Holy Grail more times than you've listened to a Beatles album by choice? If yes, read on.
The Beatles sang covers and made stiff improv's of "black" bands. That makes them revolutionary? Oh, then they smoked dope with Bob Dylan and changed their look. Big deal. The Rolling Stones at least embraced the Devil and weren't singing about peace and love. The Stones went disco, country and every other thing to. But they aren't experimental? The only good thing to come out of the Beatles is, apparently, George Harrison funding the production of Monty Python movies. That is an art form that attacked it's own, rather than foreigners. I'll support that as revolutionary. The Beatles were simply colonialists.