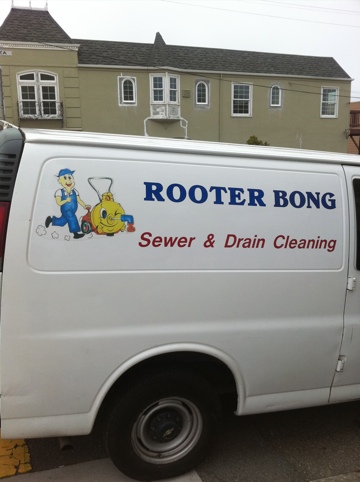 So Al, I finally got the interview with Rooter Bong. Cost me $150 too. Wasn't even Mr. Bong himself, it was a hired hand. He snaked the drain in the tub, pulled out a toupee.
"Do you get a lot of work because your name is a drug reference?"
Laughter, then, "Nooo. It's his name. But when I'm on Haight Ashbury, everyone wants to take a picture of the truck. When I drive away, they say, 'Don't go, I want your picture!' Then they ask for a t-shirt. 'Send me one, for 5 dollars' they say. It's only for the company I tell them."
"Bong is Filipino, right?" I ask.
"On New Year's in Phillipines they have fireworks, and it makes that noise, Bong, Bong. We don't say Bang. He's a New Year's baby, so they call him Bong."