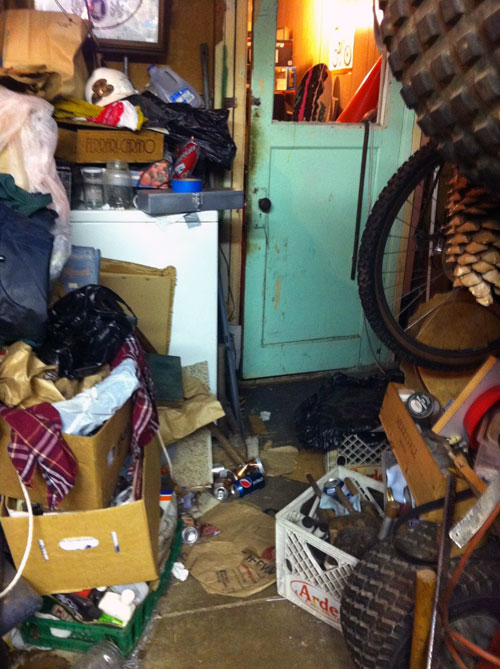 How do you do laundry when a club sandwich of junk is on top?
We were hired to stick all the junk in this old guy's yard around the back of his shed, out of view of the neighbor who was selling her place. She was paying us. "I don't want to be able to see his crap from the back porch," she told me.
Tires, scaffolding, Christmas lights, a dirt bike frame, an Igloo cooler full of rancid water, blue tarps sun-rotted and flapping like the fringe on a rocker's jacket, just so much stuff piled at random it was hard to walk through the yard.
"I'm not changing my lifestyle for no body, fuck that bitch. But she offered to pay for you guys to haul this stuff off, so let's do it," he explained.
It was an awkward situation. Ryan helped the first day. Stepping in the hidden piles of dog crap everywhere bummed him out. The second day Jeff came along. He hates working with me too.
Jeff started rapping, "I'm the master rapper and I'm here to say." We were dragging a differential out from under pine needles and over to a pallet to store it off the ground.
The crazy old man was trying to get his chain saw started and hollered, "That's a split differential for a 84 Camaro, it's worth a lot of money!" Rusty water poured out over the mud caked in the housing. We had been ignoring his description of every rusty hunk of abused iron we dug from the dirt for over an hour.
"Everybody had 'something to say' back then. That was when the whole world went hip hop. Fruity Pebbles ads with Barney Rubble rapping? It was terrible. Awful. Thank god it's over."

Fact checking proved Jeff correct.
Working with Jeff helps me make sense of the normal world, not this junk man's one I so fully abide by. He's worked at record stores and movie theaters most of his life, has blu ray and cable. He knows pop culture. He can sing the jingles, he can dance the Hammer Dance. That's like walking the walk and talking the talk but hipper.
A world that went hip hop seems like a transmission from Mars where we stand. Is this really San Francisco? Trees layered with ivy block out all neighbors, tall weeds hide VW fenders, a cardboard box serves as a belligerent bedroom window.
"You can see through his house," Jeff says, noting the vast rot that has eaten away at the exterior. By the time we finally drove away we had towed a truck with no brakes through an intersection, found his weed, fallen down, and found a spot of empathy for this guy who was unable to let go. Actually, Jeff hated him.