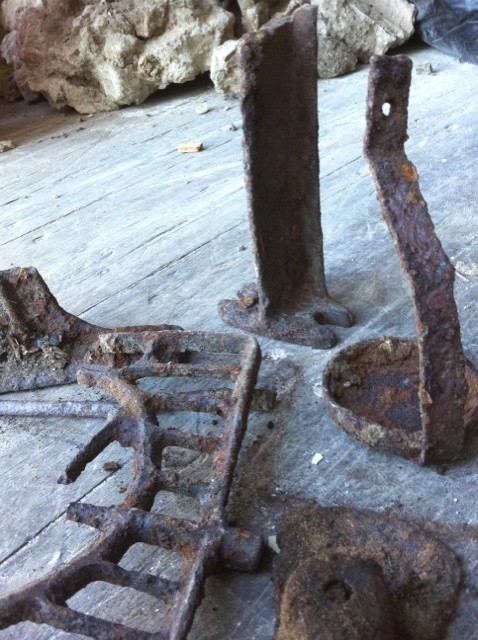 Throwing concrete rubble in a bucket so the guys could spread sand around the new pipe laid out for a bar going in an old building downtown. Gonna be a Cajun restaurant with a beautiful curving bar but the old floor was rotten. Everything got torn out, right down to the subfloor poured in 1906 when it was the Standard Shirt manufacturing company. These odd chunks of iron were in among the jackhammered scraps. Makes you think treasure is just really old garbage. Then again, treasure isn't gonna be thrown away again when it's discovered, like this rusty jetsam will be. For a minute it is wonderful to hold, to imagine what it could have been used for, what guys were eating for lunch a hundred years ago, what it smelled like outside in the afternoon, what they said to each other when a woman walked by. Then the reality kicks in that no one will pay for this old twisted metal except the scrapyard, so it gets thrown in that corner of the truck and tomorrow it'll be on its way to a new life.
Three old bricks turned up, Jeff was notified.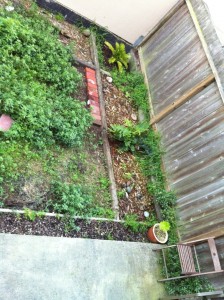 We haven't had a Pilipino minute for a long time, so let's take a minute to learn about the influence of this culture on the bay area today.
There's a tradesman out there driving around a white van with "Rooter Bong" painted on the side. He's a plumber, offering to clear the clogs in your pipes. Who would imagine Mr. Rooter Bong isn't a pot head?
My expert source told me "bong" is a common nickname for guys in this lush island studded land. Using the future phone she gave him a call and confirmed the man on the answering machine was speaking in a very provincial Tagalog (Filipino) accent. Case closed.
It might be interesting to have an interview with Rooter Bong and find out how this double entendre has helped or hurt his business. Anyone care?