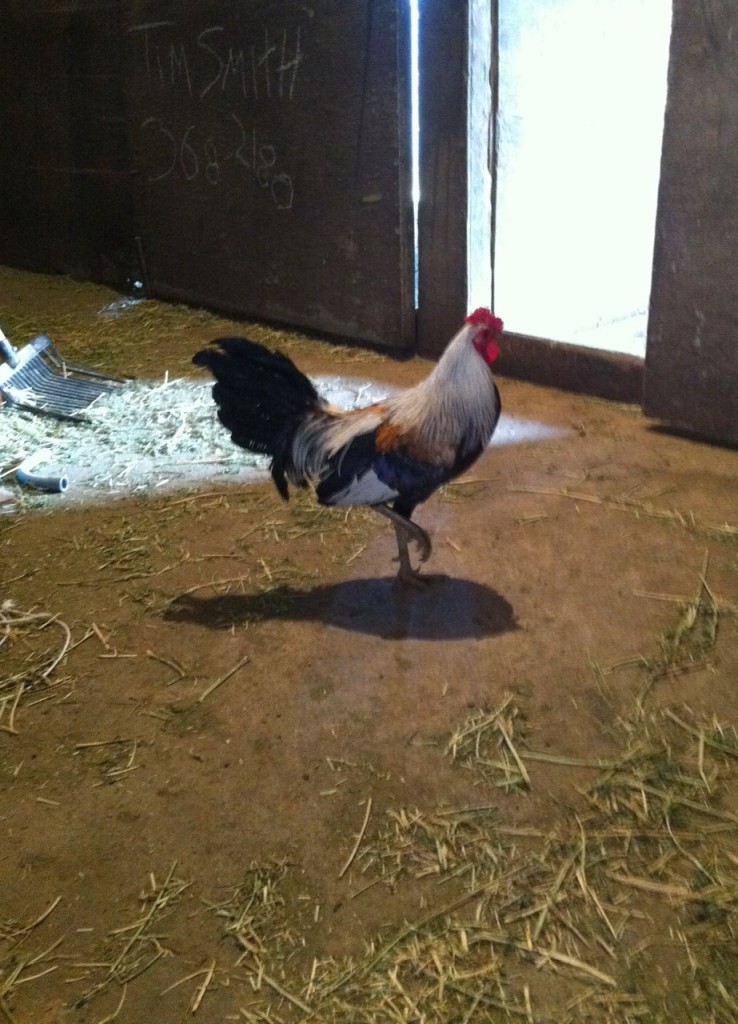 This beautiful rooster showed up at the ranch a few months ago.
Went down to Rus'. He was on the Bobcat trailer painting stringers for a deck job. Big 25 foot 2 by 12's he needed up out of the dirt and hay.
"You ain't doin' that kine of work these days," he says. I'm a junk man now. Everyone's coming to terms with it. We went into the hay barn past the chicken's roost and he opened the door into his quarters.
The first room you enter is a spare bed for when his sister and brother in law come to visit. Most of the year it houses piles of bills, receipts, truck trader magazines and junk mail to sort. At the far side of the room there's a long narrow folding table with a bath towel laid over it. This is where I sit and write up invoices. Locke's time sheets sit up to the right, new envelopes are under the calculator to the left.
Whatever free calendar Rus is given by a local building supply merchant is where he keeps track of his hours and I collate this and Locke's numbers and do the math. Neither one is ever able to get the same times down, and Rus writes like rain drops running down a windowpane. Then take a rock and throw it through the window. It's not pretty. The amount of fiction that goes into accounting is staggering.
He sits in a chair next to me and tries to remember the names of his clients so we don't have to put the street address on the bill.
"Mrs. Murphy. I 'member her husband drove the old green manure truck."
I remember that old green manure truck. The guy who delivers hay drives a green truck too. That's a long flatbed. Completely different from the dump body.
"He fell over dead. Was sleeping with a gal who boarded a horse here at the time."
I say, "Guess he didn't get away with that. Did I know her?"
"Problowly so. She drove a real clean white Shivvy pickup. But then half the world is full of white pickups. Folks gave her such a bad time she ended up moving to the other end of the state."
When the bill is all added up I put it in an envelope and write the name, or most of the time the street address of the job, and then lean it against the table lamp.
"Snap that light off will ya and we'll go get a little somethin' to eat," Rus says, but this time I had to head further south and hit up San Jose for it's plethora of junkyards.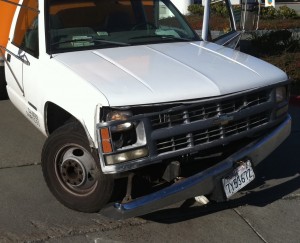 Took a poke in the snot box
Hauler took a hit from an 18 wheeler. Totally my fault, trying to pass him as he turned left. That big old back wheel snagged the edge of my front bumper and my little truck whimpered as plastic flew skyward and the steel joists bent like a broken arm. No damage to the rig.
A junkyard is another of the rare liminal spaces in this world, a place where people of all classes can mix. A kid on a skateboard in the parking lot was asking a guy, "Hey man, why you limping?" The guy had a cane and an eagle tattoo showing on his chest.
"Got shot in the back by a prison guard," he answered as he dropped a Red Bull can on the ground and crushed it with his good foot.
Christmas is just around the corner. I wish you all the best.
Comments Off on don't none of us know the other