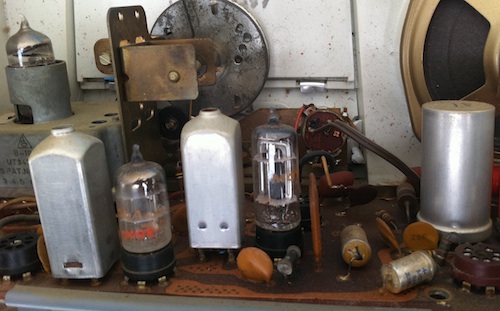 The inside of an old tube radio looks like a cityscape. A new radio is a circuit board – think of that city compacting itself to a nearly level surface. It's like how the world is compacting itself. A mosque in America for instance. Old people don't like these new people. Things look different. Take heart, a mosque built near the WTC must mean Islamic terrorists don't plan on bombing the spot again.
I've been reading my Klan book, in the 1920's this Protestant group was gravely concerned with the influence of Catholics in the U.S. and European government. Hopefully most of us realize in America, your religious affiliation shouldn't exclude you from running for office or building a place of worship in this country. Of course, the aim of Judaism, Christianity, and Islam, like most religions, is to create a group of chosen people who are different and special compared to the rest of the world. How this mentality can lead to tolerance is, as proven, impossible. The only moment of unity is when Catholics and their foe, the Protestants, join hands and renounce the Moslems.
Once we prevent this mosque from being built near a terrorist attack site, we can then work on preventing children under the age of 18 being allowed in a Catholic church, out of concern for their sexual sanctity. Let's go all in.