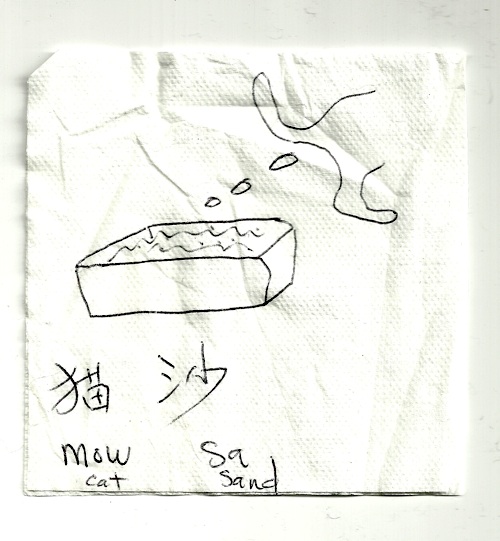 I got called in to haul garbage from a bar in North Beach getting remodeled. It's great being in basements of old buildings in this city. My old pal Matt Conway got me in the door and he showed me around.
"We're under Columbus street right here!" he said as we stood in a little brick walled room with a just us and a refrigerator in it. It seemed like a perfect opium den for 1885.
I hauled out garbage and was scheduled to come back for that same broken refrigerator the next day. Upon arrival, the news came down. "We got broken into last night. They stole all the tools on the job."
What a bummer. The dirty thieves who kicked in the back door also knocked a 15 gallon drum of used fry grease down the stairs. What a mess. I volunteered to go get kitty litter to clean it up.
I strolled up the block and was quickly sucked into Chinatown. Signs were no good to me, I just looked in shop windows. Whole pig carcasses, jade necklaces, pork buns and dim sum. Where does one buy kitty litter in Chinatown?
"Do you sell kitty litter?" I asked a woman at variety store.
"Kit-tee lee-yer? No. I doan unstan."
I try a few people on the street. A young guy with pierced ears smoking on a corner.
"Ohh, maybe that way," he says, pointing back down the alley I just came from.
A woman selling tourist t-shirts tells me to ask the man in the stall next to her selling cell phones.
"What kind of kitty? Hello Kitty?"
I am desperate now. "You know when you have a cat?"
"OK" he says.
"You have a box with sand in it? A box?"
"Ok" he says again.
"And the cat goes to the bathroom? In sand? Special sand?"
It wasn't ok. I kept walking. Suddenly large English letters jumped out at me. WALGREENS it said, in that special cursive script. A gold mine. Aisle 4b, Johnny Cat. 3.89 a bag. I bought two.
Later, at Mr. Bings, a bar across from where we sopped up oil and boarded up the back door, I asked the Chinese man behind the bar how to say kitty litter in Cantonese. He didn't know what I was saying either. So I took out a pen and drew this diagram.
"Mow Sa. Cat sand," he told me. "It's been a long time since I wrote the words."