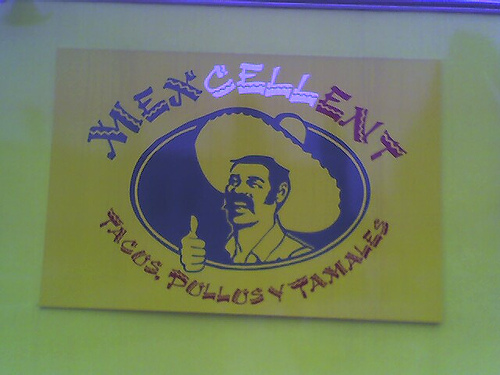 ganked from monkeydoc's flickr pool
There are lot's of ideas that go nowhere, but if you at least write them down in your blog, they've gone somewhere. How's this one for awesome? Mexcellent Spanish. It's a podcast that teaches you Spanish you'll use in everyday jobs here in California.
Today at Sims Metal Recycling where I brought two old water heaters, a disposable helium tank, a fire extinguisher, a length of chicken wire, twenty feet of rusted gutter, Sophia's old head board and some other metal odds and ends, I would have liked to have known how to say a few of the following things to the people around me.
"What's taking so long?"
"Where do I go?"
"Nice truck!"
"How much per pound?"
There were also a few Spanish phrases those around me wish I knew. For instance,
"Don't park there!"
"Hold on!"
"We pay less for appliances and you'll get more per pound for non ferrous metals if you take them elsewhere."
That last one will be for advanced students. There are podcasts out there that teach Spanish phrases, such as "Coffee Break Spanish". I listen to this one sometimes, but more to learn the Scottish accent. Yes, it is Spanish taught by Scots. They will use Spain Spanish, not American Spanish, most of the time as well.
Useless. Wouldn't it be nice to know how to say, "Behind you" in Spanish, so when you're waiting tables and back in the kitchen your tray won't get knocked off your shoulder? That's useful. There is a need. I know the people. This can happen.