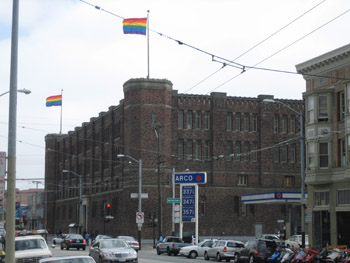 Kink.com headquarters in San Francisco, an old armory
I got an email today…
"You're on the official guest list for Public Disgrace's next Live Audience
Shoot featuring Princess Donna, Sarah Shevon and Benjamin Brat.
This is a Formal event, please dress up in Black and White, preferably all
Black, no colors please. If you don't own such an outfit please let us know
before Thursday and we will see if we can help.
** You MUST bring 1 form of original ID with you.**
·
Notes on the shoot:
This is a 21 and up event.
FOLLOW THE DIRECTOR'S INSTRUCTIONS!!!
YOU'RE FACE MAY APPEAR ON CAMERA, NO MASKS ARE ALLOWED.
See you soon!"
That means I'm going to watch a porn shoot tomorrow. I'll keep you posted. I'm scared that I'll never want to cuddle with a woman again.