photo posted from my iPhone
Nick plays drums in the Flagpoles, a band I'm in. He is also staying at our place this month. I kinda roped him into helping with the yard sale and by gum I'm glad I did. Check that sign out!
I don't want to disrespect Dante's work, seen below. Nick simply belongs to the West Coast school of yard sale signs. I wasn't even aware of this school, so imagine my surprise when I found it sleeping right on my couch in the living room.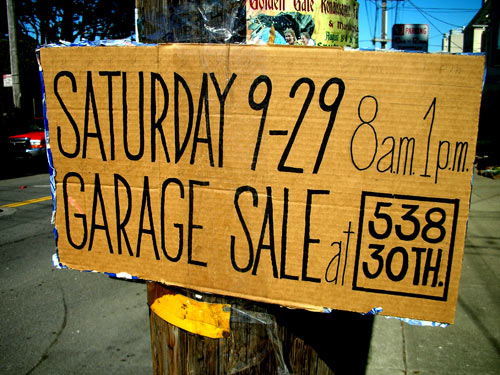 the backstory on this sign is here.
"Garage sale me brutha," he wrote and put a little arrow. The photo does not reveal that he taped the sign to my truck, parked right next to my garage. Can I call it Zen because it seems obvious on one level, and full of so much meaning once the unpacking begins? Nick believes in letting the shopper find the sale by putting out a love vibe. He isn't knocking on doors or hanging signs on distant street corners. Very respectful of the common grounds. Not pushing anything.
I had three rules for garage sale sign work.
1. Date is prominent.
2. address is set apart.
3. No bubble letters.
Nick broke the two major ones, but in his case, I think even bubble letters would have been fine. This is like another dimension. It's like being on an antigravity planet. No date? No address? And people still come? With just a warm welcome? Amazing.