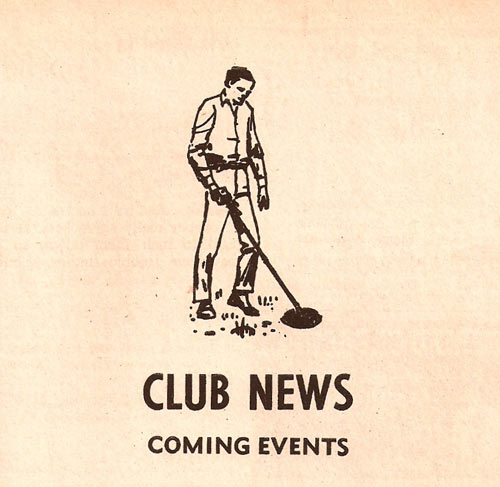 Mr. Fisher and I are getting ready to do a pod for current.com about metal detecting. If anyone has any ideas or questions relating to the subject, let me know.
You probably don't have much idea about metal detecting, or "coin shooting", as they call it. It appeals to a hard core audience of dreamers. Men, mostly, who think they will find buried treasure. Articles in the treasure hunting magazines lay out a cold case of a missing fortune. Like this one about "Outlaw Gold In Kansas". In 1895 badman Bill Doolen was arrested after a string of bank and train robberies. According to the story, "Until now Doolin's outlaw career had paid off handsomely. He had organized a gang in Oklahoma Territory, and for their first venture they rode into Spearville, Kansas. They robbed the town bank of $11,000. Next was the bank in Cimarron, Kansas, which provided them with $14,000 in gold. They rode to Southwest City, Missouri, robbed another bank of $15,000, then loped leisurely towards Oklahoma. Passing through Pawnee at high noon, Doolin noticed a bank and waved towards it.
'Let's stop here a few minutes,' he yelled to his men. This one they cleaned of all it had, several thousand dollars in gold. Next they struck in northwest Texas, robbing a Longview bank of more than $50,000.
With a string of successful bank holdups behind them, the gang began stopping trains to blast open safes in the express cars. They held up several trains around Wharton, Oklahoma, stormed a depot in Woodward and made off with a $7,000 payroll destined for Fort Supply. Then they moved up into Kansas to hold up trains, and it was here that Doolin cached most of his savings."
You're about ready to get involved aren't you? Doolin escapes from jail but the sheriff tracks him down and he is shot off the springboard with his wife left alone in the wagon. Doolin was a family man. The secret of where his stolen loot lies is buried with his corpse. By the end of the article ten men have decided to buy a metal detector. You want a piece of the action.
But it isn't just heist jobs gone wrong, there are stories about gold rich mines the prospector could never find again, valuable artifacts from Civil War battle sites, and occasionally you get a gripping article like the one that made the cover of True Treasure in April 1975. Take a look and tell me you aren't sold.

please note the crocheted PBR can hat Marika is wearing in the photo.