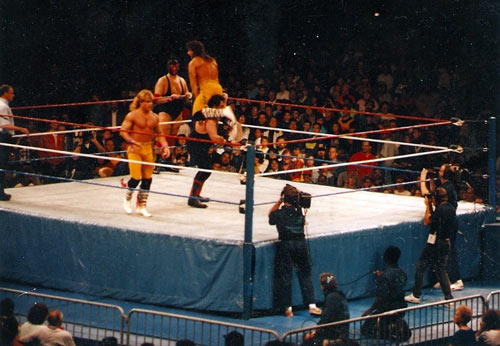 Do I recognize Andre the Giant in the center of the ring?
It looks like things keep falling apart, and it didn't matter to Glenn and I. We drove around the city yesterday with hardly a care in the world. Went to the dump and dropped a refrigerator there. Looked around at the mounds of cast off items.
"We can always come back here when things get bad," I told Glenn. We stopped and got meatballs over rice just up the street. We drove back to my place and went up on the roof to look at the city stretched out to the ocean. We made the busses look small standing up there. It didn't feel like someone stealing fifty billion dollars really made a difference. It was a big shakeup but we didn't have any dust on us and we were still on our feet.
Of course accountants were already at work recouping through tax write-offs huge sums of money for the wealthy who had been taken for a ride by one of their own. The numbers represented power and didn't need to actually exist for the wealthy to retain their power. People would be spoken to and the numbers sorted back out. Mean while Glenn and I laughed. The view is great up on my roof. The tall buildings downtown don't matter. Glenn is a carpenter. I am a junk man. We like to work. Life is good.