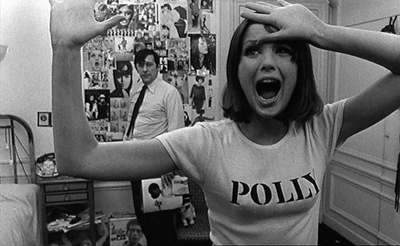 Sarah brought over a trilogy by director William Klein, produced in the 60's. The first one was about fashion, derived from his experience as a photographer for Paris Vogue and other fashion rags.

What made you buy the Who Are You Polly Magoo disc?
Umm… I read about while I was babysitting in a Nylon magazine I found in the bathroom.
What did the article say that caught your interest?
Mostly that it was directed by an American expat living in Paris, a fashion photographer. He gave up America, moved to Paris, disassociated himself from Americans and aligned himself with the European view of what it meant to be an American.
My favorite part was at the dinner table they talk about canned wine for Americans. What did you take away from this flick?
Know what I find interesting about that movie? I barely remember any of the actual fashion, except of course for the aluminum dresses at the beginning of the movie. It was like a reality show, they follow her around with cameras, but it was surrealistic. They mock the whole process of television – but 40 years ago.

Have you ever tried sewing?
I made a quilt.
Any clothes?
I made some jeans and a vest for a stuffed rabbit a couple months ago. A pair of pleated pants with tapered ankles and thin overall straps in 1987 for my Home Ec class. Put a zipper in and everything. Never wore them.
Why not?
We had to incorporate certain elements that were represented in the class but I didn't pick a pattern that was fashionable at the time.
I'm intimidated by sewing clothes. Patterns scare me. I made the quilt on the fly – made it up as I go along. that I can handle.
Do you think men or women are more interested in fashion?
I think women are more interested in wearing fashion but more men are designers.
Do you watch project runway?
I've seen episodes at viewing parties at gay friends house. I've talked to more gay men that watch it then straight women.
But I always had pages torn out of fashion magazines from the 80's like Linda Evangalista and Claudia Schiffer in my locker in high school*. I wanted to be a model. I did. I did.

What's that fantasy?
I think as a teen girl going to school with all girls I think my body looked more like the bodies I saw in fashion magazines. The you-know boyish build… I was knock-kneed and skinny. All the girls were athletic and curvy and I didn't look like any of them. It was more a way of feeling like I fit in somewhere, rather than wanting to do the job of modeling. And I think had I gone to a school where there actually were boys… I more needed to be approved by women around me because that's all there were. As an adult I realized guys like any type of body, it doesn't really matter. I was just trying to recognize myself in someone else.
In the movie, someone makes the comment that fashion used to be for the rich and know its for the teenagers. Did that make you think of anything?
Has it gone full circle, now-a-days all the young female pop stars, actresses have clothing lines. Hillary duff, the Olsen twins, Lauren Conrad….

It doesn't seem to me that it ever went back to the rich.
It depends on what magazines you read. I was reading Bazaar today and there are still bags for 8000 dollars. Shoes for 7000. They're made for a small group of rich society people. I look at those things and try to find the duplicates at Old Navy.
Thanks Sarah Bean!
*Villa Maria Academy for Girls in Erie, Pennslyvania
Comments Off on polly magoo and sarah too