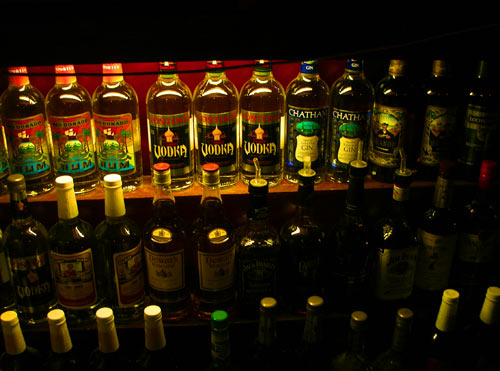 She was wearing a strapless dress and said she felt like a slut because of it. I was trying to decide whether I'd have another and find out or just finish this one and go. There was enough in the glass for one more awkward pause before it'd be empty. I had to make up my mind.
"I've never wanted to be an actor, but I always wanted to be a re-en-actor. Like people who work at colonial villages and churn butter for tourists," she said.
It was a little after seven pm. If I had another I wouldn't be able to stop. I'd be drinking straight on till I passed out.
"But I'd do crime shows on tv too. Re-en-act the woman who gets tied up and raped on America's Most Wanted. That'd be fun."
She was sitting on my left at the bar. She was moving ice cubes with the little red straw from her drink. I had the pint glass in my hand with one edge of it on the bar and I was making the last swallow jiggle at the bottom. We both looked straight ahead and slightly down at the rows of booze behind the counter. Strange brands. I guess it was well stuff. I'd never seen the labels or heard the names before in my life. I began to suspect an Asian man owned the bar. Or a Mexican. Someone with ties to another country. Where things were different.
"I think those roles would be easier for me. You gonna have another drink?" She asked.
Of course I was. I don't know why I tell myself I'll just have one. That's not how it works around here.