Port Costa, California –
The rear end of my pickup is much lighter than the engine-heavy front end; as we motor down the potholed backroads she kicks her hind legs up, pitching the four of us in the cab hard against the seat belts. The one speaker fades in and out. Dust comes up out of the dash vents. We're heading north into the country.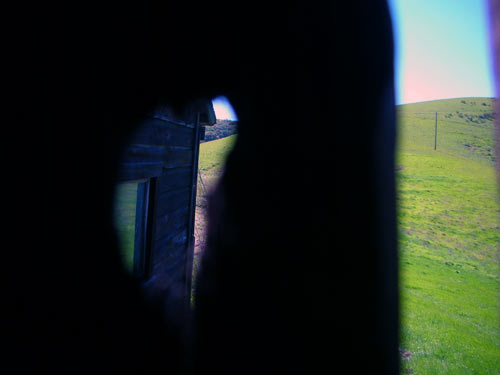 Up ahead behind these rolling hills we're winding through there's a shoebox of a town whose main drag dead-ends at the railroad tracks. That'd be Port Costa. Not even a port no more, just two pair of steel tracks, one East bound one West bound. Beyond these four steel rails is the Carquinez Straight, a stretch of water not so wide you can't see the houses on the far hillside, but not so close you can see in the windows. Ships and rail cars parallel each other but nothing stops here. This town don't work no more. We're here for the only show around: a biker bar with an old hotel across the street and no one cares if you drink anywhere in between.
The bar is a stone warehouse with a bronze plaque bolted on by the door that boasts of all the fires it survived, starting way back in the 1880's. No one is storing wheat here anymore, just a huge selection of liquor beer and wine. There's a pool table with enough space even a long drink of water like me can line up a shot from any rail without bumping the butt end of the cue into a wall. Try to find that kind of real estate in the city.
This was the town where the grain from the fabled Central Valley passed through on its way to the docks of Oakland where it was loaded in wooden ships that set out to sea to sail beneath the entire continent of South America, round the horn and head to Europe. This town used to be somebody.
The outlands of San Francisco are snaked with large rivers and riddled with bays. The grain trains couldn't float so ferries were built that loaded an entire line aboard and brought it over to Port Costa from Benicia where it choogled on down to New Orleans, so to speak. You heard trains don't stop here anymore. Nope. They scream through at night blasting their horn long and loud enough to wake the drunks who stumble from the bar out to the tracks. And anyone trying to sleep in the hotel twenty yards away.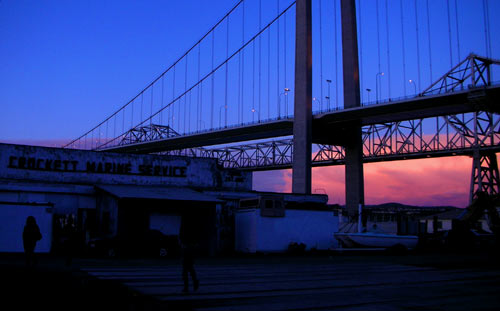 Carquinez Bridge. Both of them.
They built a steel bridge over the Carquinez Straight in the thirties and it was like kinking the water hose in a desert garden. Everything died. Progress had its revenge – even that killing bridge is outdated now. It stands like an old Erector set next to a modern cement suspension bridge.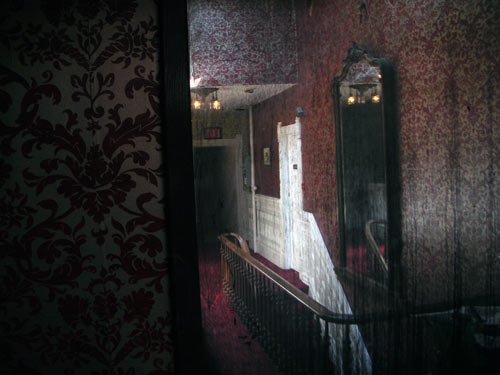 The Burlington Hotel
Nowadays Port Costa hosts about 200 residents, two restaurants and our old hotel, The Burlington. The front door was locked when we arrived, even though we had reservations. Then someone remembered we had to check in at the bar across the street.
The paint was peeling off the eight foot tall wooden front door. It was just a dead bolt. No plastic card swipe system.
Stepping inside was like walking into an abandoned farmhouse. There was no front desk, just two closed doors and a stairway up. We climbed. Holes in the carpet patched with duct tape of a similar color. Thrift store prints on the wall. Wooden wainscoting with hundreds of layers of paint. The red flocked wallpaper still felt like velvet but the mirrors had lost their silver lining in most places. They say three things about this hotel. It used to be a bordello, today it is haunted, and you should bring your own sheets. I believe all three. While inspecting the mattress for bed bugs I found a suspicious hole in the box spring that appeared to have been chewed by a rat. The best thing to do is put your bags down and go next door to the bar. Come back when you are ready to pass out and you won't mind this place a bit.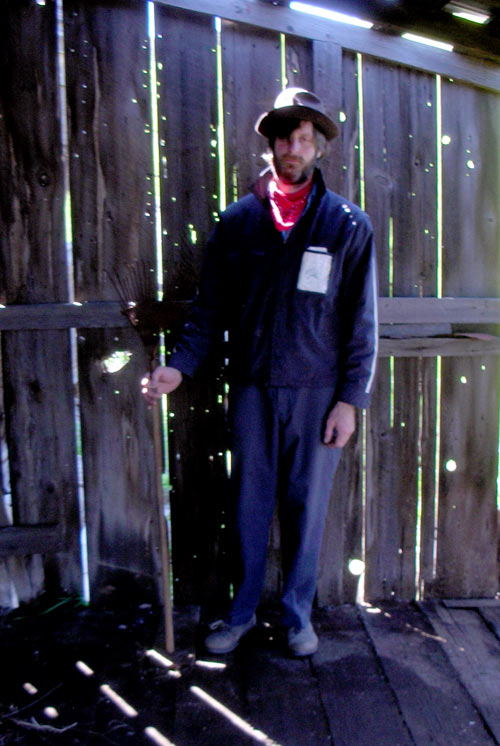 The author playing make-believe in an abandoned barn – photo courtesy Annessa
Oddly enough the best part of gettin' away is coming home. The windows are down and it's past noon. Bags in the back and plenty of diesel in the tank. This beautiful old barn comes into view up on the crest of a vivid green hilltop, dilapidated unpainted fence rails look like lines of malnourished cattle desperately struggling back to their stable.
Rather than run their barn boards horizontally or vertically, these barn builders sent them across the face in a V pattern. A dirt road pokes out between the shade of two drooping pines as we round the bend…"no trespassing" signs nailed to the trunks. We forgive those who trespass against us as we take the hard left off the county road and head into the pines. The pines quickly clear and turn to oak and there sits a little red house with plywood nailed over all the windows. Guess no one's home. My old truck is like a lazy horse when we pull up and park…hardly moves, just shifts its weight to three of the four tires and waits while we climb over a locked gate that leads uphill to that fantastic barn.
There are small outbuildings along the way. According to a person's temperament it is either spooky or inspiring. Take this little shed here. Is this where the children were stripped and locked up when they misbehaved? Is this scrap of iron something Father heated up and branded his children with, promising to hunt them down and gut them if they ever tried to leave? And this scrap of rope…he was breeding his children with his children, hoping for legless offspring that could never run away…
Okay. Some people think like that. Other people see these old trembling boxes as security…a place to pack away broken chairs and scraps of aluminum in case the economy collapses and someday money is worthless and all the world needs stacks of Good Housekeeping magazines, slightly mildewy, and will trade food and guns for them to help them remember the good times that used to be.
There are four of us and the opinions are evenly split. We step into the barn and it is like Aladdin's cave…benches with piles of nails of every length and shank imaginable, shovels and rakes with their handles broken at odd lengths, coils of steel cable necessitating a tractor to move, dust and hay, a boot with plenty of heel left…I'm ready to move in. Send the rest down the road with their thumbs. I've got a truck and a barn now…
We find ourselves outside, laying in the tall green grass, small white bugs jumping from blade to blade to pantsleg. Hills, a river, blue sky, an oakfilled dale yonder, cattle in the distance. Someone won't stop asking for lemonade and none comes so it isn't heaven, but we're close. It feels like there is nothing to do. I mean, nothing needs to be done, which is a feeling I've never had in the city. Twenty minutes goes by…no one speaks…the grass in the wind goes from green to silvery and back so that it gives the impression of a school of fish or that one side of the stalk has scales that flash us.
I pull out three large rusty hinges found in the barn. A debate ensues about taking anything from this pristine and holy spot. I happen to need three hinges for a shed I'm building, so I believe this barn will burn down in a hobo fire soon.
"I'm preserving the spirit of this place."
It is a hollow argument, so I throw back the rustiest of the hinges to appease the gods.
With the conversation comes restlessness. We really need lemonade now. The dearth of the stuff makes the barn ugly, the hillsides annoying. Our eyes and minds have been hogging the titillation, our throats and stomachs are making loud demands so we rise up out of the swaying grass and turn our backs to the slumbering relic we recently stood in awe of and we walk back into the oaks towards the old homestead with the windows boarded up and my truck stands there patiently while we climb in and she was good to us and knew the way back to the main road without me hardly touching the reins and it wasn't long before we came out of the wilderness and into a town and at the very edge, as there always is, a building stood straight with vigor and "Market" was painted on the frontside and my truck came to a stop and all that stuff was behind us now and we thought nothing of it. Before us was lemonade and we were ready to drink.
Comments Off on Go Go Bordello (expanded)