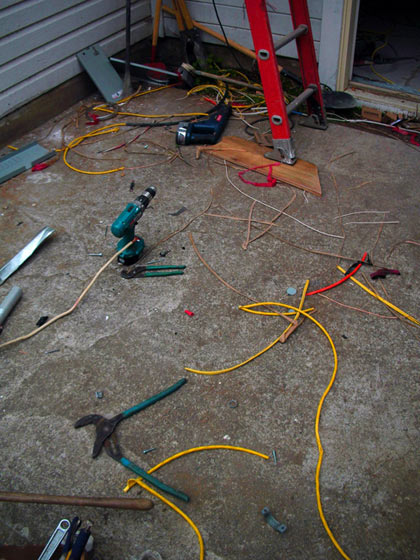 the electrician had to leave early, he had a gig
Glenn, Big Jim and me. We work construction together. A lot of guys are in construction not because they want to be, but because it's a last chance. Ask around, you'll find an awful lot of "electric guitarists" on a site. I suppose since that first generation of MTV kids is now in their 30's there are electric guitarists in all professions. It put a spell on us. But the construction trades are full of "gigging" guitarists and bass players and drummers who have to miss work to "jam" or "practice". The amount of lost days due to rock and roll dreams..well… it's a heavy price on our nation's homebuilding and remodeling deadlines.
You have to understand how a band gets started to understand why so many guys fall off roofs and cut off fingers with saws and somehow bury the sidewheel grinder into their thigh. When a guy decides he is gonna commit himself to the guitar and really get good, he looks for a public place to play. That's the guy in front of Goodwill banging out some random "chords". Throw a buck in the shoebox, he needs it. Eventually someone comes by and say, "I play guitar too, wanna come by and jam?"
Now you have the beginning of what is known in the industry as a "lineup". The better guitarist gets to play "lead" and the other guy plays "rhythm". They'll work out some "covers" and a few "originals" and play together at a coffee shop "open mic" on a sunday afternoon. So far this is harmless to our nations economy which relies so heavily on home building.
After their coffee shop gig they will excitedly hang up a "flyer" saying they are a guitar "duo" looking for a "sick" bassist and a "steady" drummer. This will fill out the "lineup". Now things are really starting to come together and they can call themselves a "band". "Band" is a general taxonomic class. This band will need a specific name. They will look for something from their daily lives. "Hammerdriver? That thing that bores holes in cement?" "Compressor? Like air compressor?" "How about toolbag?" "Okay." Now these guys have found a tough sounding name.
Toolbag will start playing "gigs". They "open up" for the interior painter's band who is playing a tuesday night at a shitty bar the painter's brother manages two towns away. Bands always start out "opening" for other bands on monday or tuesday nights. Friday and Saturday night shows are the best, because then you will have an audience to play for. The earlier in the week you play the more ridiculous you will feel. The same is true for how early in the "lineup" you appear. (lineup in this case means order of appearance on a given night, not the members of the band and their respective instruments)
But Todd, the rythm guitarist for Toolbag is gonna get incredibly drunk after his first "gig" Tuesday night in Colma. When he shows up for work Wednesday when most of the world is not hungover, he is gonna grab a power tool like nothing is wrong. He is going to forget to keep a tight grip on it and when it hits metal its gonna buck right out of his hand and kick back into his face. Luckily today the blade side doesn't make the contact. This is an important moment in Todd's career. If he decides this is dangerous and calls it quits another office worker has been born. The world has lost another guitarist. It's not like we're running out of them. If Todd goes out back and throws up in the debris pile and says, "whoa dude. That was gnarly" and goes back to work then the rock and roll dream lives on one more day. The trades have absorbed another self destructive idiot.
It is important to note Todd is a laborer. Laborers are the equivalent of guys playing guitar on a street corner. There is the most minimal of skill required. These types of workers are looked down on by the high end guys. High end guys usually play high end acoustic guitars hand crafted by luthiers in Vermont out of exotic woods recovered from Egyptian shipwrecks. A finish carpenter doesn't bash out "power chords". He has developed a "syncopated" right hand finger picking style reminiscent of ragtime greats from the turn of the last century.
Finish carpenters, master electricians, custom cabinet makers, these are the saturday night "headliners". Apprentice electricians, journeymen plumbers, guys who've been roofing for ten years, these guys play the wednesdays, the thursdays, maybe even opening for someone, first in the "lineup", on at 9 pm Friday night.
Glenn is our finish carpenter. Big Jim has the "chops" to play a Saturday night, but certain choices have left him out of the "majors". He is an "unsigned" talent, capable of rewiring a house, plumbing a bathroom in the addition, and general roofing, drywall and framing. It's like he "headlines" Friday night, but at some weird club not on a bus route down where they unload ships. I'm the laborer. I have nothing to brag about.
I had to explain that whole division of labor and talent through a rock and roll paradigm so you will have some foreshadowing for tomorrow's story.
Comments Off on cost of rock and roll