December 26, 2007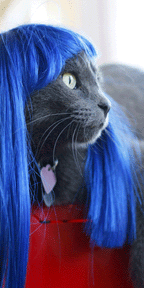 I house sat two cats this Christmas. I love cats. I'd have a bunch if they didn't require feeding.
2 Comments
between that and the little kitty, someone somewhere has too much fake hair on their hands.
i will say, the blue really compliments the grey fur-tone.

you should get a cat and let it be indoor/outdoor like you. it will be able to snuggle in with the racoons and fight humming birds. or, you could just one of those feeders that keeps filling the bowl automatically.

Comment by girl with the glass eye — December 26, 2007 @ 9:05 pm

that http://www.babytoupee.com/ link was pretty funny. thanks.
Notice: comments_rss_link is deprecated since version 2.5.0! Use post_comments_feed_link() instead. in /hermes/bosnaweb19a/b1035/ipw.myroboti/public_html/restore/wordpress/wp-includes/functions.php on line 3832 RSS feed for comments on this post.
Sorry, the comment form is closed at this time.