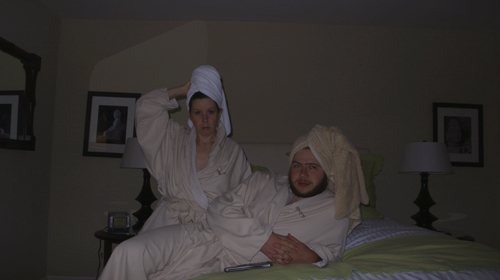 Listen to Jenny, of Doug and Jenny, tell us about this picture of a rock tree:
Jenny: This is the petrified forest on the way to Calistoga, Doug was staying in Calistoga because he was working there. …I saw a sign that said "The Petrified Forest. " I said, is that forest really scared? Or is it petrified? And it was petrified. Not scared. You walk around this trail – you pay six dollars to walk around this trail – you get this little map – you walk around the trail and you look at about about half a dozen petrified trees, right where they fell. Where they fell is where they lay. I think this one is the Douglas Fir. No. Let me get the thing. He's number 8. He's a pit pine tree.
mrip: Were there any rides?
Jenny: No. Umm mm. There was a shop . A souvenir shop. I didn't buy any souvenirs. There were a lot stones and little pieces of petrified trees. But mostly crystals.
mrip: Does a tree turn into crystals?
J: No. Not to my knowledge.
mrip: Was there any candy? (at the souvenir shop) Like rock candy? Those dots… on the strip of white paper?
J: They might have had pop rocks.
mrip: There you were in the heart of this petrified forest…were you scared?
J: A little. I was by myself. I saw a few other people on the trail but not many. I saw a ghost. …. a tree ghost…the ghost of a tree…no, not really but i have a little tiny phobia of forests… just a little one…it isn't a dense forest , but still off the beaten path, in the middle of the woods…how was I to know who was waiting in the cave?
mrip: What cave?
J: There was one tree that went into a cave…the trees become buried… when they were escavated…excavated? How do you say that?… Excavated. They didn't completely dig it up because there was a whole mountain around it…not a mountain but its just a lot of material and earth above it…it went into a cave. It's behind a fence but there's a bandstand you can walk into and sit there and look at it. But there was a way bigger one, it was called the Queen of the Forest.