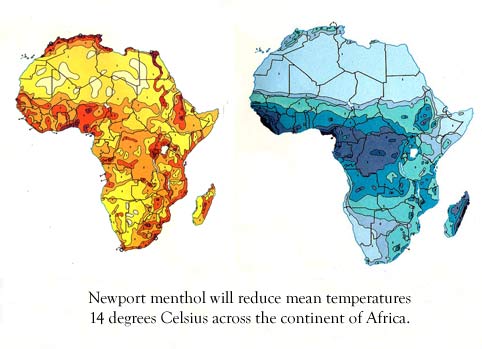 Greensboro, N.C. – In a plan to reduce temperatures and human suffering in the arid regions of Africa, the American cigarette manufacturer Newport has offered to mentholate the entire continent.
"Cigarette sales are stagnant stateside" said Bradley Bush, Chief Analyst of the parent company Lorillard Tobacco. "This is a real opportunity to expose our brand in a positive way to millions of people eager to adopt 'Western' traditions."
Africa is facing drought in many regions, and is casually considered to be either a hot desert or a steamy jungle. "Either way, the cooling effect of menthol will provide desperately needed relief to those in need."
Heavy marketing to African Americans has proven so successful to this cigarette manufacturer that one out of two African Americans who smoke, smoke the Newport brand. Advertisements featuring a well dressed black couple laughing over drinks at a Mediterranean bistro late in the evening, or a non-white (but passable) co – ed party of four in brightly colored swim apparel laughing and splashing water are credited with this loyalty.
"We believe we can parlay our success with menthol products in this American ethnic community and translate it effectively in 'The Mother Land'" Bradley says, referring to Africa as though he were interested in its historical significance.