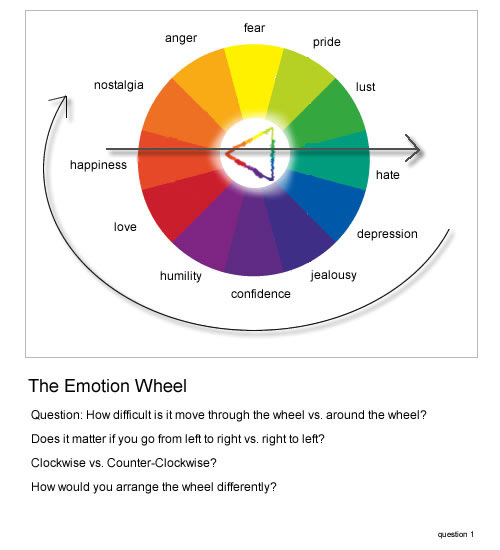 My producer, Dave Luzius, sent me this troubling email.
jon,
here is the emotion wheel. The emotion wheel is
interesting to make, I think you should
make your own emotion wheel.
Do you think everyone has the same wheel?
I just made this wheel up, I don't know if there is a
real wheel or not.
I think it's either everyone has the same wheel and
their ability to navigate it is different, or
everyone's wheel is different and we're all the same
at navigating.

This was troubling to me because I've noticed producer types have wild ideas about how the magic of music works. Think about Rick Rubin. Or Brian Wilson. Charlie Manson. These are people with philosophies. And the emotion wheel is one I didn't want to be involved with.
But Dave came by my place and started asking if I had made my own emotion wheel yet, so I had to explain to him I was creeped out.
***dave is talking now, this is me DAVE in person:
So, john thought this wheel wasn't funny because he thought it was serious. Which, is like totally stupid because if it was totally serious, that would be funny and interesting. I'm actually somewhat flattered that he thought I could be this serious and know anything about this kind of bullshit, but if he really thought I really thought this, he definitely should have put this on his website and made fun of me for being kind of lame. So, I think I actually was a little too successful with this stunt, and obviously my audience isn't ready yet. But, by the time my audience would even get my jokes, I'll be long gone, and onto other shit. It's not that I'm above things, it's that I'm like perpendicular to things.
It's like that NIN song "I was perpendicular to it! Now I'm just tangent!"
****This is jon
See what I mean? Dave is weird. So many levels. He just said to me, "What if the spell check was a bad speller? He was a stressed out about his job…couldn't remember things…"
Comments Off on emotion wheel