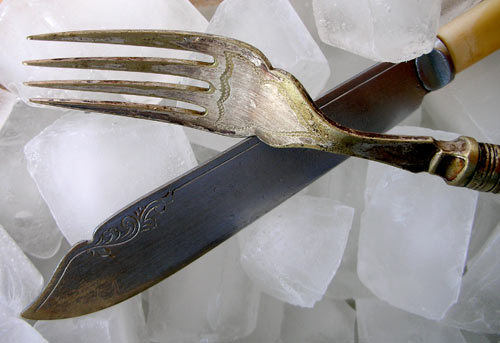 This flatware came out of a pile of junk I hauled away for a woman. I brought them home to find out how old they are. The fork is marked EPNS on the back. Turns out that means electro plated nickel silver. There is no real silver in these, just copper base with nickel coating. You can see the copper base on the knife edge. Ebay said "Big deal", so I threw them away. Again.
Still, I learned a bit about silverware. The first site I came to in my search was the cyber attic who had an interesting pickle set.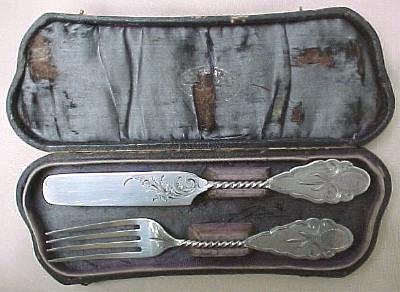 This boxed pickle fork and knife set tell an entire tale. They were made by James Watts. The fork bears his chevron stamp and the word Coin, while the knife is stamped only Coin. The design, which features a twist shank with an engine turned and engraved end, is characteristic of mid 19th century Philadelphia silver. The fact that they remain in their original presentation box resolves any question whether they are a pickle set or two-thirds of a youth set. The endearing engraving, "From Wife to S.W.B." further reinforce this attribution. The ensemble bespeaks lifestyle habits as well. That a pickle set stood on its own as a gift item from a wife to a husband reflects the importance ascribed to this minor food item, and the nature of Victorian endearments. The condition of the silver is mint. There is no visible wear on the blade or tines. The engraving and engine turning are crisp. The box shows a good deal of age wear, with a worn satin interior, mottling on the outside, and separation between the top and bottom.
In a time previous to refrigeration and trucking fruit up from Chile, pickles were a real treat, and unlike today, pickle wasn't synomymous with a preserved cucumber. You can see by the illustration below all manner of vegetables were pickled so during the winter you could still eat a balanced meal.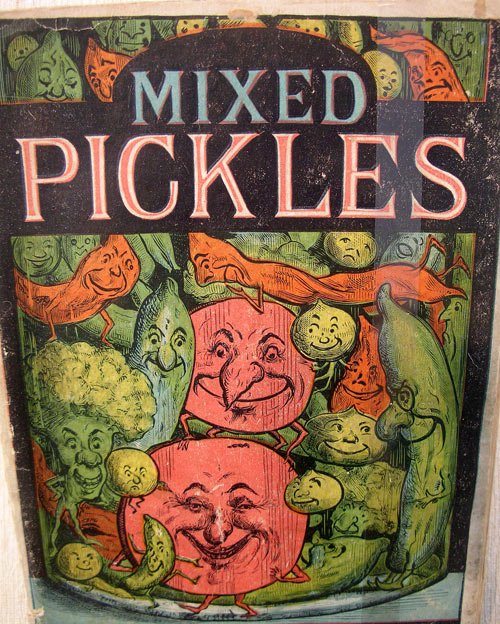 Those of you from New Hampshire may want to check out cyber-attic more thoroughly. I saw a few pieces of silverware made in the 1700's in Portsmouth. I bet Basil Richardson eats with those things and doesn't even know it.