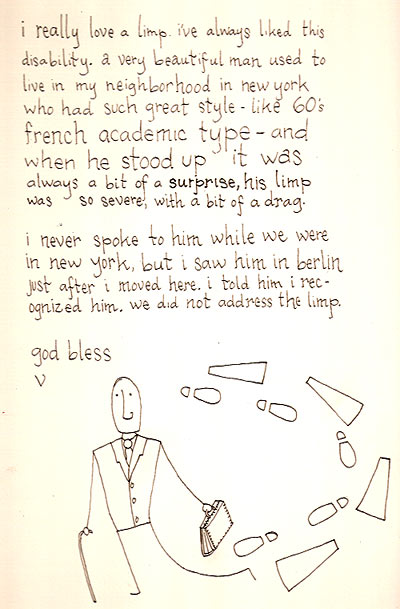 here's vic's email, as illustrated by me. She didn't know
I was going to use it. She may still not know I've done it.
I keep a little notebook with me, to keep track of work hours and little thoughts. Here are some bits from it:
current art cliches'
deer antlers, sillouhettes, graffitti, large format, found objects, cell phone pics. Make a collage of each of these elements. i.e. sillohette of deer antlers silkscreened onto a chipped paint piece of wood found behind a warehouse, then take a low res cell phone pic of it, blow it up to 9′ by 6′ so it pixilates and washes out, write a phrase found in a engineering manual in tattoo flash font across it. rule the art scene for over two months…
(only thing i missed was a photo of a boring space, i.e. an office chair in an empty office, the corner of a ceiling in a motel lobby)
talking to my producer, dave luzius
"if we lived in geodesic domes, would painting be as important?" probably not, because it would be hard to hang flat square onto concave surfaces. Sculpture would be more important.
debt free= freedom
capitalism clashes with that formula
credit=capitalism
why don't we imprison people for debt anymore, but we do for smoking pot? because debt is important to our system, as far as people in charge are concerned.
find The New Basis of Civilisation by simon nelson pattern (1907) he says
"keep workers in debt to keep them working. There is a discipling nature to debt."
There is an emerging german hip hop scene. A.G.R.O. is a hip hop label there. it taps into a street culture of Turk and Arab ghetto kids claiming hip hop as their own.
Doug, from the flagpoles,"Ever wake a guy up on the couch when you're smoking bong hits, and ask him if he wants a hit? And he takes a rip then goes back to sleep? That's funny."
last night with sean, talking about a guy who ripped his nutsack open on a ski during a mountain crash. "they put a lampshade on his head like a dog so he wouldn't try to rip out the stitches." "they put chastity gloves on him so he couldn't jerk off."
back in new hampshire when there is a trailer with a room built on to it it's called a Seabrook addition. Seabrook is the town with the nuclear power plant and the dog track.