Some of you may remember this beauty I put up on eBay. Enough time has passed to make the sale official – $63.00 bucks after 12 bids.
Did I do alright? Check out this recent sale, $6.00 – and they even had the original box! It could be all the hoopla I included in my sales pitch…along with a photo that confuses the issue – classic advertising. Buy into the dream folks, it's only money.
The photo I mention in the below description is gone, but it was a layout of Bay Meadows, a local race track, that comes with all of these Mattel analyzers. I played that angle up to give my item a link to history and a sense of provenance.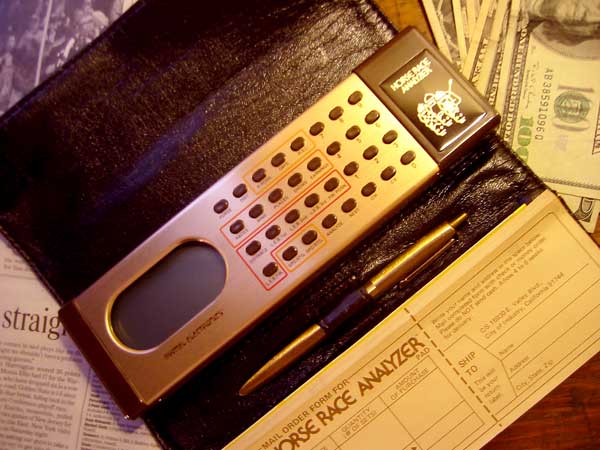 "Bay Meadows is closing forever, but this Horse race handicapper will keep the memory alive – it comes with a layout of the famous track and a hypothetical race as a means of instructing the user how this analyzer operates. Take a look at the photo: We're in the 7th, going 6 Furlongs, with money on Feisty Eagle!
This is the original 1979 series made by Mattel, not a later reproduction under a different label with the same exact design. Bid with confidence on a well kept original in working order.
This Analyzer comes with the original pen and still has the top page of the worksheets. (This page is often gone on other eBay auctions) The page is an order form for more worksheets that let you fill in forms for your top four picks, post position and rating. None of the worksheets underneath have been written on or removed! This unit has been tested with a 9 volt battery and is functional.
The only thing keeping this example from being labeled mint condition are a few scuffs to the leather (or, more likely, pleather) on the bottom and a tiny 1/8 inch nick on the back. The actual analyzer is in mint condition, shiny and scratch-free. Display wise, the damage is hidden on the bottom! If it's gonna happen, that's the best place for it.
In a few short months Bay Meadows will be gone, replaced by a bunch of condos and a grocery store. If you are a fan of the old tracks, let this be a little keepsake. Thanks for looking!"
BTW, I just did a dump run for a landlord I know. "He threw out everything. There must be a thousand dollars worth of clothes in those trash bags." That's what he told me. So I brought the garbage bags home and went through them, and I'm going to see if my landlord friend was right.