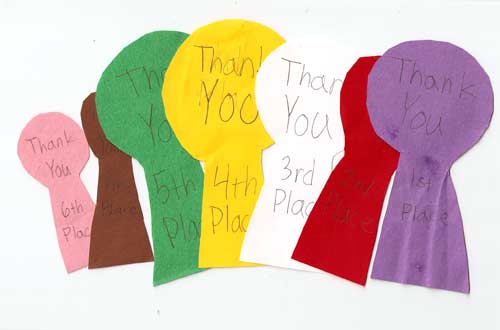 This afternoon in Daly City, Mr. Bees showed the third graders how a beehive works, and how a beekeeper removes the honey from it. Shortly after the show, one boy handed him these ribbons. Mr. Bees asked what they were for.
"One is for you, and the rest you give to the bees."
Mr. Bees had a great time because the students had so many questions and really wanted to know how did bees eat, and what color is their favorite, and if the girls do all the work, what do the boy bees do?
That was hard to explain. The truth is, colloquially, the boys from all the hives hang out in the "drone zone", a sunny place in the neighborhood that's in the fresh air but out of the wind and they have a gang bang with virgin queens, who then return to the hive and lay eggs all day every day for the next two years until it kills them. As far as the boys and how they make out…the bee penis gets stuck in the queen and they die "in the saddle".
Which Mr. Bees knew to be the wrong approach. Mr. Bees wasn't able to think of the word reproduce. So he looked up at the ceiling, and said, "flowers need each other to pollinate…" and then Mr. Bees looked at the teacher, Mr. Burnett, and asked, "How much science have they had?"
Then someone raised their hand and said "I caught some killer bees."
"Thank God" Mr. Bees said.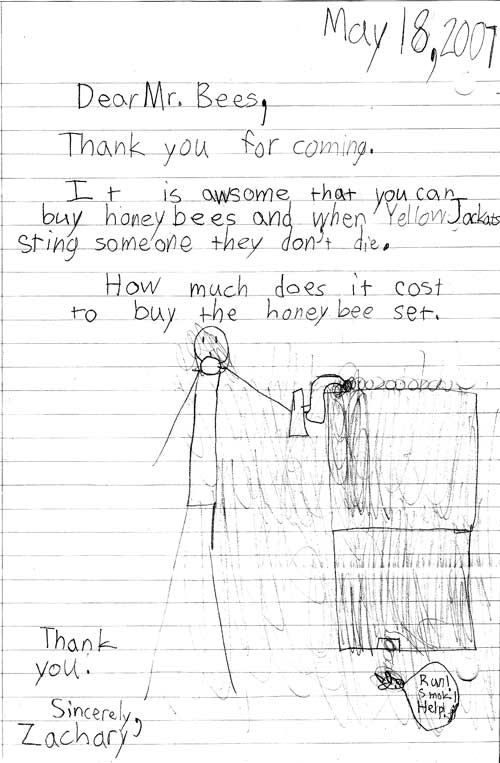 A prompt thank you note from the same student who had prepared the seven ribbons. He has illustrated the lesson on smoking bees in order to take the honey. Note the smoke scribbles, and the fleeing bee in the bottom right.