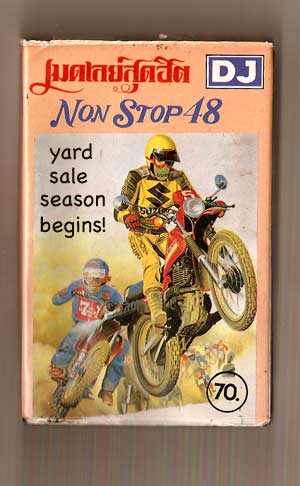 this guy came from the 25 cent bin. It's a cassette tape of American Oldies music.
I vote to replace the season we know of as "Spring" with "Yard Sale Season". The season formerly known as Spring could remain, in a shortened form, if people were really still attached to it. Currently Spring begins on the Vernal Equinox, around March 20th, when the sun appears to be over the equator and the day is about as long as the night. Big deal. You won't find any eBay material there.
So let's keep Spring, but that shit ends April 22nd, the day Yard Sale Season begins. April 22nd is Earth Day, and yard saling is a perfect "Reduce Reuse Recycle" activity. Plus it gives everyone a chance to do a little Spring cleaning, which is where all the crap comes from in the first place.
Think of it like this. Spring cleaning is like a seed from a flower that will germinate into a healthy yard sale in a few short weeks. Without Spring Cleaning Season, we wouldn't have Yard Sale Season. And without Yard Sale Season, Summer would be spent at camp without any new board games or dishes. It's an important part of the cycle of life, and I'm glad we've agreed we need a fifth season.
Comments Off on The 5th Season