A lot of readers in the Orient have written asking what kind of camera gear I use whilst shooting my professional eBay photos. I'm not sure the Orient even exists anymore, so it seems a little fishy. If indeed these curiously worded emails ("me love you photo photo" & "we trade piXXX?") are legit, I'm prepared to let the public in on some behind the scenes industry secrets. I welcome the competition.
Let's get started. The real workhorse of my operation is a heavy (3 pounds) Cannon PowerShot S330, a member of the digital ELPH series. The S330 was released to a receptive shutterbug audience in March 2002. Five years have past and the thing looks so big and old it's become theft proof. Sometimes I park down on Market Street to check out the blankets spread across the sidewalk. Chat with the folks selling bootleg porn. Get back to my car and find the window smashed. My car manual's gone from the glove box and my S330's still on the passenger seat. I love this camera!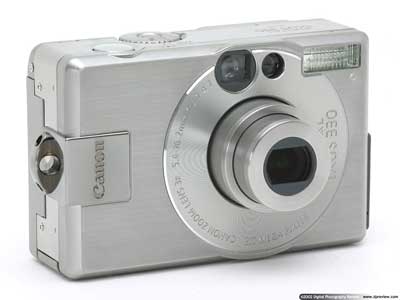 Five years of technological advance has done little for the crack heads smashing windows, but someone is putting a lot of money into making digital cameras better. There's a gang of improvements since this model's premiere, including non-proprietary batteries and storage cards, slim pocket size design, and more than the 2 megapixels I'm working with here. Not to mention featherweight! But fuck it. So I won't zoom in on things or expect to do anything but take a controlled lighting photo from at least a foot and a half away from my stationary object. Some naysayers might call it limiting, I call it inspiring.
MY KIT
The camera is fundamental, of course. But a pro knows photography is more about light than the box you trap it in. Thinking about joining the majors? Step up to a light kit. Let's take a peek at mine.
I got this clip light at a yard sale for fifty cents. I threw a hundred watt bulb in it, but somewhere in the closet I have a 60 watt bulb too, for a more subdued tone.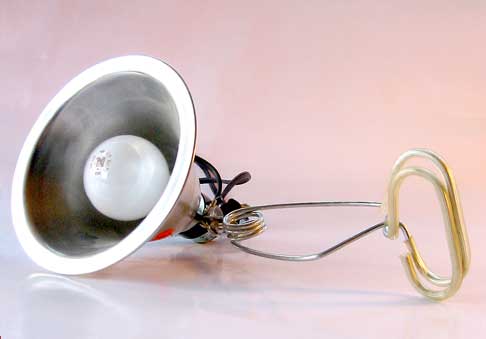 Shooting Infinity
The background can be important to a shot, but have you ever considered how important lack of background can be in photography? Product shots, as they're known in the industry, aren't supposed to do anything other than present the item. Take a look at my clip light again:

It's like the light is just floating there in front of you. Nothing in the background to distract you, not even color. No horizon. No pretty model. Just a fifty cent lamp.
How do you create this effect? With a seamless. Professional studios spend big bucks on rolls of this stuff in all kinds of colors, with expensive chrome rigs to unravel it.
I cut my expenses way down when I found a few rolls of wrapping paper in my neighbor's recycling bin. Just unroll some, tape it to the wall, and roll more out onto the floor. The best part is the white side and the colored side. Take your pick! (Sometimes a little color might help)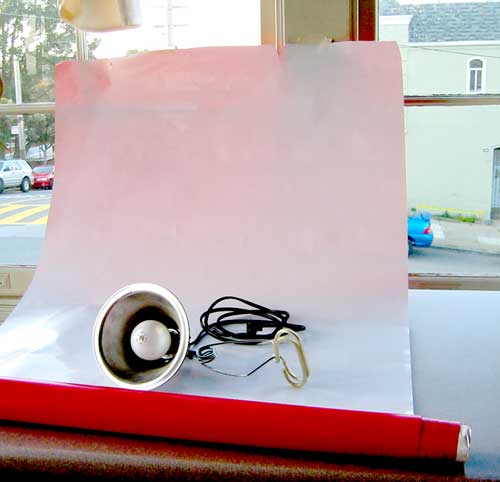 behind the scenes at a major photo-studio
Reflectors/white cards
You can fill it, bounce it, screen it, whatever you want. Light can be controlled, and here's how you get it to do what you tell it.
Order a pizza. Make sure your pie comes in a white box, because once it's been eaten that box is now part of your studio. Save the receipt and write it off as a photo reflector. That means take your clip light and shine it at the white box and Shazam! son, the light reflects onto whatever you point your box at. A gentle light, soft and warm, unlike the direct light of your 100 watt bulb that will make awkward highlights and inappropriate diamond-like rays shoot out of anything slightly shiny.
(photo to come, pizza delivery guy is way late)
There you have it folks, a primer in pro photography. I'll be here all week ready to answer your questions and steer you around any trouble spots you get into. Thanks for tuning in!
Comments Off on My Gear