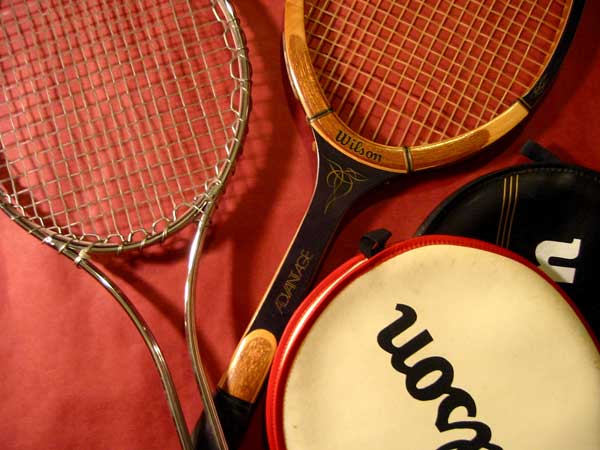 I cleaned out a basement Saturday and pulled these out of the trash. Click on the picture to see how they are doing on eBay. Salvage, salvation, being a savior…how much is garbage worth?
Ask God.
Ebay has an answer too:
Your item sold for US $15.50!
the description:
"These two mint condition old time racquets are ready for the courts. One is a Wilson Advantage, it is a beautiful wooden racquet, marked 41/2 M on the handle. The Wilson T2000 is sized at 4 3/8 Light. It is probably from the 1970's, as it is made out of aluminum. A very modern looking machine! Both have their original leather grips and are in really great shape. no scratches, dents or dings. Both are bright and shiny and come with their original zippered head covers. (These are in great shape as well.) The racquets are strung tight and straight as an arrow. It's like you bought them off the shelf!
These two classics will have you looking sharp on the court whether you want a modern or a traditional look. Sweat bands not included.
You are ready to play with your friend, lover, neighbor or stranger since it is two for the price of one today! Two great racquets for one price!
Thanks for looking and have fun!"
I'm hoping to become a copywriter. I want my own cube! Sometimes I get to go to the Cube Farm at the junk mail factory (on the third floor) to move a heavy piece of furniture, and I can't control my excitement. There are girls up there, and their cubes have little shelves above their desktops with plants and framed photo's sitting there. They put stickers and magnets on stuff too.
When I was little I would pretend my bed was a raft and I'd figure out what stuff I wanted to bring on my lazy day of floating. I'd go to the kitchen and make a sandwich, and get books ready in case I didn't have much current and didn't need to spend much time minding the tiller. There was so much to pack! My bb gun, a megaphone made out of the paper towel tube – that was to sound off in case a paddlewheel full of gamblers was bearing down on me – my stuffed eagle, Eric, who could fly ahead and warn me if any waterfalls were down river, I mean playing raft was an all day adventure. That's what the cube is. An all day adventure. But I'm stuck pumping up a pallet jack full of misprinted circulars for the local pharmacy. Back to the dumpster…
Comments Off on Rolston Hauls