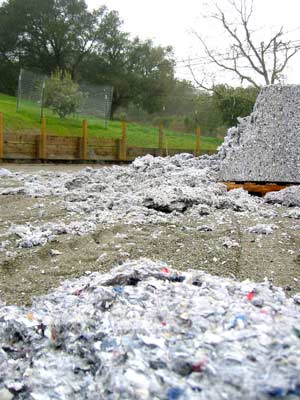 Does this image help you understand what I'm about to tell you? This week at work we received a truckload of shredded nike sneakers. They came on pallets which we carried into a riding ring for thoroughbred horses. The sneaker material, soles and all, was then spread with a hay fork across the top layer of sand. It is supposed to cushion the horses feet as they run. I suppose since they can't wear sneakers themselves, it is the next best thing.
It was raining the day they arrived, and the truck, a 14 wheeler, got stuck in the mud backing out of the long dirt driveway. Rus pushed the guy out with his tractor. I couldn't get a picture of that because I was throwing base-rock under the spinning wheels.
It didn't feel right throwing all this plastic and synthetic material into the ground. But if I was getting paid to install astro-turf, I don't know if I would feel bad. Probably.
here's some sneaker recycling info from nike.