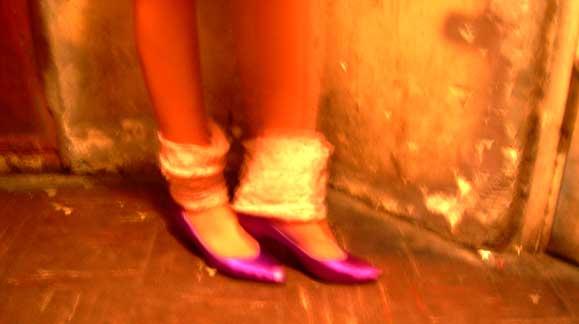 Up north an hour east of Reno there's a real pretty white gal with long legs living alone in her gooseneck trailer. She's been out of work awhile. She was a chip hustler at the casinos. Not a pretty term, but that's what she did. Stand close to a guy who's hitting big and hope he'd call her "Lady Luck" and slide a fat stack of chips over to her. Got to the point where every pit boss in town had banned her from their establishment.
Today she is sitting in a plastic lawn chair you buy at drugstores. It doesn't fold, it's a white stacking chair turning grey from weather. She's dipping her toenail polish brush in a gallon of lemon drop yellow latex paint. A little habachi on the ground next to her is smoking with Hillshire Farms Cheddar-burst sausages.
The sound of an ice cream truck is in the distance:
Do da do do
Doo doo
Do da do do
Doo doo
Do da Doo Doo do do do
Do da doo doo do do
It pulls off the two lane road and parks, kicking up the dust on the dirt shoulder. Rachel holds the book in her hands over her toes to keep the dust off them. The music continues as a young black man comes to the window.
"Afternoon Ms. Rachel. Enjoying this weather?"
"I am, I am Anthony. Putting a coat of paint on the toes and doing my So duko's."
"Now I'm not familiar with that."
"Japanese puzzles. I bought a book of 'em after Jill at the salon gave me some to work on while my permanent set. I'm hooked!"
"Be careful you don't end up blowing your whole paycheck on them things now…"
"Don't worry sugar, they're fun but they don't have the thrill of the tables…"
"I'm sure they don't. I'm sure they don't. I stopped by to see if I could get you anything from the coolers on this hot afternoon."
"My A.C quit and that tin can heats up fast. You know how I like those chaco taco's…"
"I saved one for you Rachel, they're a hot seller, but I saved one for you."
"I can't get up right now, though, this coat hain't done drying yet."
"Company policy states I'm not to leave the vehicle 'cept for fueling up…"
"Guess if you can wait five minutes this coat'll be dry 'nough for me to make my way down there."
"Sure, sure, I got five minutes. Say, I heard you picked up a little job down the antique shop."
"Yeah, it's two days a week though, not enough to pay rent here. I need a second job. Any ideas?"
"How about taking in foreign exchange students? My sister in law does that, makes $750 a month, just has to feed 'em, that's all."
to be continued…